Discover more from Charlotte's Book
All the things about life your friends won't tell you. Funny. But not funny. But true.
Over 12,000 subscribers
Skincare Products You Should Never Use In The Winter
Wardrobes and nutrition do that good warming work for us as the season transitions from hot weather to cold temperatures, and your beauty products are no different. While you don't have to replace absolutely everything in your vanity cabinet during the winter, it is a good idea to pay extra attention to the ingredients in your products to ensure you're not putting your skin at a higher risk for dryness, inflammation or redness. "The main problem my patients show in the winter is dry skin. Dry and cold winter weather strips the skin of its natural moisture barrier, resulting in skin that is dull in appearance, and in worst cases itchy and inflamed," Dr. Arash Akhavan, MD, FAAD, founder and owner of The Dermatology & Laser Group in NYC says. "For those suffering with dry skin in winter months, adjustments sometimes have to be made to our skin routines." Here's what skincare products dermatologists recommend to cut or go easy on during the winter:
Cut Out Cleansers with Salicylic Acid
Though effective at helping you combat an aggressive pimple, acids that are usually found in your cleansers can wreck havoc on skin that's already sensitive to cold weather. "If you are struggling with dryness one of the main items to set aside in the winter are harsh cleansers that de-fat our skin, exacerbating winter skin issues," Dr. Akhavan says. "Instead, switch to a cleanser that has a high moisture content." As for getting rid of unfortunate breakouts, reach for an acne spot treatment instead. Try: PCA Skin Creamy Cleanser , $31.00
Go Easy On Anti-Aging Products That are Retinoid Based
Most women will start some sort of anti-aging routine long before they ever need to worry about menopause. While it's always a good idea to make sure your skin is getting the agents it needs to stay firm, youthful and elastic, Dr. Akhavan says that retinoid-based formulas can be particularly irritating in the colder months. "This can be especially true with prescription retinoid products," she notes. "Consider switching to a gentler retinol-containing product, or anti-aging products that are based on vitamin C or other antioxidants in a moisturizing base." Try: Vichy LiftActiv Retinol HA Night, $47.50
Cut Out Drying Masks & Peels
While peels are generally amazing products to use on your skin throughout the year, some may not work the same magic or give you the same results during this chilly season. That's why Dr. Akhavan says it's a good idea to pay special attention to how your skin behaves and instead of exfoliating or using peel masks, add on a hydrating mask to make sure your skin is retaining its moisture levels. "When it comes to face masks, we find that most patients need to switch to more hydrating masks in the winter to avoid over drying their skin. A hydrating mask can restore oil balance when applied regularly about once every one to two weeks," she advises. Try: EVE LOM Moisture Mask, $90.00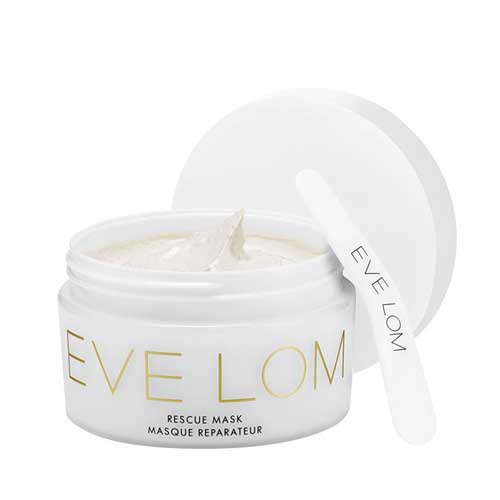 Go Easy On Hand Lotion With Perfume
Even if you've been swearing by the same lotion since you were a teenager, your skin is thirsty for something heavier during the winter. In fact, if you're not using the correct formula, you'll start to notice dryness in your hands first and foremost. That's why Dr. Akhavan says hand cream is a must for wintertime. And not just when you remember to do it in between meetings at work, but all the time. "The skin on our hands can crack, leading to inflamed, itchy, and sometimes painful skin in this area. We recommend using an ultra-rich moisturizer a few times a day in the area, including as frequently as possible after hand washing," she says. Because certain ingredients, like perfume, can be especially drying, reach for a fragrance-free moisturizer—and don't forget the SPF! Try: Supergoop SPF 40 Forever Young Hand Cream with Sea Buckthorn, $38.00
READ THIS NEXT
So you're all caught up on what not to use—here's our guide to what products will help you fake a summer glow when its freezing outside. We love tiny humidifiers in dry, cold weather. These little guys are the best.
CURIOUS ABOUT OUR EXPERTS?
Only the best cosmetic doctors, skincare gurus, nutritionists, fitness and wellness professionals make it into our book. Read client reviews, book appointments, and get expert advice. Learn who the Charlotte's Book Verified Experts are and how we select them.