Discover more from Charlotte's Book
All the things about life your friends won't tell you. Funny. But not funny. But true.
Over 12,000 subscribers
Charlotte Talks To: Jessica Matlin, Beauty Editor + Fat Mascara Podcast Host
#CharlotteTalksTo is a lifestyle interview series featuring amazing women out there shaking things up and remaining fabulous in the process.  Jessica Matlin has always been interested in beauty: as she would put it, "a little obsessed." Growing up, she was inspired by magazine editorials, advertising campaigns and the behind the scenes work that went in to creating a great campaign. Like me, she subscribed to magazines and sought inspiration from artists such as the legendary and late Kevyn Aucoin through his features in Allure magazine. Jessica and I shared an office together early in our careers and remain friends today. She was always a curious journalist and over the years she has solidified her place in the industry as not only an editor but as a writer and brand consultant. She currently serves as Cosmopolitan's Deputy Beauty Editor. Editor's note: This interview originally published August 8, 2016. Jessica Matlin now serves as the health and beauty editor at Teen Vogue. On a personal level, Jessica is one of the coolest, most down-to-earth beauty editors—she has a wealth of beauty information to share, but she's never stand-offish or condescending. She's fun, charming, and boasts a perfectly glowing complexion. If adult sleepovers were a thing, you'd want to have one with Jessica. This year Jessica co-founded a new podcast—Fat Mascara—with Marie-Claire Beauty Director Jennifer Goldstein, and it's quickly becoming the go-to podcast for those in the know. With guests like Deborah Lippmann, Kat Von D and supermodel Veronica Webb, the hosts take a fun, light approach to beauty in episodes like Unicorn Balls or That Bitch Face. Jessica recently spoke to Charlotte's Book and offered us a peek inside her Chelsea apartment. We learned more about what motivates her, her beauty rituals and why as an adult, body-butter is simply now an essential.
ON ALWAYS WANTING TO BE A BEAUTY EDITOR:
"I have really wanted to be in the beauty industry for as long as I remember. I used to study the copy on the back of PermaSoft and Salon Selectives bottles as a little kid, wishing I were the one who wrote it. At age nine, I created mock beauty magazines at the kitchen table—it was called "Ms. Fad". In high school, I grew more and more obsessed with publishing. Jane Pratt of Sassy and Jane was my idol! Being a beauty editor felt like a clear and natural goal—it really blended both of my obsessions. I was eventually offered an opportunity to work for the biggest and most on-pulse women's magazine in America in 2013, Cosmopolitan. [I would work] under the incredible Editor-in-Chief Joanna Coles and Beauty Director Leah Wyar—two whip-smart women with world-class reputations. Every month, I would have the opportunity to share my ideas with millions of women. It was a no-brainer! I have never looked back. And now that I am a beauty editor, I love meeting the creatives behind the products. Whether it's perfumers, makeup artists, or hair stylists, the beauty world has attracted some of the most interesting, sensitive, attuned people I've ever come across. They're not always the customer-facing people and they won't be quoted all over the place, but as editors, we have the opportunity to meet them. That's largely why I started the Fat Mascara podcast: to give talents like these a louder "voice" and more airtime. I've always enjoyed my conversations with them and they have a real point of view. I think more people (consumers in particular) would enjoy hearing what they have to say and learning more about their processes and work."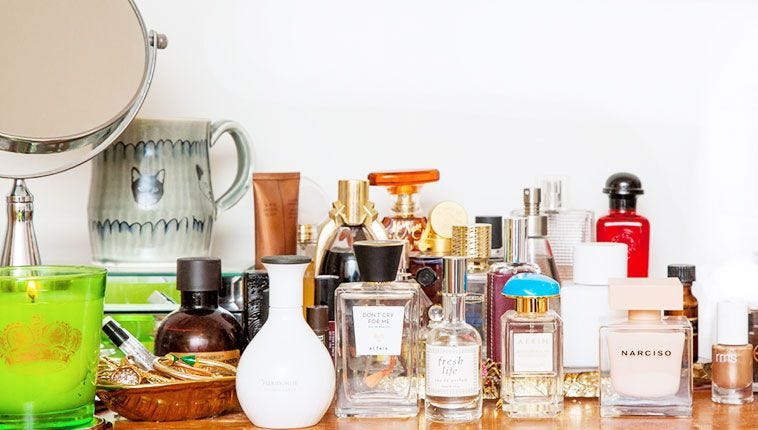 ON HER FRAGRANCE OBSESSION:
"I have always been into fragrance and smell since I was a kid. I liked my mom's scents. I liked to rip the samples out of magazines. And as soon as I got any money, either for my birthday as a kid, or as I started earning money as an adult, I would go out and buy a nice fragrance. It's very transporting. Someone can be very glamorous, very mysterious [because of their scent]. I think it's just very personal and powerful. Anyone can go and get the same lipstick. Smell and fragrance can be much more personal and much more significant to you as a person. The more I learned about it, the more fascinated I became with people in that industry and the science about it.  A scent says something you can't put into words. I don't consider myself to have a signature scent. I just go with what my mood is that day, and I use more than one fragrance a day. In the mornings I try not to pick anything to woody smelling. I have been wearing Don't Cry For me by ALTAIA—it's the only jasmine based perfume that I have ever liked. For a day scent I like Adr_ett by Nomenclature and it smells like fresh laundry. The name is German for neat and tidy. Burberry Brit Rhythm is also a good day scent for me. In addition to all the scents I have at home, I also have my workstation scents. Around 3pm I like to change my scent. I'll just layer on top. My fragrances at home are my homebase fragrances, and then I have my workstation fragrances. Aside from fragrance, I love my linen sprays. I put them on a tissue and place that tissue inside my pillowcase at night. This way it doesn't mess up the pillowcase but I still get the smell. I absolutely love aromatherapy. "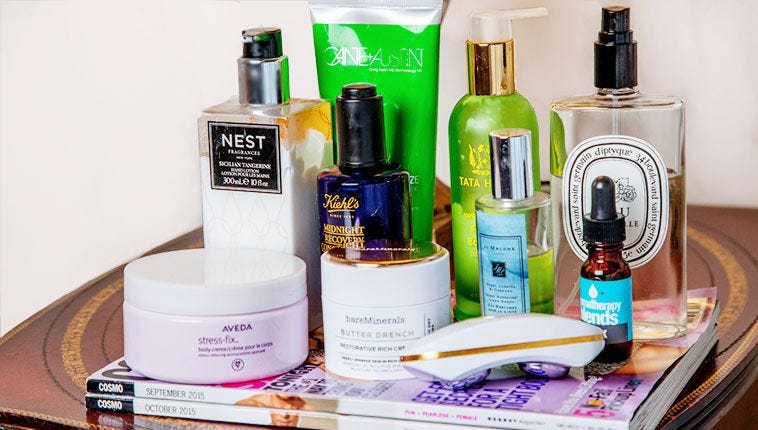 ON THE RITUALS OF SKINCARE AND WELLNESS:
"Almost every morning and night, I will make time to properly cleanse, follow with an essence (Kiehl's Iris Extract Activating Essence Treatment), use two serums and then follow-up with a good moisturizer. If it's morning, I will apply SPF 30, at least. My skincare regimen helps me relax and feel focused in the morning and helps me unwind at night. Rushing through either is like leaving either end of my day untied.   In the evening, ideally I'll start getting ready for bed around 10:30pm. But, if I start getting ready for bed at 10:30pm, that means I'm going to bed at midnight because I like to pace through my routine slowly. I like to keep my balms and serums in my room on my nightstand (rather than my bathroom) because it gives my skin time to dry from the bathroom until when I get into bed.  I'm not sure its that scientific but it works. Outside of skincare, wellness is something I'm still trying to figure out. I think like lots of busy people, wellness is a work in progress. I love my Digestive Advantage probiotic gummies (I take these every morning) and my Headspace meditation app (when I can fit it in), but there is so much I still want and need on my "wellness wish list".
ON LAZY SKINCARE:
"When it's midnight—that's when the Kiehl's Recovery Concentrate comes in handy.  It's my top skincare must. I use a couple of drops at night on top of whatever I'm using already, or I'll use it as my only product if I'm too tired to put anything on. It leaves my skin feeling smoother and generally more refined all over. When it's too late to go through my routine, I just take a quick shower, wash my face in the shower, then I crawl into bed and slather on the Kiehls. And honestly I feel like it works just as well as my 10 step regimen. RMS cleansing wipes are awesome also—I keep these on my nightstand. It's a coconut oil-soaked wipe. If you're too tired to take off your makeup at night or put moisturizer on, these wipes are so moisturizing that you can get away with forgetting. "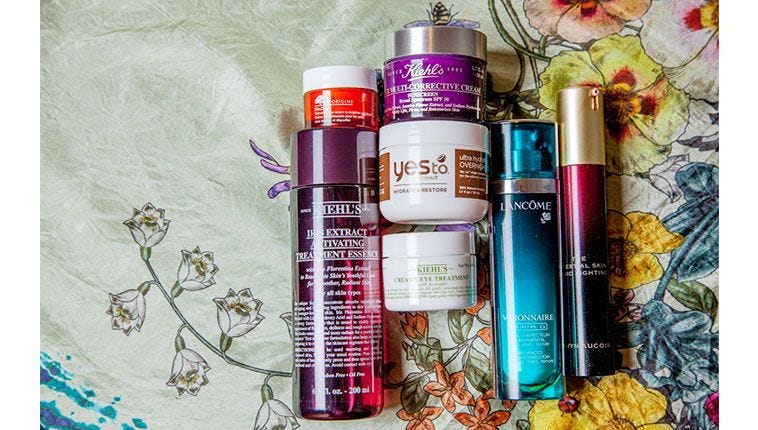 ON BODYCARE BEING JUST AS IMPORTANT AS FACECARE:
"I've always been really obsessive about my skincare and fragrance rituals since I was a teenager. Perhaps I've added in the odd oil or extra serum, and my perfume collection has grown to be much more vast, but I've always been a bit of a nut job about my routine. However, what has changed significantly for me (since I am no longer in my 20s) is that body cream and bodycare is a must. It really just makes you feel lovely. If your body smells good and feels good, you still feel good about yourself. If you completely neglect everything, you start to hate everything. I really love Tata Harper Body Oil. Another essential for me is Yes To Carrots' Super-Rich Body Butter. I tried a sample years ago and I got hooked. The scent is clean, the texture rich and I love that it's cruelty-free, something that is increasingly important to me. I've gone through several tubs of this butter—it really delivers."
ON LAUNCHING THE BEAUTY INDUSTRY'S COOLEST NEW PODCAST:
"What I've always loved about beauty—even before I got into the business—was talking about it with friends. My best friend Melanie and I would talk about makeup for hours and go through magazines just dissecting looks. When I got into the industry, I got to meet these creative people in the industry, which was just a dream. But all of the meetings and conversations never made it to the pages, naturally, due to space. When I got into podcasts a few years ago, I thought this was the perfect place to have an open, unedited conversation about beauty. Jenn Goldstein, the Executive Beauty and Health Editor of Marie Claire, was the perfect partner. She and I have become good friends through work (our magazines are in the same building) we tend to be in attendance together at industry events so of course we became close. We would usually end up chatting a lot and cracking each other up in the cab rides back from events. So it's been natural fit. We are both obsessed with beauty, we get along and we really believe in what we are doing and the topics being dissected and discussed. Fat Mascara is the natural next step for us as editors, I think. We are working to deliver more views and insider voices on beauty and skincare to our audiences." —As told to Dawn Kissi and Robin Shobin for Charlotte's Book. Read more #CharlotteTalksTo interviews. Jessica Matlin photographed by Roderick Angle at her New York apartment on March 20, 2016. Roderick is a fashion, portrait and lifestyle photographer and videographer. You can follow Roderick's Instagram feed, About Themselves, where he profiles interesting and creative individuals.
READ THIS NEXT
Fitness maven Anna Kaiser (she trains Kelly Ripa and Karlie Kloss) talked to us about her skincare routine, aging, and working out; we also went inside the Houston home of Drunk Elephant Founder Tiffany Masterson.
FIND BEAUTY AND WELLNESS EXPERTS
 Read client reviews, book appointments, and get expert advice. Only the best cosmetic doctors, skincare gurus, nutritionists, fitness and wellness professionals make it into our book.