Discover more from Charlotte's Book
All the things about life your friends won't tell you. Funny. But not funny. But true.
Over 12,000 subscribers
Amy Rosoff Davis: Actress, Celebrity Trainer, Producer + So Much More...
#CharlotteTalksTo is a lifestyle interview series featuring amazing women out there shaking things up and remaining fabulous in the process. 
Amy Rosoff Davis is a celebrity trainer—but she'll be the first to tell you (and rightly so) that she's so much more than that. Actress, producer, physical & mental coach to her clients—all this and more appear on her lengthy resume. The past few months she's been on tour with Selena Gomez, but all that changed with the recent news of Selena's break to deal with complications involving her Lupus diagnosis; a very smart move, health-wise.
It's been a big year for Amy: while on tour, she and her husband Jamie Davis celebrated their one-year anniversary in Nashville (he flew in for one day!). In other words, Amy's been busy, but I was lucky enough to spend a few hours with her during a tour stopover in New York City earlier this summer. We hung out at New York's private Studio26 and chatted about life, love, and (of course) beauty.
I fell completely in love with Amy. Her inspiring, winding path has included work as a nanny, caterer, casting for MTV reality shows, acting, and training. Her ridiculously positive approach to life—which includes a mutual obsession with beauty, skincare, and wellness—was fascinating to witness. Trust me: this girl hustles and doesn't wait for things to come her way. And, despite working her derriere off to get where she is, Amy not only truly, deeply believes in the Charlotte's Book mantra—be your best self—she lives a very honest version of it.
ON WAITRESSING, ACTING, & CELEBRITY TRAINING:
"I went to NYU and graduated with a BFA and moved out to Los Angeles as an actress. I waitressed as a day job, and I actually got so many acting jobs while waitressing.
While waiting on my friend, David Goyer (who wrote Dark Knight, Batman Begins, and other movies) I was like Yo, when are you gonna give me a job? And he wrote me a part for a TV show called Flash Forward. I did eight episodes.
But, unfortunately the show got cancelled, and I was like, I can't go back to waiting tables. My friend Christine Woods, who was one of the actors on the show with me, eventually became one of my best friends. She said to me, "You should be a trainer. You're the fittest person I know. I'll be your first client. Train me."
And that's how I started training; that was in 2010. I started working with Christine, and clothing designer Rachel Pally, all through word of mouth. Rachel actually ended up introducing me to my husband years later.
Then I just started balancing training all these people and acting. And I would say, I can't work next week because I'm doing an episode of Scandal, or Private Practice, or a voice-over job. I've been balancing training and acting for 5 or 6 years, and recently started producing, too. "
ON WHY YOU CAN'T JUST BE A TRAINER:
"My work isn't just about physical training. I'm also part life coach for all my clients, because in a sense, training is therapy. You choose a trainer because you want to work with someone who makes you a better person. I have so many life talks with all of my clients, plus training and eating guidance go hand in hand. I don't think you can just train someone and not be involved in what they're eating day to day. You need to help them keep a healthy relationship with food. It's all tied together."
ON SERIOUS SKINCARE AND WELLNESS:
"I'm obsessed with skincare. I do a facial scrub every morning—I use my facialist's brand, Cristina Radu. It's so good and keeps my skin glowy. At night I use iS Clinical Cleansing Complex and IsClinical Active Serum and face lotion, then in the morning I use Dibi Balancing Serum, which I also get from Cristina, and then I use iS Clinical Face Cream, and their sunscreen. Obviously, I wear sunscreen every single day! When I need a good mask, I use the Anti-Stress Cream Mask from Cellcosmet. I usually get facials every 5 weeks to 3 months, but on the road it's hard to keep up with that schedule, because I refuse to go to anyone else except Cristina!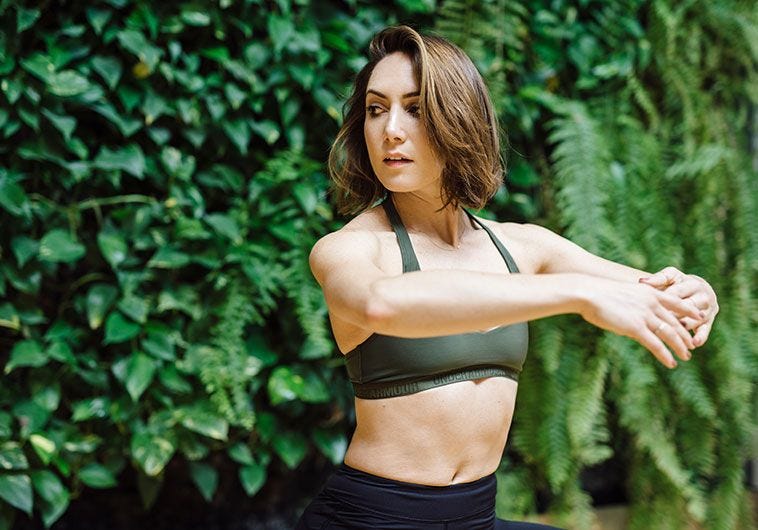 For my hair, I love Phyto products: they're sulfate free and plant-based.
I drink tons of water throughout the day to keep my skin hydrated and I love to eat for my skin, so I have lots of greens, cucumbers, grapes, things that hydrate me. When I first wake up in the morning, I drink a big glass of Chlorophyll with water. I get the liquid formula by Nature's sunshine, and put it in alkaline water. Then I take probiotics (I like Primal Defense) and I refuel on electrolytes. I lose a lot of minerals and electrolytes from all the working out and infrared sweating I do. The electrolytes replenish me and fill me with energy. I get the nutribiotic essential electrolyte brand from Whole Foods."
ON LIFE-CHANGING INFRARED SWEAT LODGES:
"I'm addicted to Shape House, which is an infrared sweat lodge—I've gotten all my clients addicted to it. It changed my skin, and it definitely changed my body. You detox so many things from infrared sweating."
ON TAKING CHARGE OF YOUR OWN LIFE:
"This year, I really decided to take charge of my life. I read this book called You Are A Badass by Jen Sincero, and I've reread it a bunch of times. It has opened up so many manifest-y things in my life. I've turned about 20 people onto it, they call me every week and say, oh my god that book changed my life.
After reading You Are A Badass, I decided to open myself up to more producing and making my own work, and then this opportunity to tour with Selena Gomez fell in my lap. I was planning my wedding with Jamie when we first met, so she didn't think I'd necessarily want to leave, but it was such an amazing opportunity. When I left for the tour, Jamie and I had been married just 9 months.
So, even though we had just gotten married, Jamie said to me, we have our whole life together. This opportunity is so great for you, to see the world, do a really cool thing. When else do you get to go on tour with a pop star?"
ON HER TYPICAL DAY:
"Wake up, drink a bunch of alkaline water, and then I make tea. I love black tea—I put coconut or soy cream or a little honey in it.
And then I'll usually have a green smoothie with spinach and pineapple, superfood, and either coconut or soy milk (non-gmo) and then half a banana.
Every day is so different. There's really no routine. I could have voice-over auditions, I could have clients. And I'm producing, so I usually have meetings and work to do. Everyone always says, you're the busiest person. I'm completely Type A, completely go-go-go. If I don't have a fully packed day, I'm like, what am I doing?"
ON BODY IMAGE & NO DIETS:
"I'm an actress and I work with actresses and performers: it's our job to have people scrutinize us, but that doesn't make it any easier. It's imperative to have a healthy relationship with your body and your mind. I always say we're here for such a short time, and to obsess over not being happy, or to obsess over any detail—that's not healthy. Yes, you can change your body, but at every stage, it's about accepting and loving who you are.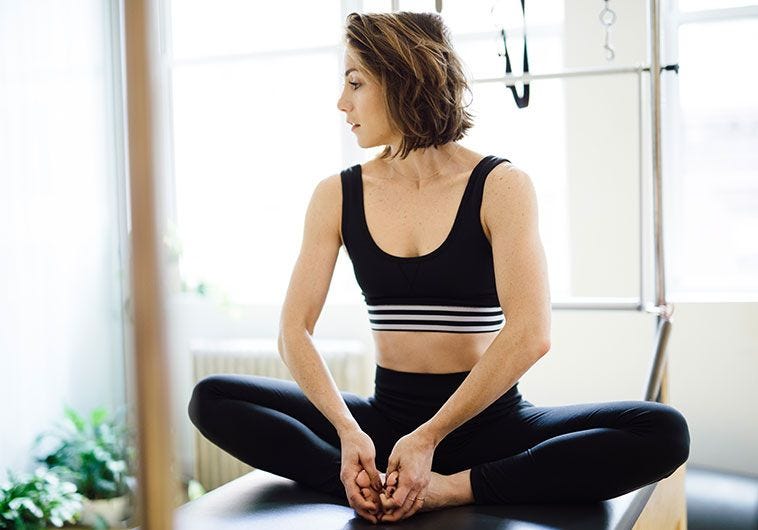 I believe exercising and being fit is so important, but it's just as important to let go of this need to obsess and control over your workout routine; I can hike for an hour and a half one day, and I can walk a lot the next. I'm just always busy and moving. Being active and changing what you do everyday is the most important element of staying fit.
I don't believe in dieting. I have wine, I eat sweets, I eat french fries. I want to live the Parisian French girl life. Everything in moderation, but enjoying life and food and all the things that come with it, that's the point. I find obsessing over food a very unattractive quality. "
ON PILATES AND WHY SOMETIMES LESS IS MORE:
"I was always a health freak and a fitness fanatic. I was a dancer my whole life and then I got really into pilates. I used to take a million exercise classes, everything from kickboxing to step classes, and always yoga—I've tried everything. I'm from Ithaca, so hiking and nature is also ingrained in me. I've always just believed that your body needs to switch it up. You do SoulCycle everyday and your legs are gonna build; you're working the same muscles.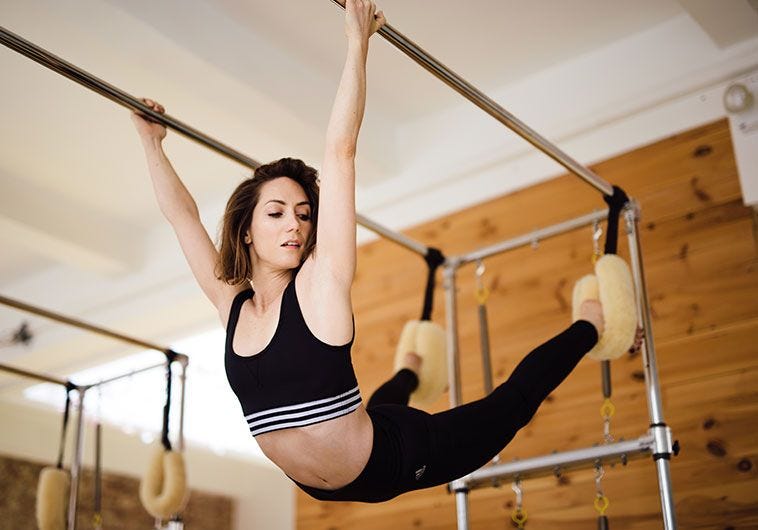 But I used to work out so much more than I do now. I switched from an intense aerobic, kickboxing routine—which really built up my muscles—to a yoga, pilates, trampoline, fast walking, and hiking regimen. I do a lot of Pilates too.
I think it's the quality of what you do, not the amount: I like to work my accessory muscles instead of my big muscle groups, which get enough from just daily life. By not overworking the muscles that get lots of use, I really evened my body out."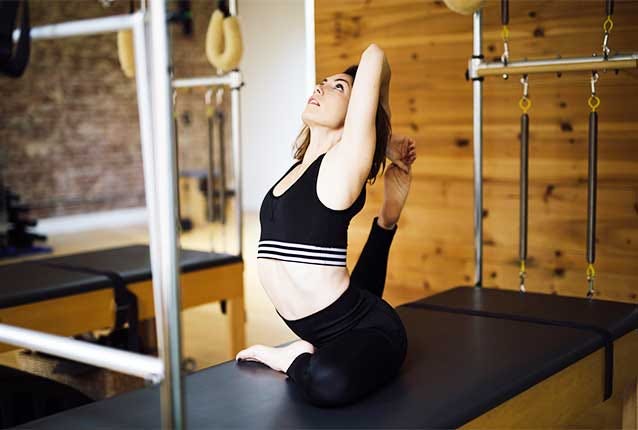 ON DREAMING BIG, BUT HAVING PERSPECTIVE:
"I've done a lot of amazing acting jobs, and I've gotten amazing accolades, and worked hard, and I am so grateful for each and every one of them. I love acting. I always will. It is in my soul and will be forever. But I also realize that sometimes you have to expand your dreams and surrender to get what you want in life. Dream big, but don't be attached to the outcome. The thing with acting is, you don't book most jobs, and even if you get close to it, how many jobs can you be runner-up for? Sometime you think, "Am I not enough?" And even though it's not about me, it's hard. I can't spend my life waiting. It's a life that can be very hard on your soul.
So I'm doing things that make me happy, challenge me, thrill me; things that keep me feeing fulfilled. This way, when the acting jobs come along, they are all the sweeter because I am content in my life and have lots of stuff going on."
ON LOVE:
"For me, love is the most important thing. If you don't love your body and yourself, good luck finding love, which I think is the point of life—that and peace, joy, and abundance. I think they're all connected.
Before I met my husband, I spent so much time becoming my best self because I wanted whomever I met to get the best version of me. I feel like when my husband and I fell in love, we were both the best versions of ourselves. Nobody wants a partner with body image or food issues: we have enough to deal with. It is so worth letting go of BS to find love, for yourself and someone else. When we fell in love the happiness factor multiplied, and people were like, you guys both look completely different just from happiness and love. You just get that glow. "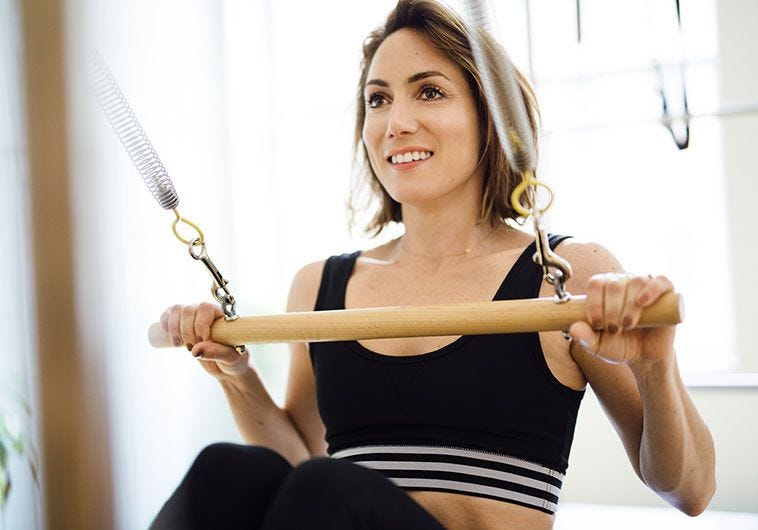 WHO'S YOUR CHARLOTTE?
"I have to say my mom because she's aging so well. She has the best skin. She lives in upstate New York, in Ithaca. Everything is so beautiful where I grew up, on a lake. I ate so healthy then! Even going to college when everyone was eating all this crap, my crap was like a pretzel, peanut butter, and a rice cake because I was handed carrots and apples.
I feel like she taught me how to love very well. She's such a good caretaker. She's such a good mom. And she's such a lover and a good person; she taught me good values. Find someone or something to love. What else is there?"
-As told to Robin Shobin for Charlotte's Book on location at Studio26 in New York. Photographed exclusively for Charlotte's Book by Carmen Chan.