Discover more from Charlotte's Book
All the things about life your friends won't tell you. Funny. But not funny. But true.
Over 12,000 subscribers
Seriously Good, Seriously Free Beauty
It's a dream come true: your skin is hassled after a summer of sunshine and rosé, and now the seasons are changing and dry skin is imminent—you open your email and discover you've won nearly 40 products, enough to revamp skin, hair, and body in preparation for winter. That's the Fall Charlotte's Book Giveaway!  We teamed up with New York Social Diary and Travel Beauty to bring you an exclusive best of beauty collection from around the world, including Bioderma, Brenda Christian, Institut Esthederm, Lavido, Mio Skincare, and Philip Kingsley. It all ends on October 9th, so don't snooze. And share with friends, if you're nice like that. For a peek at exactly what we're giving away, read on.  
MOISTURIZERS
  Cosmetics 27 Baume 27, $180: Simply put: the bomb! A rich moisturizer packed with anti-aging, skin healing nutrients. Can be used on the most sensitive and reactive skin, including those with rosacea. Institut Esthederm Lift & Repair Absolute Smoothing Cream, $109: Inspired by life and designed to preserve the beauty of the skin, this cult french line uses cutting edge science and technology to innovate skincare. And we absolutely love this smoothing cream—use it with their Lift & Repair Tightening Serum for the ultimate impact. Heaven Black Age Defiance, $62: Victoria Beckham's anti-aging moisturizer of choice formulated for sensitive, dry skin that tends to experience hormonal breakouts.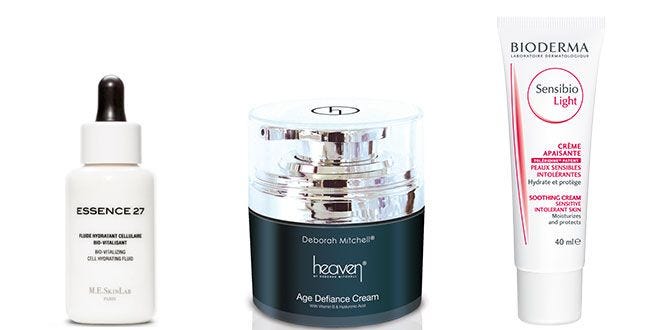 Bioderma Atoderm PP Baume Ultra-nourishing Balm, $28: An extremely rich, extra-nourishing and extremely emollient balm. This ultra-nourishing product is gentle enough for those in their teens and 20s, yet effective enough for those with more mature skin. Bioderma Sensibio Light, $20: Glycyrrhetinic acid inside this lightweight moisturizer instantly soothes sensations of overheating and tightness and ensures instant comfort. Brenda Christian Mineral Hydrating Mist, $37: A favorite among make-up artists. It's basically food for your skin, and it's great to use as a toner and to set makeup after application.
CLEANSERS + EXFOLIATORS + TONERS
  Cosmetics 27 Cleanser 27, $85: Is your skin dry, sensitive or mature? Then this cleansing balm is for you. It turns into a milky emulsion upon contact with water. This multi-tasker cleanses, removes makeup, exfoliates and supports the hydrolipidic film, the skin's protective barrier. One of the only cleansers that doesn't leave skin feeling tight and dry. Osmopure Face and Eyes Cleansing Water, $29: A three-in-one cleanser, toner and makeup remover. Ideal for clean up, especially at night, when we tend to be (perhaps) a bit lazy? I don't mean to implicate you, but I am. Lavido Gentle Exfoliator Peeling Cream, $36: This is the only facial scrub I use. I have sensitive, dry skin and facial scrubs typically send my skin into overdrive, producing sebum as a result of over drying. This is a great way to slough away dead cells and buildup without throwing your skin into a tizzy.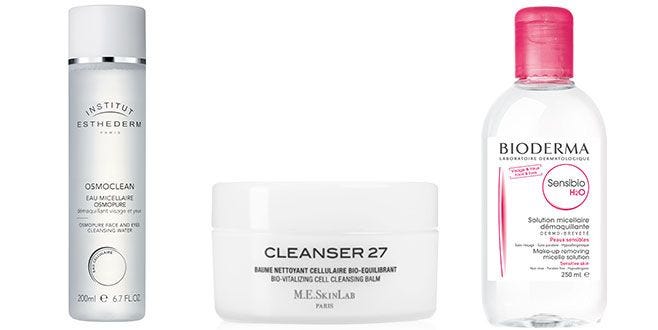 Heaven EllaJane Celebrity Skin Wipes, $14: Exfoliates, cleanses, tones and keeps blemishes at bay with apple pectin, honey and peppermint oil. Great for use in the evening when we're so tired, we just want to jump in bed without washing up and an easy, "my first toner" option for all ages. Heaven New Edition Cleansing Cream, $79: The first cleanser and makeup remover all in one to contain bee venom (bee-tox). Naturally anti-aging. Lavido Hydrating Facial Toner, $24: Formulated with organic pomegranate peel, orange blossom & carrot, it removes makeup and tightens pores. Leaves skin refreshed and ready for serum/moisturizer. Can be used as a men's after shave tonic to soothe and repair sensitive post-shave skin.  
SERUMS + OILS + MASKS
  Cosmetics 27 Essence 27, $125 : An ultra-fine moisturizing, anti-aging emulsion. If you don't typically use a serum, this is an excellent entrée into the genre. The formulation is so light and airy, you won't even notice it's there. Institut Esthederm Lift & Repair Absolute Tightening Serum, $89: Use this amazing serum with Institut Esthederm's Smoothing cream and this dynamic duo is a powerful anti-aging team. It aid in smoothing fine lines and tightening the skin. Institut Esthederm Lift & Repair Instant Repulp Mask, $59: The anti-aging plump it up wonder! A must try. Tightens and hydrates, dull mature skin.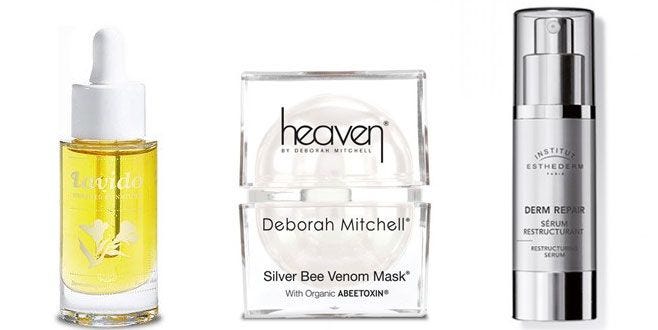 Lavido Invigorating Facial Serum, $55:  An anti-aging face oil that nourishes, repairs and protects skin with fatty acids, minerals and vitamins from organic, cold-pressed evening primrose seed oil and almond Oil. Visibly improves skin hydration, firmness and elasticity and smells divine. Great as a lip balm as well. Silver Bee Venom Mask: Otherwise known as Bee-tox, organic bee venom stimulates skin to produce collagen and elastin. The results? A temporary paralyzing of the muscles beneath the dermis, minimizing fine lines and wrinkles. I apply it over my moisturizer and wear it all day long. Manuka honey also soothes reactive skin and helps clear up blemishes. Also helps prolong the effectiveness of injectables. Bioderma Sensibio Mask, $20: Apply a thick layer of the Sensibio Mask on your face and neck, after cleansing for a perfec moisturizing and soothing boost.  
EYES
  Institut Esthederm Lift & Repair Eye Contour Lift Patches, $88:  A standout product that delivers on its promise. Packed with hyaluronic acid and caffeine, in just 5 minutes you will look bright eyed and bushy tailed even if you don't feel it. You can even message the excess into your under eye area. These puppies come 2 in a packet so they are great for travel, before late night dinners and important events. I don't leave home without them. Lavido Alert Eye Cream, $49: One of my favorite eye creams. It contains hyaluronic acid for instant tightening action. It's creamy and moisturizing but light enough to apply under eye highlighter.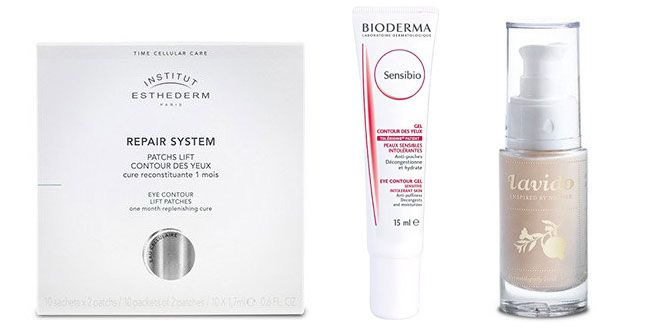 Bioderma Sensibio Eye, $20: Caffeine, a decongesting ingredient found in Sensibio Eye, helps reduce puffiness. Hyaluronic acid and light-reflecting powders smoothe out and reduce crow's-feet lines. Brenda Christina High Definition Perfect Brow Kit: Contains the one-color-fits-all Universal Brow Definer, $18 that dynamically color adjusts to the pH of your eyebrow hair follicle, and Perfect Brow Gel, $16 (the original brow gel). Great for holding all texture brows in place as well as for the browless. When used in conjunction with the Universal Brow Definer, creates the look of real brows by lending texture to the brow. Eye Pencil Sharpener also included. Remember, your brows frame your face and are one of the most important facial fixtures.  
HAIR
  Philip Kinglsey Elasticizer, $32: One of our favorite hair heroes of all time! Formulated expressly for Audrey Hepburn, this intensive moisturizing  pre-shampoo treatment delivers elasticity, bounce and shine for everyone from fine to thick curly hair—Elasticizer is a miracle worker. Philip Kingsley Body Building Shampoo, $41: This luxurious shampoo adds body, moisturizes and detangles fine hair lending it volume and leaving it lustrous.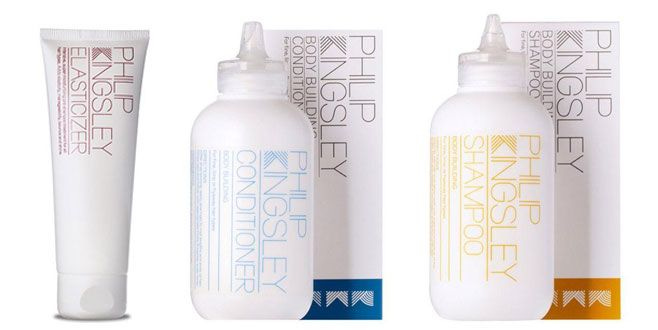 Philip Kinglsey Moisture Balancing Conditioner, $41: This formula provides essential hydration and protection to processed hair without weighing it down. Philip Kingsley Maximizer, $15: The definitive styling spray for fine, limp hair. Contains protein and conditioning agents to keep hair looking shiny and voluminous while providing superb control.   
BODY
  Mio Get Waisted Sculpted Body Shaper, $56:  "I don't want a flatter, firmer, less wobbly waist" said no woman ever.  When exercise alone won't give you the tummy you want, go ahead and Get Waisted!  This helps tighten, de-bloat and discourage fat deposits by increasing lipolysis - the breakdown of fat. Lipolysis is the natural action that happens when your fat cells release the 'energy' within them – i.e. fat – to give your body fuel. Mio The A-Cream Firming Active Body Cream, $40: is the the Mr. T. of treatment creams. Armed with moisturizing omegas, powerful antioxidants and vital vitamins, it boosts skin's elasticity, fights the damaging effects of sun, pollutants and free radicals. Fantastic for aprés sun as well. Mio Workout Wonderball, $40: This your personal massage therapist. Cools and revitalizes muscles, increasing circulation and eases aches and inflammation to speed up muscle recovery with arnica, magnesium, horse chestnut, murumuru butter and fresh spearmint. Coupled with a messaging rollerball applicator, this is your ultimate gym companion.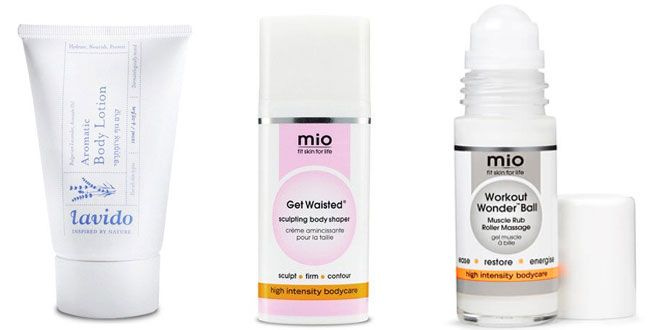 BooB Tube + Multi Action Bust Firmer, $33: Hyaluronic acid, omegas and CoQ10 boost skin elasticity and build firmer better breasts without going under the knife. Slather it down the neck, décolleté and bust, towards the heart, in the direction of lymphatic drainage. Instantly tightens skin and promotes circulation.
Lavido Nurturing Hand Cream, $14: Nothing is a greater telltale sign of age than the back of the hands. This is one of the only hand creams I've come across that contains hyaluronic acid which is an essential ingredient in anti-aging skin care. A must. Lavido Aromatic Body Lotion, $39: If you are a fan of lavender, this is the body cream for you. Leaves skin incredibly soft with organic, distilled bulgarian lavender and organic, cold-pressed shea butter and avocado. Mio Liquid Yoga Space Spray, $29: Feel immediately calm and relaxed with this aromatherapy spray. Mio Liquid Yoga Bath Soak, $40: Pair this with Mio's Liquid Yoga Space Spray and you will scare away all the stress from the air and water with this dynamic duo. In truth, all of Mio Skincare's products contain an element of aromatherapy, but these two are the real deal.
READ MORE
Here's our list of perfect cult skincare products for fall—check it out! Have you made your winter treatment calendar yet?
FIND BEAUTY AND WELLNESS EXPERTS
 Read client reviews, book appointments, and get expert advice. Only the best cosmetic doctors, skincare gurus, nutritionists, fitness and wellness professionals make it into our book.