Discover more from Charlotte's Book
All the things about life your friends won't tell you. Funny. But not funny. But true.
Over 12,000 subscribers
Amanda Chantal Bacon Has A Moon Juice Cookbook — Here's An Honest Review
Moon Juice. If you're a wellness junkie or you read Elle or Vogue regularly, you know who Amanda Chantal Bacon is and all about her cosmic L.A.-based wellness brand, Moon Juice. But if you—like many of my friends—are into wellness but aren't necessarily wellness-obsessed (or working in the industry) you might not be drinking the Moon Juice. After a quick poll, many of my lady friends were like, "Amanda who?" In my past life as a financial analyst, I would dig deep into the analytics, and I'd be in the same boat: If I even knew who she was, I'd have thought Amanda was 100% hocus pocus. That's how our Moon Dust challenge started—from a pretty skeptical place—and now I see the products as amazingly honest, to-the-point, and very real. And you know I have no problem calling out brands or products on their BS. (I'm talking about you, Dirty Lemon, in our collagen supplement piece). Now I'm in the health and wellness business, not the financial business, and that means I have a copy of Amanda's newest cookbook—The Moon Juice Cookbook: Cook Cosmically for Body, Beauty, and Consciousness. Two years ago I never would have picked up this cookbook; with a title like that I would have dubbed it the most ridiculous cookbook of all time. But I have to be honest: I'm a fan, and I recommend buying it. Here's why.
The book is gorgeous. 
The photography is really beautiful, inside and out. Just holding the books inspires me to bring out the cool, glowing Venice Beach hippie I wish I was. It makes me want to make juices and smoothies, because it makes them look glamorous and pretty (this is not an ugly green-smoothies-for-health book). It looks luxurious and sensual. Did I actually just say sensual? You got it. This book is extremely appealing.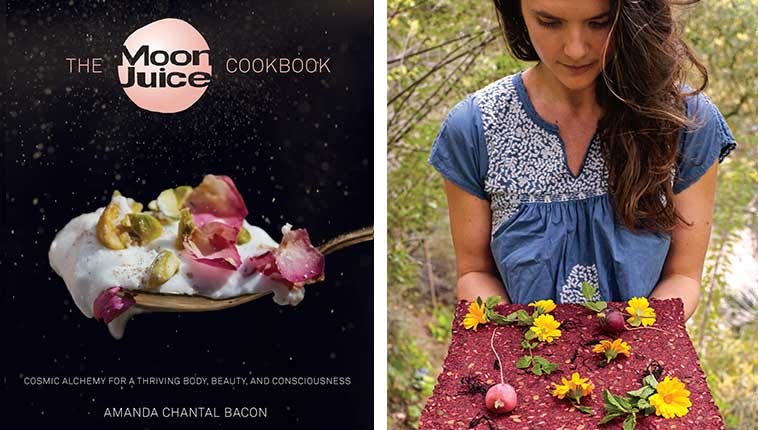 The book is actually pretty heartfelt.
I read Amanda's full forward, story, and thoughts behind creating Moon Juice, and I found the story very honest and endearing. I appreciate how she thinks about food, her health, wellness, and her life—especially after her health crisis at a young age. I identify with her discovery of the danger of sugary cereals and soda and how that was contributing to her illness, imbalance, stress and so much more. Reading her full journey made Amanda a lot more approachable and a lot less Gwyneth Paltrow-y. She has a heartfelt reason for why she lives her life this way. Could I live my life like Amanda? No. But her writing made me understand her approach a little more, and it was definitely inspirational—again, it appealed to the part of me that wishes I could make fresh nut milk on Sundays for the week. It sounds great. It's never going to happen, but I like reading about it. The first 60 pages or so discuss Amanda's background, but they also read as a "how-to-be-cosmic" handbook. She lists what raw foods you should always have on hand, explains how you should plan your week, how to keep a truly waste-free kitchen, and what equipment she finds essential. I like the "lazy-fancy" approach. I also learned that one of Amanda's favorite things is a blender bottle (an oversized beverage container that you can buy for about $10 that has a metal sphere inside). You can buy one here.  In short, this part of the book is very worthwhile.
The recipes are not all practical—but some are. And I wanted to make those.
While many recipes call for things I will never have on hand or even know where to buy (the Blue Mint Chip smoothie calls for mesquite powder and blue algae—do I pick those up at Whole Foods? I have no idea), I have found the section on yogurt, kefir and cheese most approachable. Her chia pudding and probiotic mango lassi were both delicious.
It reinforces the positive message that there is nothing more important than what you put in your body.
Whether you like Amanda or not, I think her underlying message is very positive. She doesn't ever present diets or calories: she only presents the concept that your food nourishes you in every way. It can heal you and it can heal illness, help enhance your natural beauty, and nourish you (of course). And I think that's a very positive message, and I can't help but support it. Even these days, so many people don't understand that what you put in your body matters so very very much. In the age where people are addicted to sugar and misguided by the words "non-fat," Amanda is pushing low glycemic and good fat foods. I can get behind that.
Amanda genuinely wants you, the reader, to eat and be well.
While many of the suggestions in Amanda's book just aren't practical for the everyday person, she really does come from a place of wellness, and she wants to change the way we all see food, one cosmic smoothie at a time.
My inner cosmic hippie was intrigued.
Amanda—do people really live like this? I am amazed at your dedication to this lifestyle and I wish I could try it. Can I come live with you for a week and write about it? Before that happens, I'll be trying a few recipes at a time from this gorgeous book. Buy it now on Amazon for only $20.
READ MORE
We're fans of Amanda & all her concoctions: we tried Moon Dust for a week! Plus—love cooking? We have the best Beauty Food recipes.
FIND BEAUTY AND WELLNESS EXPERTS
Read client reviews, book appointments, and get expert advice from the experts in Charlotte's Book. Only the best cosmetic doctors, skincare gurus, nutritionists, fitness and wellness professionals make it into our book.