Discover more from Charlotte's Book
All the things about life your friends won't tell you. Funny. But not funny. But true.
Over 12,000 subscribers
Charlotte Talks To: Sarah Kugelman Of Skyn ICELAND
If anyone knows stress, it's Sarah Kugelman. Founder of skyn ICELAND, Sarah has dealt with the effects of chronic stress for years, and she now works to create skincare products that address the toll stress can take on the body. In 2003 after a serious stress-related illness, Sarah was told by her doctor that she needed to manage her stress, and she needed to do it quickly. As a result Sarah began a wellness-centered journey, prioritizing her physical and mental health. The journey brought her to Iceland, where she was inspired by not only the natural beauty of the country, but also its people's focus on living low-stress, health-conscious lives.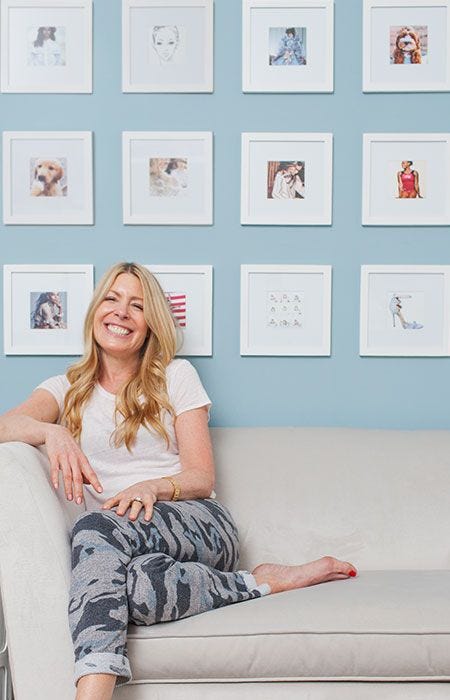 Sarah was photographed by Roderick Angle in her home on New York's Upper East Side on August 7, 2017. With decades of experience working on skincare products in the beauty industry, Sarah used her industry knowledge, personal struggles with stress, and Icelandic inspirations to launch skyn ICELAND. We spoke to Sarah about her experiences with stress, how she prioritizes her health and wellness every day, and skyn ICELAND's signature products.
ON HOW STRESS IMPACTS SARAH'S LIFE, AND HOW SHE STAYS IN CONTROL:
Right now, the most stressful thing is juggling work and family. Also, the physical aging process. You see yourself change and realize you may not be able to do all the things you used to be able to do. I really try to break the stress cycle. Instead of waiting until I crash to do something about it, I maintain habits that control my stress. I exercise almost daily, which is a huge stress buster for me. I get at least seven hours of sleep each night. I also do regular appointments with my wellness team which includes my kinesiologist, acupuncturist, massage therapist, and esthetician. I also make sure to drink lots of water and coconut water. I eat a diet high in vegetables, fruits, and protein, and low in white sugar and refined carbs. I try to get daily sources of magnesium, vitamin B complex, antioxidants, and Omega EFAs.
ON THE WAYS STRESS AFFECTS THE SKIN:
I think that the skin is the window into your inner health. When I'm really stressed, I break out in hives and rashes. A few weeks ago I broke out in a horrible rash all over my back due to stress. I also experience a lot of redness and flushing in my face. Then comes the itching and irritation. It's lovely! I believe there are five symptoms of stressed skin: adult acne, accelerated aging, irritation, dullness, and dryness/dehydration. But with the proper skincare, you can deal with these effects. By helping your skin, you help the whole body. Not only do you get your body back on track, but when you feel better about what you see in the mirror, you also feel less stressed.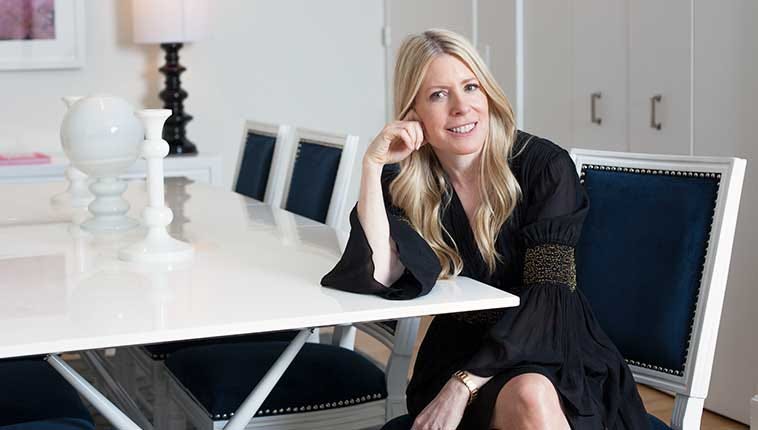 ON STARTING GLOSS.COM IN THE 1990S, WHICH LED TO HER JOURNEY TOWARD SKYN ICELAND:
Gloss.com was a little bit of an accident. I was working in marketing/product development in the beauty industry and I got a job offer with Bath & Body Works. The company was in its infancy and it was a great opportunity so I picked up and moved to Columbus, Ohio. I was a New York girl in Ohio and was in utter shock. But I soon realized that there was a great deal of white space in the beauty industry. Women who lived outside of NY and LA had a hard time finding the beauty products they were reading about in magazines. This was around 1994 and people were just starting to talk about this thing called "the Internet"!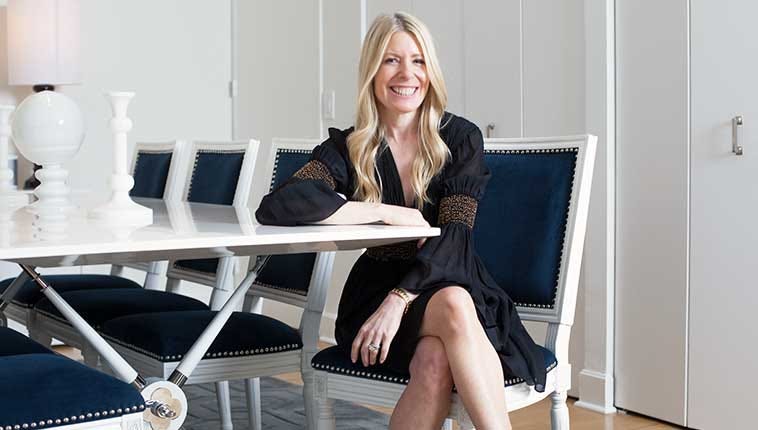 I had a vision that in a few years people would be able to buy products online and it would level the playing field in beauty. So I spent my nights writing a business plan and in 1996 I moved to San Francisco. My business plan sat in in my drawer for three years but in 1999 during the internet boom, a banker friend introduced me to some venture capitalists and the rest is history! Gloss.com was the FIRST beauty website!
ON TRADING IN CORPORATE STRESS FOR ENTREPRENEURIAL STRESS:
In some ways, being an entrepreneur can be more stressful than a traditional corporate life. It's hard work and you can never leave early and forget about the business. But there's a real difference between good stress and bad stress. I'm passionate about what I do and I work on my own terms. I've never missed one of my daughter's important recitals or events. So while it's stressful, I would choose being an entrepreneur any day.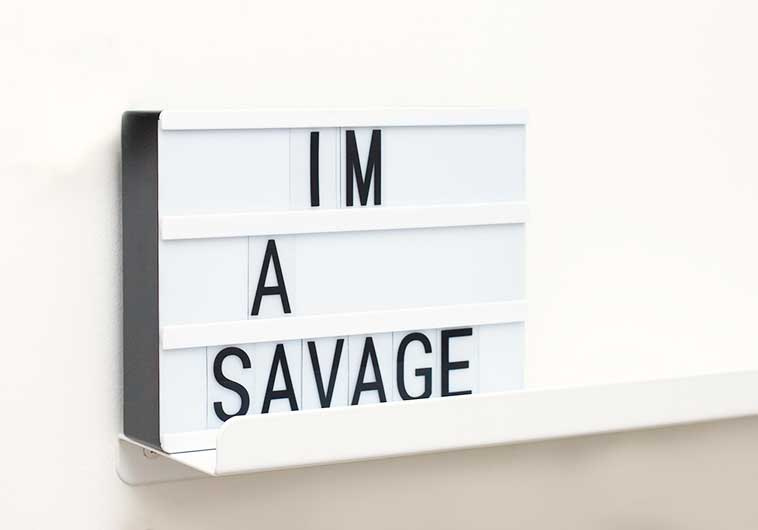 ON SKYN ICELAND'S SIGNATURE EYE GELS:
Eye products were our go-to from the very beginning. I think you see stress in the eye first. Not only is the skin under the eye thin and delicate, but stress usually means lack of sleep and poor eating habits, which present themselves as under-eye puffiness and dark circles. Our eye gels work quickly, perform really well, are easy and fun to use, and aren't expensive. That's made them cult items with a huge celebrity following.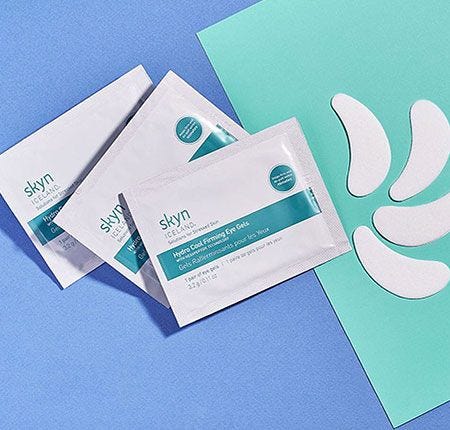 I found the technology early on and thought it was the coolest thing I'd ever seen, so I wanted to make it part of my line. The gels are cooling, and I was able to infuse it with our Icelandic Glacial Waters so it all came together naturally. After the initial success we had, I started thinking about what else I could do with the technology. That's what led to the launch of our face, neck, and lip gels, as well as our blemish dots. All have been a hit!
ON HER NEWEST MASK, WHICH INCLUDES A UNIQUE FORM OF VITAMIN C:
I've always gravitated toward vitamin C because it's such a super ingredient for the skin. It helps renew and protect the skin. However, it's only effective when it's stable, and it wasn't until recently that you could formulate with a stable vitamin C. I found a potent and stable form of vitamin C and the mask technology enabled me to deliver it in a powder format. When the gel and powder are mixed together, the vitamin C is activated. So the product maintains its potency over time, and activates only when you're ready to use it.
ON HER DAILY ROUTINE:
I wake up, wash my face, and drink water! Then I help my daughter get ready for school. After that I make some time for self-care. I shower and have a little bit of DIY spa time, which involves eye gels, mask, body oil, and hair treatment. It's a quick routine that helps me feel good and wakes me up. I have Ezekiel bread and fresh berries (although I just bought a NutriBullet and am excited about starting to make my own smoothies in the morning). Then I either jump on the subway or in an Uber and get calls and emails done on the way to work. Sometimes I exercise in the morning—I'll take an 8:15 A.M. Happy Hour class at AKT in Motion. But mostly I work out in the evenings.
ON HER DAILY SKINCARE REGIMEN:
In the morning I wash my face with Glacial Face Wash which makes it feel so clean and fresh without feeling dry or tight. Then, I drench my face in Arctic Elixir which is great for refining texture and infusing the skin with hydration. Next, I use the Pure Cloud Cream which smells heavenly and just makes me feel happy in the morning. It feels like a cloud of moisture and seals in all of the yummy nutrients, like Arctic cloudberry seed oil and encapsulated oxygen. On mornings when I wake up with puffy eyes, I pop on a pair of Hydro Cool Firming Eye Gels after cleansing. Then I gently massage Icelandic Relief Eye Cream under my eyes, which always feels like it's filling in my crow's feet and keeping the delicate skin around my eyes from getting crepey and wrinkly during the day.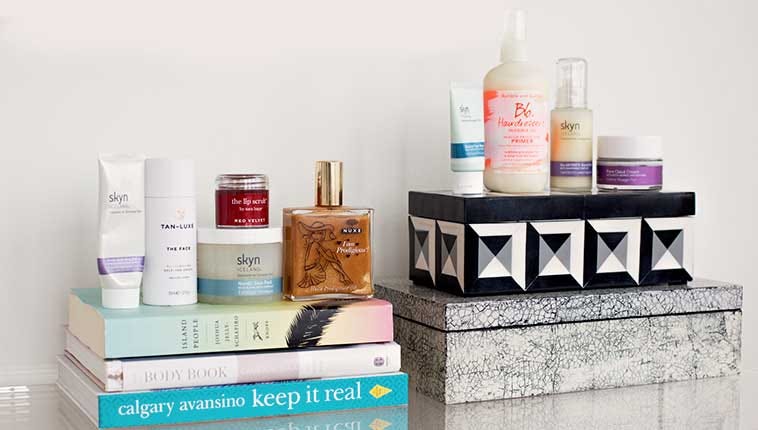 Then I apply a CC cream with SPF 50 and I'm out the door! This morning I felt like my pores were looking extra large so I also used some Pure Pore Minimizer and it got rid of that bit of shine and smoothed my skin's surface. At night, my skincare regimen is pretty much the same. I remove all of my makeup with our Glacial Cleansing Cloths for Eyes. They are self-foaming and don't need to be rinsed off. Then I wash my face with Glacial Face Wash. I apply the Arctic Elixir after but then apply our Oxygen Infusion Night Cream which I love because it keeps my skin feeling dewy and gives it an incredible glow by morning. I use my Brightening Eye Serum and then the Icelandic Relief Eye Cream on top for extra treatment and hydration. Then our new Berry Lip Fix for soft lips. About twice a week I use the Nordic Skin Peel after I cleanse and before I moisturize. I try to do a mask once a week but it's usually every other week. I'm obsessed right now with our new Arctic Hydration Rubberizing Mask. It's amazing if you want to wake up with flawless, glowing skin!
ON HER SUPPLEMENT ROUTINE:
The supplements I take all the time are probiotics, magnesium, Omega 3 capsules, and vitamin B complex. I see a kinesiologist/nutritionist on a regular basis and she prescribes additional supplements based on what my issues are at that specific time, which could be exhaustion, muscle pains, digestive issues, etc. I was just there today complaining of stress and spasms in my shoulders and neck area, so she prescribed Formula 303, which is a natural homeopathic stress reliever. It calms muscle spasms and contains magnesium, Valerian root, and passiflora.
ON HER BEAUTY AND WELLNESS RECOMMENDATIONS:
Get enough sleep, stay out of the sun, and wash and moisturize your face before bed! Also make sure to exercise regularly and avoid "white foods"!
READ THIS NEXT
Sarah is a strong believer in the connection between stress and the skin; read more about the mind-body-skin connection. We're obsessed with bada$$ women: read our interviews with Drunk Elephant founder Tiffany Masterson, fitness maven Anna Kaiser, and O Magazine's Val Monroe.
FIND BEAUTY AND WELLNESS EXPERTS
 Read client reviews, book appointments, and get expert advice. Only the best cosmetic doctors, skincare gurus, nutritionists, fitness and wellness professionals make it into our book.