Discover more from Charlotte's Book
All the things about life your friends won't tell you. Funny. But not funny. But true.
Over 12,000 subscribers
Meet The Steve Jobs Of Women's Health Tech: Tania Boler Is On A Mission
Remember when we wrote about spending six intimate weeks with Elvie? In case you don't: the Elvie is your most personal trainer, the mini Kegel-strengthening powerhouse, and we absolutely loved it. Of course, the founder of the company behind this incredible technology is a #girlboss, and her name is Tania Boler. Tania founded Chiaro when she spotted both a need for more women's health tech in the United States and recognized that borrowing a few tips from athletic wearables could be incredibly useful in this field. Here, Charlotte's Book Contributor Krista Iovino gets the report on how Elvie was created, why wine effects your Kegel score (it's true) and why there's a fundamental difference between the U.S. and Europe when it comes to women's health.
Charlotte's Book: Why do you think it's taking so long for the United States to catch up on the importance of post-labor pelvic floor health and pelvic floor health in general?   
Tania Boler: In France, looking after your pelvic health after having a baby is a high priority for all new mothers and I think this reflects the importance that France gives to helping new mothers recover post-pregnancy and post-childbirth. In France, new mothers will spend at least five days in the hospital to make sure that they and their baby are well, whereas in the U.K. and U.S., there is less focus on the mother's physical needs. We live in a very baby-centric world: in France, the motto is much more "Happy mother, happy baby." French women are historically more candid about their bodies; in the U.S and U.K., we have a history of being ashamed about our bodies as women and not being able to talk openly.
CB: So how did you come up with the Elvie? 
TB: I got the inspiration for Elvie from France, where my husband's family is from. There, it is completely normal for all new mothers to attend pelvic floor exercise classes and take advantage of existing products. I started talking with researchers and physios and realized that there was very little in the form of technological innovation. Women were mostly buying electrical stimulation products or vaginal cones, but there is little evidence that these are effective. I realized that not only did women need access to better technology, but that they need products that were designed around their busy lives. Women told me they wanted something on-the-go that they didn't necessarily have to use lying down. I also realized that there were lots of new sensors becoming available in sports technology through activity trackers, yet nobody had tried applying this to women's health. In terms of which features were important to me, I started with what women said they wanted. We had over 150 women test the product from different shapes and sizes to various app features. Women wanted something discreet, which is why there is a light grey carrying case which, if it fell out of your handbag, nobody would know what it was. We knew safety was really important as some exercise trackers have had waterproof problems and Elvie is designed for such an intimate part of the body. We made Elvie fully waterproof, which is why there are no buttons or exposed parts. The case wirelessly charges Elvie, which is how we made it completely sealed. The outer material is made from medical-grade silicone which means that there is minimal risk of infection and it is very easy to clean. Comfort was one of the key issues for women, too. Some products had hard edges which hurt when being inserted or taken out. Elvie has no edges and has a dip at the end to help with insertion. It is designed so that women can use it standing or even walking around, and there are two sizes so that women can choose the size that fits them.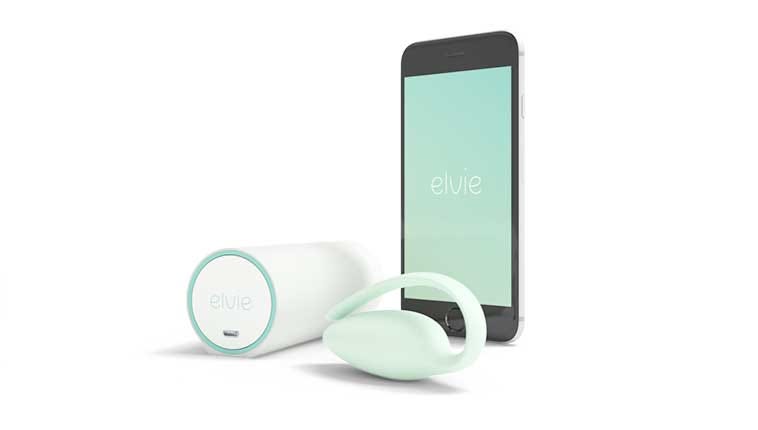 CB: What material is used on the outer layer of the device? It's so durable and easy to clean—why aren't more products made out of this marvelous material?  
TB: Thank you! Elvie is covered in medical-grade silicone which is used fairly frequently for medical devices. However, we knew that women were sometimes nervous about using such an intimate product so we developed lots of novel processes to make the silicone really silky smooth to touch.   
CB: Our team has noticed that when you use the Elvie after a few glasses of wine the results are terrible; is this a coincidence ?
TB: There isn't much evidence for what happens if you drink and the pelvic floor, but it is known that alcohol is performance-limiting for muscle. So no, this is definitely not a coincidence.
CB: What does the future hold for Chiaro? 
TB: Women's health needs are important to 51% of the population, yet there has been very little innovation in this area. We want to be the Apple of women's tech, producing beautiful products that women enjoy using that have real impact.
READ THIS NEXT
We spent six intimate weeks with the Elvie. Find out exactly how it went—wine and all. And, speaking of vaginas & women's health, we tried vaginal steaming too.
FIND BEAUTY AND WELLNESS EXPERTS
 Read client reviews, book appointments, and get expert advice. Only the best cosmetic doctors, skincare gurus, nutritionists, fitness and wellness professionals make it into our book.