Discover more from Charlotte's Book
All the things about life your friends won't tell you. Funny. But not funny. But true.
Over 12,000 subscribers
Take Her Wings, Please: The VS Fashion Show Needs A Massive Overhaul
Last week the Victoria's Secret Fashion Show got its lowest ratings ever. Personally, I've always thought the show was misogynist, with a huge helping of cheeseball. I'm not a woman-hater by any means, and some might say this is coming from a place of jealousy: far from it. I look at classy and sexy portraits of women like The Pirelli Calendar (how amazing did Penelope Cruz look in last year's calendar?), and I think they're gorgeous. Bravo, well done. A few celebrities have called out the "show" for its lack of body diversity. Ashley Graham actually took to social media to call out the issue, posting a photoshopped image of herself with angel wings. But let's take a deeper dive here. What exactly happens at the VS "fashion show"? In traditional couture fashion shows, designers are unveiling their lines and creative visions for the season. I get it. We look for fashion inspiration in the coming year. Even outrageous outfits on the runway are somewhat accessible in real life. It's fun and it's creative. Gorgeous clothing design is a skill, and the models look great wearing these designs. I can't say the same for the Victoria's Secret show. The overall production of the show has really gone downhill: these days, it just looks tacky. And the models strutting down the runway are wearing things people wouldn't buy—not even watered down versions, and not even just for the bedroom. So what's the point? Do you think anyone will be wearing the number below this weekend? How would one even assemble this outfit? And then, how would one get it off? Is this show purely for males to look at unrealistically skinny and starving women in slutty outfits? Hasn't the invention of the internet solved that problem?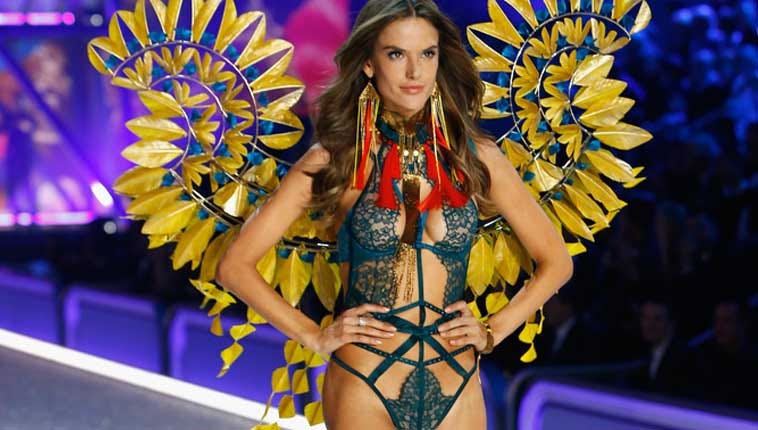 And quite frankly, isn't the show inappropriate in the current environment that embraces all body types and celebrates healthy lifestyles? Here we are being shown models who are already insanely skinny, who have also admitted to the press that they haven't eaten for weeks and have worked out three to four hours a day to prepare for the show. Adriana Lima cuts out all solid food nine days before the show. Why are we applauding this? These days, beauty pageants are slowly being phased out: so why is the Victoria's Secret Fashion show still happening? If it's going to continue, it needs a major revamp. Anyone with me on this? The concept of "beauty" has broadened; it's changed, and grown leaps and bounds. But the Victoria's Secret Fashion Show hasn't embraced these changes. Where is Ashley Graham? Where is Robyn Lawley? There are so many "real" looking, gorgeous models gracing the pages of magazines. Beauty is about being fit, being strong, being empowered, and sharing that empowerment to lift the women around you. Why isn't Victoria's Secret casting any of the amazing groundbreaking models on the scene to walk this show? At a bare minimum (pun intended), show me an outfit I could actually wear... Get up to speed, Victoria!
READ THIS NEXT
We love seeing diverse models, whether it's different body types or ages. I wrote about model Maye Musk, who's almost 70. Heather Marr also shared her tips on being "model fit" in a healthy way.
FIND BEAUTY AND WELLNESS EXPERTS
Read client reviews, book appointments, and get expert advice from the experts in Charlotte's Book. Only the best cosmetic doctors, skincare gurus, nutritionists, and fitness and wellness professionals make it into our book.