Discover more from Charlotte's Book
All the things about life your friends won't tell you. Funny. But not funny. But true.
Over 12,000 subscribers
Manuka Honey Is A Supercharged Cure-All: Here's Why
Slather it, sip it, wear it, smear it all over: we're talking about Manuka honey. This pricey yet potent honey has gained popularity over the last few years thanks to its multifunctional and apparent superpower health benefits. A native to New Zealand, Manuka was originally used by the Maoris to reduce fevers and heal wounds. In the 1990s, New Zealand University confirmed these results in the lab and paved the way for Manuka honey to wind up in our beauty regimens, kitchen cabinets and hearts. As a health coach, I find Manuka to be a very useful recommendation to my clients—especially during the spring months—for a host of ailments. But it's also appearing on beauty shop shelves as a skincare cure-all. Kerrilynn Pamer, co-founder of Cap Beauty, uses it for everything from salad dressings to face masks! If you're not familiar with Manuka, here's the 101, plus 7 incredible uses for this super-charged honey.
What Makes Manuka Different?
Most honeys deliver a mild natural antiseptic when we ingest them. However, the antibacterial activity of regular honey can be easily disrupted with unfavorable heat and moisture conditions. Manuka honey, however, is different—it's much more robust and stable than relatives. This staying power  makes it the golden child of superfoods. Depending on manufacturing processes, potency varies: researchers isolated a compound within Manuka called methylglyoxal (MGO). MGO has an immediate correlation with the honey's potency, or Unique Manuka Factor (UMF)—a term coined to help rank the potency of the products.
A Million Ways To Use Manuka
1. Calms, Soothes + Minimizes Acne
"We use it a lot in treatments" says Kerrilynn Pamer, Co-founder of Cap Beauty, who offers bespoke facials at their downtown NYC locale. "It's a really great topical. It has anti-bacterial and anti-microbial properties and it's great for acne and redness because of its anti-inflammatory properties," she says. Kerrilynn and her Cap beauty co-founder Cindy DiPrima recommend using it as part of a cleansing and mask routine. "It can even be used for a spot treatment," they add.
2. Fortifies Your Immune System
If you feel like you might be coming down with something, Manuka has you covered there as well. "Just add it to warm water with lemon, apple cider vinegar and cayenne pepper," Pamer recommends. Its antiviral properties can help to put the kibosh on nasty viruses before they take hold.
3. Oral Health Savior
Don't be surprised if you start seeing toothpastes touting the benefits of Manuka—in fact, some already are. Manuka helps to fight off the nasty bacteria that can lead to tooth decay, keeping those pearly whites well supported.   
4. First Aid: The Manuka Salve
We've all been there: toaster burns and cuts while prepping for dinner happen. Next time, instead of running for the first aid kit, try a Manuka salve. Wound and burn healing is one of Manuka's most traditional uses.
5. Simple Suncare
Even the most diligent sunscreen users sometimes fall victim to sunburn. Instead of reaching for store-bought aloe, which often contains alcohols and other drying agents, grab the Manuka. Its soothing and healing properties are great for easing the pain and redness of a sunburn.
Feeling like your jeans are a little tighter than they were yesterday? Bloating is usually to blame, but can be offset by a teaspoon of Manuka. Reportedly, it even helps to soothe symptoms of IBS. Kerrilynn recommends including it in salad dressings to stealthily support your system.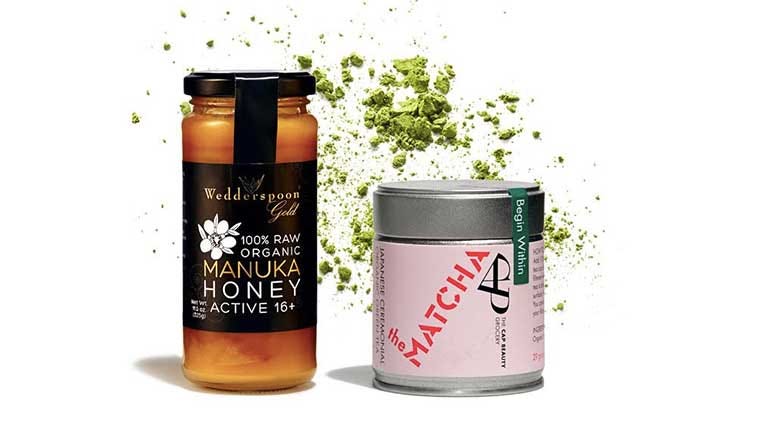 7. All-Natural Mood Booster
Forget the chemical-laden energy drinks. Manuka is made of pure carbohydrates like glucose and fructose, which can support your body with short-term energy boosts. Adding it your morning lemon water or tea (we especially love adding it to matcha), coupled with a healthy breakfast of protein and whole grains can support energy. Though we love Manuka, it's still a sweet—don't overdo it.
Buying Manuka: Verify It's Genuine
The UMF ranking is currently the global standard to measuring and labeling the strength of Manuka. It guarantees that the product is of medicinal quality. MGO can be directly measured in parts per million, while UMF ratings range from 5 to 16+ typically. Optimum levels of UMF are 10+ to 16+ while MGO ranges from 100-550 ppm.  Genuine Manuka products will detail the UMF and MGO ranges on the packaging and will have the UMF trademark, so peruse them carefully before making a purchase.
Brands To Look For
At Cap Beauty, Kerrilynn recommends Wedderspoon Honey, $36. This honey comes from the medicinal Maori flower, grown exclusively on the North and South Islands of New Zealand. She also loves May Lindstrom's Honey Mud, $80, which combines not only honey, but Colloidal Silver, Macadamia Nut Oil, White Halloysite Clay and a medley of calming essential oils. How do you use Manuka? Has it changed your life? Let us know! Comment below. Images via Wedderspoon Honey and Cap Beauty
READ MORE
Brushing up on superfoods & super-ingredients? Here's the 101 on moringa, cacay nut oil, & matcha. Plus, here's why superfoods are actually so super.
FIND BEAUTY AND WELLNESS EXPERTS
Read client reviews, book sessions, and get expert advice. Only the best cosmetic doctors, skincare gurus, nutritionists, fitness and wellness professionals make it into our book.