Discover more from Charlotte's Book
All the things about life your friends won't tell you. Funny. But not funny. But true.
Over 12,000 subscribers
Point Of View: Why We Love Seeing 60+ Models Like Maye Musk
I am kind of obsessed with the new James Perse fall ad campaign. I already love James Perse—but when the company announced in June of this year it would use Maye Musk as the center for their ads, I didn't really think about it. Cool: glad a company is using older women, was my reaction. The ads were released mid-summer, but lately I've been barraged with them on Facebook, causing me to take a second look. And I'm obsessed. For those of you who don't know, Tesla CEO Elon Musk's mom is an ex-model, and a legitimate nutrition and wellness expert. In the new James Perse fall ads, Maye Musk, 68, appears in three color images shot at a ranch in Ventura County, California. With her silver hair and casual but put-together look, she looks sophisticated, super cool, and age appropriate all at the same time. Previously, the brand said they were looking for older models to help diversify the brand. It's not like James Perse is out to change the conscience of media; the company's decision is clearly business-based. But we applaud them anyway. And despite Maye being about 30 years older than our average reader—and our average contributor—we find ourselves wanting to emulate her super-cool timeless beauty and style.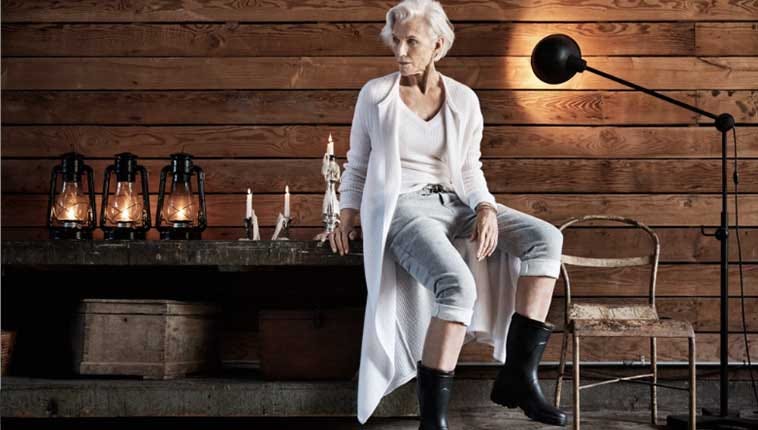 Maye Musk's modeling career began very young, spanning over 50 years. However, during this time she completed two degrees in dietetics and science and had three children (including, of course, Elon Musk). What's also interesting is that her career experienced a re-birth when she stopped coloring her hair: at age 60, Maye Musk made the decision to go full gray, and the contracts came rolling in. She has appeared in a Beyoncé video, in Revlon ads and in 1996 was featured on boxes of Special K cereal. Similarly, lingerie brand Land of Women cast 60-year-old Yazemeenah Rossi as the face of their new swimwear collaboration with The Dreslyn earlier this summer. At the same time, Sports Illustrated featured 56-year-old Nicola Griffin in an advertisement in this year's Swimsuit Issue. In the spring of this year, older models dominated the news cycle. Céline selected writer Joan Didion, 80, as a spring '15 campaign model. Will the trend continue? We can only hope so! Here's to every beautiful woman—every Charlotte—powerful enough to embrace her true self, no matter the age, whether or not she's in the pages of a magazine.
READ MORE
Love Maye but not ready to rock your own gray hair? That's cool too. Plus: beauty products & treatments for the 50s & 60s.
FIND BEAUTY AND WELLNESS EXPERTS
 Read client reviews, book appointments, and get expert advice. Only the best cosmetic doctors, skincare gurus, nutritionists, fitness and wellness professionals make it into our book.