Discover more from Charlotte's Book
All the things about life your friends won't tell you. Funny. But not funny. But true.
Over 12,000 subscribers
The AcuFacial Facelift
I have to admit that my knees tremble at the sight of anything resembling a needle in any shape, color, or form. In other words, I may not be the most suited patient to try New York City cosmetic acupuncturist Shellie Goldstein's AcuFacial…or so I thought. Shellie Goldstein's boutique practice in New York City is cozy and confidential. I was greeted by aesthetician and acupuncturist Marisa Anaya, who soothed my nerves. She explained that the AcuFacial Facelift not only includes acupuncture—which is actually very soothing—but also a facial massage, microcurrent, LED Light Therapy, and even an oxygen boost. This 90-minute treatment is often described as "cross-training for your face" because it works out all of your facial muscles, stretching ones that are clenched too tightly and firming areas that have too much laxity—hence the facelift-like results. In addition, the combination of treatments maximizes skin radiance, clarity, and health.
The Starting Line
First, Anaya cleansed and gently massaged my face to relax my facial muscles. She assessed the condition of the muscles, and prepared my skin for the treatment. Next, she used an ultrasonic exfoliating device to clear clogged pores, stimulate cell turnover, and improve product penetration for what was to come. Then, she started on the microcurrent therapy. Microcurrent emits wavering amounts of electric current, but is completely pain-free. You might feel a little metallic taste in your mouth, but that's as bad as it gets. Anaya placed a U-shaped prong on my neck after a conductive gel was applied to it. She moved on to my face, even targeting all the small muscles around my eyes. It all ended with the forehead, which I learned actually tightens with age.
Related: What Is Microcurrent Therapy?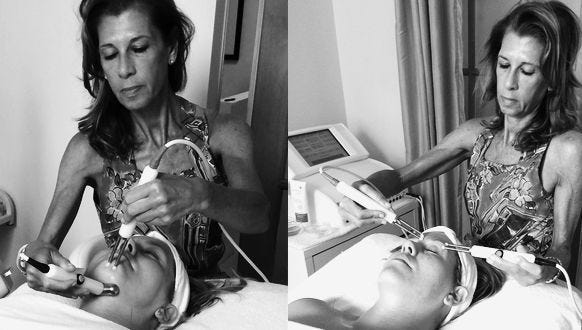 About 50 minutes in:
Next, Anaya asked about my stress level, sleep patterns, digestion, observed my tongue, and took my pulse. Then she placed acupuncture needles all over my body where she felt was necessary to bring overall balance to my body. After carefully covering me with a silver blanket (the kind that marathon runners use after their race to keep the heat in), Anaya applied a nourishing facial serum on my skin. She then covered my eyes and adjusted the LED lights towards me to stimulate collagen, kill bacteria, and lighten the appearance of skin discoloration. At that point, I felt quite relaxed, happy, and ready to fall asleep and let the magic of acupuncture do its work.
You may have noticed that no needles were placed on my face. Anaya skipped that step explaining that I didn't need it. She typically would have inserted needles on my face to further activate facial muscle rejuvenation for wrinkle-prone skin. This brings up an important point: Shellie Goldstein and Associates pride themselves on doing tailored treatments for the individual. They don't have a cookie-cutter protocol for all clients. Instead, they promote bespoke five star-treatments.
The Finish Line
Twenty minutes later, Anaya came back to remove the wrap and needles. Then she performed the grand finale: a revitalizing blast of oxygen. You have to pay an add-on fee for this one, but I strongly recommend it because the refreshing spray of vitamins A, C, and E misted delicately onto your face slowly brings you back to reality. The oxygen flow pushes that winning dermal cocktail into the deep layers of your skin and will give you a peachy glow accentuated by Anaya's invigorating facial massage.
The Bottom Line
I felt a noticeable different in how refreshed, toned, firm, and radiant my skin was after only one treatment. The AcuFacial provides an affordable non-invasive facelift, and is a safe and healthy alternative or adjunct to facial Botox, dermal fillers, and other anti-aging treatments. It leaves you feeling relaxed and radiant, and is an effective treatment for people in all stages of life. To get more details about this treatment, read the full  cosmetic acupuncture description in The Arsenal and go to Shellie Goldstein's Premier Provider profile page for her details.