Discover more from Charlotte's Book
All the things about life your friends won't tell you. Funny. But not funny. But true.
Over 12,000 subscribers
My Week With Anna Kaiser: What It's Really Like To Do A Celebrity Fitness Bootcamp
One week is no biggie. Right?
I consider myself active. Fitness doesn't come easily for me but I endure it because I always feel better after a sweat. I practice hot yoga. I box. I strength-train. I run the occasional 10K. But it's easy to get good at the things you like. Once in a while, it's good to get out of your comfort zone and challenge yourself in an entirely new way. So here I am signing up for an AKT Intensive in NYC, one of celebrity trainer Anna Kaiser's high-energy, wellness-focused retreats. I've just returned from a six-day trip to Morocco, where I shamelessly ate lamb tagine and indulged in local wine at almost every meal. I could really use a week-long intensive to get me back into a fitness regime. What I don't anticipate is how tough the week will be, or that I'll wear a heart monitor for the first time, learn about the ideal pre- and post-workout facial routine, and get up close with the hardest working woman in fitness. Here's my week of sweating and laughing through the NYC AKT Intensive.
Day 1. AKT Sweat Dream with Anna
I arrive at the AKT NoMad studio with two minutes to spare. I sign a waiver, shove my things into a locker, and find a spot right at the front. This is my first time in an AKT class. I met Anna on a photoshoot for Charlotte's Book, before she had a baby. For the first few minutes I catch myself thinking, "She looks amazing." There is not an ounce of unwanted fat anywhere on her petite five-foot frame. We get a quick preview of the basic moves. It is apparent—rather alarmingly—that I am one of two beginners. The 20 other women in the room are AKT devotees. We all have green bands and boxes, and dive into the 75-minute class straight away. Above Anna is a screen displaying a grid of heart monitors, and she uses this to assess how we're all doing. Staying in the orange zone for 15 minutes or longer means you'll push your metabolic response. You could end up burning 600 calories or more for a full 24 hours after class. I am ready. The first 15 minutes fly by. We each use resistance bands dangling from a beam to bounce, lift, squat, and jump in a series of calorie-torching moves. After the first set, I gauge my energy level to see how much I need to get through the rest of class. I have a half tank. So this is what a full body burn feels like.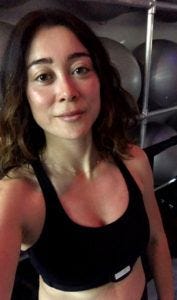 Everyone moves around me like synchronized swimmers. I'm slowly getting the hang of the moves, but I catch myself in the mirror jumping around awkwardly. Flashbacks to dance classes in high school hit me, and I remember why I don't choose these classes at the gym. Cardio is not my amigo. Anna is 100% present. She has so much energy, she practically levitates with each beat. I modify some of the moves, but I'm beginning to feel my arms burn and I switch to lower resistance orange bands. We do a move where you step across the box, spin around on one foot, and return to your spot. I get myself tangled up, and default to doing jumping jacks in place—my cardio class equivalent of a downward dog. We have 15 minutes left now and switch to core. We use the bands to hold plank. Then we sit on the box and do every kind of crunch imaginable. My abs are on fire as we hold, twist, and alternate our knees to our elbows. I have to remember to keep breathing. I thought I was more fit than this! The mirrors are fogging up. I'm amazed at how much we've been able to do with a box and a set of bands. Anna shouts, "Is there any part of the body we haven't worked on yet?" My body screams NO. A talk with Anna after class reveals what everyone wants to work on this week. Some, like me, want a challenge. Some need a reset after a week of bad eating. Others want to work out with Anna IRL, instead of online.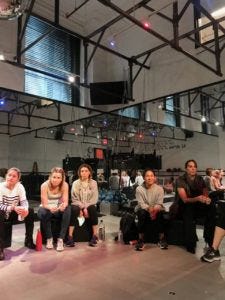 Anna shares her approach to nutrition and the benefits of fasting cardio at least two times a week. Not eating for 12 hours before a workout is ideal, as digestion tends to affect your heart rate. Apparently one workout like this is equivalent to one full day of fasting. We also speak about taking MCT oil, infrared treatments for recovery, and using tools to access our body's progress and achieve fitness goals. We get a rundown of the next few days, exchange a few excited glances, and I promptly reserve my heart monitor at the desk. Get ready, my beating heart.
Day 2. AKTone with Jonathan
I make it back to the studio for Day 2. I attach my heart monitor and find a station at the back of the room. Jonathan is a Master Trainer and leads all the AKT On Demand classes. The setup today is different and I happily kick off my shoes to do this class barefoot. AKTone is all about strengthening and toning, starting with legs, then arms, and ending with core—done mostly with a pilates ball. It doesn't feel any easier today as we get creative with the bands and do some spectacular inner and outer thigh workouts. Downward dog tricep push-ups? Alternating plié-style leg squats? Diagonal leg lifts? It's a 360-degree workout for your muscles.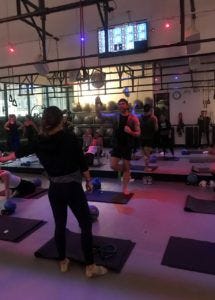 After 30 minutes, I'm dripping sweat. My heart rate is up there on the screen for all to see, and it remains in the orange zone nearly the entire time. The other numbers show a brisk walk through the park, while it looks like I've just been chased up a ten-story building. Breathe. Remember to breathe. Class ends and the soreness sinks in quickly. All I can think about is a salt bath and a hot date with my foam roller tonight.
Day 3. AKT Happy Hour + Nutrition Talk with Keri Glassman
Everything hurts today. My legs are tender and my calves are burning as I walk. It's strangely satisfying to be this sore. I get to class and try to stretch it out before class begins. Anna gets into Happy Hour right away. For the next 75 minutes, we're dancing like the roof is on fire. I'm not the most coordinated person, and am as self-conscious as ever. Anna goes over the moves slowly, and we repeat them to the right, then the left, putting it all together in a series of steps, jumps, high kicks, and spins. Despite not knowing the routine, this is the most fun I've had in a class in ages. Dancing—especially with someone like Anna leading—is incredibly uplifting. Her energy is contagious.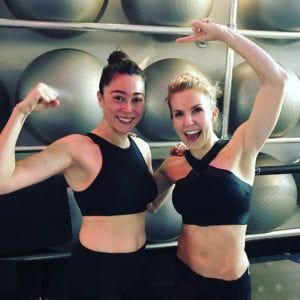 Our talk with nutrition expert Keri Glassman centers around what to eat pre- and post- workout. Someone asks if protein powders are considered processed foods. What type of protein is best and how important is it? The answer is to eat whole foods as much as possible, and look for quality and minimally processed foods. And yes, protein powders are processed. Protein—plant-based or otherwise—is important so long as you're getting some of it somewhere during the day. It's good to consume protein within a few hours after a workout when your muscles are recovering but you don't need it immediately like most people think they do. Water and electrolytes are equally important. (I prefer Nuun Lemon+Lime tablets during my workout but I leave with a few packs of her berry and vanilla-flavored Life's Abundance powders to try.)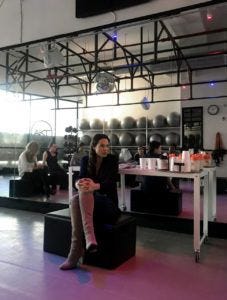 Later in the afternoon I get an email with my workout summary from AKT. I burned a whopping 854 calories and my average heart rate was 168 (90%) with a max of 208 (112%). I was in the orange and red zones for almost 75 minutes. I'm astounded, and getting this data feels incredibly rewarding.
Day 4. AKT 4Play + Meditation with Gemma Gambee
I start the morning off with a smoothie made with Life's Abundance vanilla protein, some MCT oil, half a banana, and coconut milk. Normally I'd be doing fasting cardio, but the way I'm burning calories, it's no surprise I'm waking up hungry. The setup for 4Play is simple: mat, block, and a set of weights. I alternate between 5lbs and 10lbs. I love lifting weights, but I typically do a 30lb weight for eight reps. There's something about a 5lb weight that begins to feel like a cement block after about 50 reps. That's the point. We're holding planks, doing side-bends, and throwing boxing punches with the weights. Just when I think I can't do another move, I'm surprised to find the energy to keep going.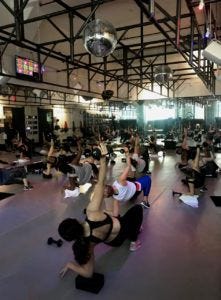 I'm not as hungry after class. Maybe it was the smoothie, or just the fact that my body is acclimating to intense exercising. I sit through 20 minutes of guided meditation with Gemma Gambee without any trouble. My body appreciates the stillness. She begins with pranayama to help calm our parasympathetic nervous system, and to bring down our energy. Post-workout, our heart rates are still up so the breathing helps us to downshift before we close our eyes. I've never meditated after a fitness class. Gemma's intention is to bring more of this practice to this environment, and I find it very soothing. There is something very restorative about sitting quietly after a vigorous workout, not dissimilar to the way we do Shavasana, which some call the "hardest yoga pose". When the meditation ends, we all return to look at each other with half-sleepy gazes. After burning 792 calories, I'd be happy to sit here for longer, but I return to my day. I'm noticeably less sore. Could the mindfulness be good for my muscles too?
Day 5. AKT Mixer with Lauren + Beauty with Cayli Cavaco Reck
I'm feeling amazing, like I've got runner's high without the running. We're training with Lauren this morning. She's an AKT Master Trainer and is a brunette version of Anna. What is it about AKT that makes everyone so fit and happy? Mixer is a combination of everything we've done over the past few days, so it's a nice way to end the week. We begin with Sweat Dream, move through AKTone and 4Play, and end with Happy Hour. It's a little more hectic, as we reorganize our stations and pick up and put down our weights, mats, and pilates balls. I choose the green resistance bands today and my arms aren't retaliating the way they did on Day 1. And I actually enjoy the core moves in 4Play. I'm noticing the small but steady shifts I've made, both physically and mentally.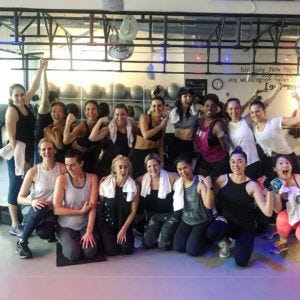 We're back to Happy Hour. We split into groups and take turns dancing with Lauren and on our own. The music is loud and the disco ball lights up the room. I see myself in the mirror again—this time with an expression of pure joy. I have no idea if I'm dancing well or not, and it doesn't matter. The point is to move, and my body is loving it. After class we chat with Cayli Cavaco Reck. The first thing I notice about her is how flawless-at-forty her skin is. She discusses the optimal pre- and post-workout skincare routine. She advises us to do nothing if we're working out in the morning. The rule is to do your full routine after your workout and shower. Wash, tone, roll, and moisturize. Roll, I find out, is dermarolling. Doing this allows your products to last longer, penetrate deeper, and stimulate your skin's natural production of collagen. Cayli says to do this five days a week for two to three minutes. I ask her what she recommends and promptly make a note to self: Environ Roller. Cayli also reminds us to always wear sunscreen and use mineral sunscreen (like Color Science), and try to use products that have vitamins A, B, C, and E in them. I'm sure I'm not the only one who will be taking an inventory of their medicine cabinet later that day. My workout summary shows I burned 600 calories today. I care less about the calories now, and more about how I feel. Next week I'll be returning to my regular programming of strength training and hot yoga but I'm already thinking about finding space to fit more dance-cardio and dermarolling in my weekly routines.  
READ THIS NEXT
We talked to Anna Kaiser and her BFF about their beauty and wellness routines. Plus, here's what Anna brings on vacation.
FIND BEAUTY AND WELLNESS EXPERTS
Read client reviews, book appointments, and get advice from the experts in Charlotte's Book. Only the best cosmetic doctors, skincare gurus, nutritionists, and fitness and wellness professionals make it into our book.