Discover more from Charlotte's Book
All the things about life your friends won't tell you. Funny. But not funny. But true.
Over 12,000 subscribers
All About Facial Gua Sha, Jade Rolling's More Intense Older Sister
No doubt you've heard of jade rolling, but what about gua sha? It's like jade rolling's older, more intense sister. An ancient Chinese healing technique—even older than acupuncture—gua sha roughly translates to "scraping." It involves using a small, smooth stone scraping tool against the skin to massage and stimulate muscles and tissues. When it's done on the body, gua sha can be an intense (though not painful) experience. The scraping can cause bruising and broken capillaries that leave you with visible marks for a couple of days, but it's a beneficial treatment option for many people with chronic pain or tightness. (Pro tip: avoid looking up pictures of gua sha on the body if you're squeamish. They're not pretty, and they can't be unseen.) Facial gua sha, on the other hand, is very gentle and leaves no marks. It's used by many in-the-know beauty gurus not only for its skin benefits (which include firmer skin, fewer breakouts, and a hydrated glow), but also for its ability to relax facial muscles. We talked to Dara Kennedy, founder of natural skincare brand Ayla Beauty, to learn more about gua sha.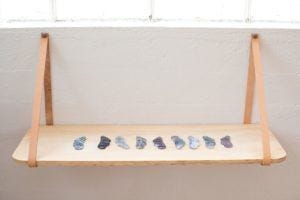 How is facial gua sha different from jade rolling?
According to Dara, jade rolling can help with circulation and lymphatic drainage, but it's generally a more soothing treatment. Gua sha, on the other hand, works a lot deeper. "It helps release muscle tension in a way that jade rollers can't," Dara tells us. "And I'd say its effect on the lymphatic system is more significant." "We all use our faces in ways that can generate lines and wrinkles in places where we might not particularly want them," Dara continues. "Anything that helps release that [tension] and make you more aware of it is a great practice." While jade rolling is pretty straightforward and simple, gua sha requires more of an understanding of effective technique. It's a step up from jade rolling, Dara tells us. "You put more in, but you get more out."
Does gua sha
really
work?
It's a resounding "yes!" from Dara. She explains that the gua sha technique "encourages healthy circulation, releases muscular tension, and promotes lymphatic drainage for a more lifted, less puffy look and brighter, healthier looking skin." Dara tells us that it's an ideal next step for those of us who already have a great skincare regimen but want to take our skincare game to the next level, without opting for needles, lasers, or knives. "It truly produces visible results," Dara says. "One editor of a major beauty publication told me that she gets gua sha facials instead of Kybella injections, and another saw me after I'd had a gua sha facial and exclaimed how 'fresh-faced' I looked (even though I'd slept maybe four hours the night before). It really works!"
Okay, we're sold. But what techniques should we follow for at-home gua sha?
This video tutorial from Ayla is a simple step-by-step guide to facial gua sha. In it, esthetician Beth uses Ayla's Rainbow Flourite Gua Sha Tool.  
Dara also recommended this more in-depth tutorial with Sandra Chiu of Lanshin.
Read This Next
Here's what some of our experts had to say about jade rolling. Plus: everything you need to know about cosmetic acupuncture.
Find Beauty and Wellness Experts
Check Charlotte's Book to read reviews, book appointments, and get advice from the best cosmetic doctors, skincare experts, nutritionists, and fitness and wellness professionals in the country.