Discover more from Charlotte's Book
All the things about life your friends won't tell you. Funny. But not funny. But true.
Over 12,000 subscribers
My Beauty File: Jump Rope Queen + Celebrity Trainer Amanda Kloots
Former Broadway dancer. One-time Radio City Rockette. Sought-after trainer. Our newest girl crush. Amanda Kloots is all those things and more. After years as a performer, she decided to use her passion for dance and fitness to train others. Since then, Amanda has developed her signature jump rope method, which uses a jump rope in inventive ways for a fun full-body workout. And of course there's dancing involved in Amanda's classes—working out with her is a mix of cross-training and dance—so you can expect lots of music, sweat, movement, and energy. (If you can't work out with her in person, you can still dance along with her workout videos.) We love Amanda's intensely positive spirit and we're kind of obsessed with anyone who can make jumping rope look so damn good. So we asked her to share her beauty and wellness routines with us, as well as her advice for staying healthy. Here's what she said.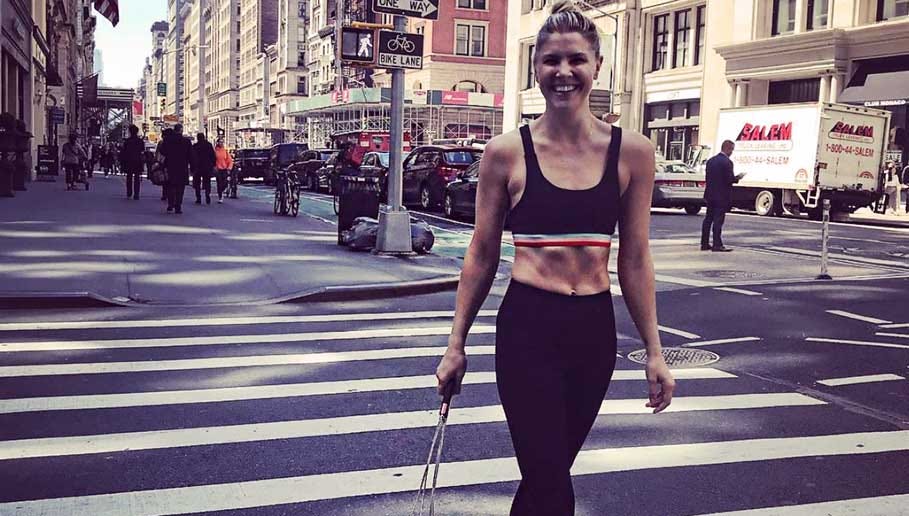 Morning Skincare:
In the morning I keep my skincare routine pretty simple. I wash my face with Beauty Rx Cleanser and then I use Biologique Recherché Toner. I'm usually heading to teach a fitness class so I skip the moisturizer since I know I'll be sweating soon!
Breakfast:
I started eating Sakara Life three years ago and have never looked back! Their plant-based meals are all 100% organic and keep me feeling great and my skin glowing. My favorite breakfasts are the protein Belgian waffles and the mixed berry scone!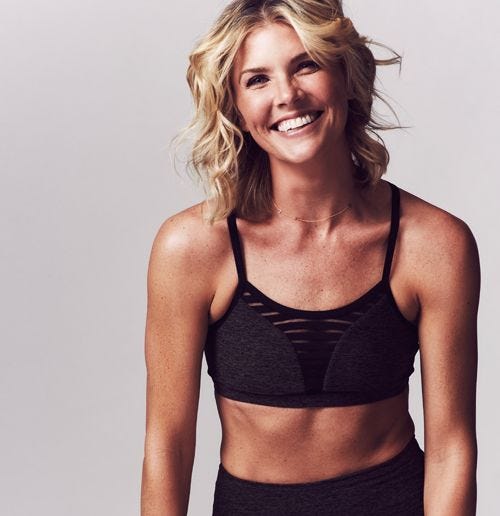 Night Skincare
At night I like to rehydrate my skin from my long day of sweating, so I take more time and add in more products. I start with Beauty Rx Cleanser which really takes everything off the skin and then I use the Biologique Recherché Toner again. After that I do an at-home glycolic peel also from Beauty Rx that comes in an easy-to-use pad form. Then I do a couple sprays of Vital Ionic Mist from Immunocologie that has French green clay in it. For my moisturizer, it's back to Beauty Rx; the soothing moisturizer calms redness and helps heal any irritations. I also add in a face mask twice a week. I love the Vital Mask from Immunocologie. It tightens my pores, helps with pigmentation, and relieves redness. It's magical!
Supplements:
I don't take any supplements. I try to get everything I need from eating a healthy plant-based diet!
Fitness:
My go-to workouts are the ones I teach! I jump rope every day, dance, and tone my body using light weights or my jump rope.
Tech:
Does my iPhone 7 count? I'm not very tech savvy!
Hair:
I am a blonde who's always on the hunt for the best highlights! When I'm in NYC I see Gina at Serge Normant.  When I'm in Los Angeles, I love going to the Ramirez | Tran Salon. For a great cut I see Dante at Sally Hershberger in NYC.
Dermatologist or Facialist?
My favorite dermatologist is Dr. Schultz. He always knows exactly what my skin needs. For facials I love seeing Karen at the Setai Club for an Immunocologie facial.
Wellness:
I've become obsessed with cryotherapy at Cryo Empire. I love the recovery boots and the cryo chamber! My other go-to is Shape House. It's so relaxing and detoxifying.  
My Best Piece of Beauty Advice:
Try not to compare yourself to others. Be you!
My Best Piece of Life Advice:
Be strong, be courageous, be bold! Live life with a positive attitude and always be kind to others!
Biggest Beauty Myth:
That people look like they do on Instagram in real life! Filters, photo editing, etc.—everyone's doing it. That's why I said it: don't compare yourself to others!
My Charlotte:
It's my mother! My mom raised five children. Five! I can't imagine how hard that must have been, yet she made it seem easy. To this day my siblings are my best friends and it's all because of how we were raised. She is the most generous person I know and has a heart of gold. She taught me to love, to work hard, and to believe in myself. I will always look up to her. Images from Amanda's Instagram  
Read This Next
Check out more inspiring women in our latest Beauty Files: Rose-Marie Swift of RMS Beauty and Maria Hatzistefanis of Rodial Beauty.
Find Beauty and Wellness Experts
Read client reviews, book appointments, and get advice from the experts in Charlotte's Book. Only the best cosmetic doctors, skincare gurus, nutritionists, and fitness and wellness professionals make it into our book.