Discover more from Charlotte's Book
All the things about life your friends won't tell you. Funny. But not funny. But true.
Over 12,000 subscribers
Nourishing, Collagen-Boosting Lipstick That Doesn't Settle Into Fine Lines
Ready to get dolled up like it's 2019? Cause we are bursting at the seems to put on a little pick me up. And in light of Valentine's Day, even if it's only self love in your future, getting prettied up makes you feel good. While we love a good nourishing, nude color, balm, sometimes you want a bold lip. But, the modern bold lip, so red (like Taylor) and so big (like Kylie), brings a catch 22. You want a bright, bold look, but most lipsticks are drying and chemical-filled—so much so that they can actually contribute to aging. Because we're all about skincare and anti-aging, we've been on the lookout for a lipstick that doubles as lip care: we were very happy to discover Kosas, a Los Angeles-based cosmetics retailer whom we have discussed our love of in the past. Their tinted face oil is genius. Their creme blush is glorious. Their lipstick is equally amazing. Every stick includes grape seed oil, a moisturizing antioxidant and anti-inflammatory, rose hip seed oil, which heals cells and offers powerful antioxidant properties, and orange oil, a collagen booster with a glorious scent. In other words, these lipsticks protect and restore UV and environmental damage, prevent the the formation of fine lines, boost collagen, and heal and hydrate your beautiful pucker. The founder, elegant Sheena Yaitanes, sources ingredients for two reasons: "extreme nourishment and supreme luxury." Everything is free of preservatives, synthetic fragrances, and things like parabens, pthalates, and petroleum, but full of natural oils and butters.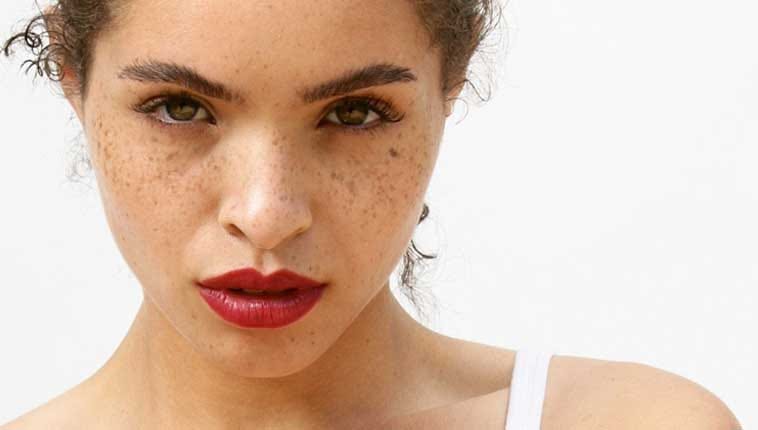 We tried Rosewater ($24), (pictured above), a light blushing rose that looks good on everyone (seriously)—with a transparent finish that not only looks moisturizing, but actually is. This formula includes green tea (an excellent antioxidant and fights free radical damage), rosehip (also a powerful antioxidant), and grape seed oils (which are anti-inflammatory and antioxidant).  It also includes mango and shea butter which is ultra moisturizing. Lastly, this one includes sweet orange oil. Trying this lipstick was in fact the first time we heard of sweet orange oil and its benefits in skincare and beauty products. Sweet orange helps to detoxify congested skin, soothes dry, irritated skin, and supports collagen formation. After some more digging, we were surprised to see sweet orange oil in several skincare products like Ole Henriksen's Truth Serum Collagen Booster, $48 and MyChelle Remarkable Retinal Serum, $47.50. We also tested Darkroom ($24), a dark plum shade can be used as a daytime/summertime stain or as a more opaque nighttime/wintertime color. It's ingredient profile is the same as Rosewater. Every stick comes in a fantastic black square tube, elegant and understated — "is that lipstick?" we heard over and over. "Can I try it?" They try it, fall in love, and then we send them off to buy their own gorgeous shade! (image: @kosascosmetics)
READ MORE
Speaking of lips: why lip sunscreen is so awesome. Plus: another lip product CB Founder Robin Shobin is obsessed with.
FIND BEAUTY AND WELLNESS EXPERTS
 Read client reviews, book appointments, and get expert advice. Only the best cosmetic doctors, skincare gurus, nutritionists, fitness and wellness professionals make it into our book.