Discover more from Charlotte's Book
All the things about life your friends won't tell you. Funny. But not funny. But true.
Over 12,000 subscribers
Are Tinted Moisturizers With SPF Enough?
Almost everything has SPF in it these days: but does a moisturizer, foundation, or BB cream offer enough sun protection all by themselves, or even layered? Recently, this reader wrote in to what our experts thought:
THE QUESTION
"I have a ton of foundations, BB creams, and tinted moisturizers with SPF—I wear one every day. Is that enough protection from the sun though? Should I also use a regular sunscreen to prevent sun damage?" To find out, we spoke with Dr. Robert Anolik, cosmetic doctor, laser surgery expert and Clinical Assistant Professor at NYU School of Medicine and Weill Cornell Medical College. Here's his reply: 
THE ANSWER
"Tinted moisturizers and foundations with SPF are usually not adequate sun protection because people don't use enough of it. You need to apply a full teaspoon of sunscreen to get the benefits of its SPF number. If you wear a tinted moisturizer with SPF 30 and don't use that full teaspoon amount, you're not receiving the amount of sun protection that you think you are. I recommend patients apply sunscreen first, and then go ahead and put on anything they want. If their makeup products have sunscreen in it, it's just giving you more protection. Wearing a full-on sunscreen every day ensures you're getting true coverage and protection from the sun."
CHARLOTTE KNOWS
Finding a day cream with sunscreen that doesn't feel sticky or heavy is no small feat. Here are a few that our Charlotte's Book experts & cosmetic dermatologists often recommend to their patients:
Elta MD UV Clear Broad Spectrum SPF 46, $32, is a lightweight, oil-free sunscreen that's great for protecting acne-prone and sensitive skin. It contains hyaluronic acid to moisturize and lactic acid to keep pores clear and reduce shine. Obagi-C RX C-Sunguard SPF 30, $50, contains zinc oxide in a creamy formula that's good for normal to dry skin. La Roche Posay Anthelios 50 Mineral, $33.50, is a mineral-based sunscreen that's ideal for sensitive skin. It feels weightless, sinks in immediately and dries to a soft matte finish.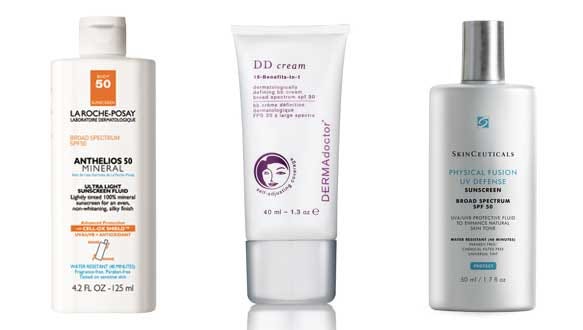 As for tinted moisturizers and BB creams with sunscreen, you can trust the following, which all contain self-adjusting pigments to take the guesswork out of getting a perfect match to your skin tone. DermaDoctor DD Cream SPF 30, $38, is a mineral based sunscreen developed by Dr. Audrey Kunin that contains a white sapphire complex that self-adjusts to enhance your one own unique skin tone. SkinCeuticals Physical Fusion Defense SPF 50, $34, is a weightless, 100% physical sunscreen that provides water-resistant broad spectrum protection with transparent titanium dioxide and zinc oxide (Z-Cote®). It also contains artemia salina, a plankton extract, that increases your skin's natural defenses and resistance to UV and heat stress.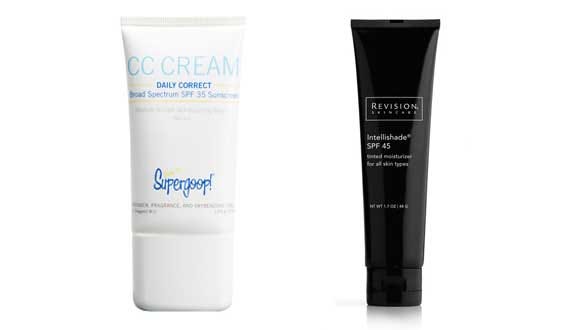 Supergoop Daily Correct CC Cream SPF 35, $32, contains potent antioxidants and triple protection from UVA, UVB and IRA rays, plus essential fatty acids Omega-3 and Omega-6 to neutralize discolorations and blotchiness, and minimize inflammation. A brightening apple extract and light-reflecting mica minerals boost radiance. Revision Intellishade Tinted Moisturizer SPF 45, $52, is also a self-adjusting tinted moisturizer, plus it has the peptide Palmitoyl Tripeptide-5, which helps to improve skin elasticity and firmness.
READ MORE
Earlier this summer, we decoded some sunscreen lingo—it'll probably come in handy. Plus, some fusion products actually work. Our faves here.
FIND BEAUTY AND WELLNESS EXPERTS
 Read client reviews, book appointments, and get expert advice. Only the best cosmetic doctors, skincare gurus, nutritionists, fitness and wellness professionals make it into our book.