Discover more from Charlotte's Book
All the things about life your friends won't tell you. Funny. But not funny. But true.
Over 12,000 subscribers
My Beauty File: Lorena Garcia, Founder of Bloguettes And Majka
With a love for wellness, business, and empowering women, Lorena Garcia is an entrepreneur and co-founder of not one, but two successful companies. In 2014, Lorena launched Arizona-based Bloguettes, a creative strategy and design studio that works with businesses on their branding and content. And in 2018, she introduced Majka, which offers nutritious products that support lactation and energize nursing moms. We got a glimpse into Lorena's day-to-day, from her favorite breakfast to her skincare routine and wellness practices. She also shared her best beauty and life advice, along with what inspires her.
Morning skincare:
I start by washing my face with Osea's Ocean Cleanser, tone with Tata Harper's Brightening Essence, and then apply Tata Harper's Brightening Serum. Since I tend to have oily skin and live in Arizona, I use Ilia Tinted Moisturizer because it's matte and has sun protection. I also mix in one drop of Maya Chia's Illuminating Serum.  
Breakfast:
Since I read the book Body Love by Kelly LeVeque, I've been really into the Fab Four Smoothie. My favorite is one scoop of Majka's Nourishing Powder, one tablespoon of unsweetened almond butter, one cup of unsweetened almond milk, a handful of spinach, and one tablespoon of flax seed. This smoothie keeps me super full, fueled, and energized to start my morning off right!
Night skincare:
I use Patyka Remarkable Cleansing Oil to remove makeup, then cleanse with May Lindstrom's Honey Mud. Then I tone with Tata Harper Floral Essence, then use Goldfaden MD's Needle-less Serum and Patyka's Eye Cream.
Supplements:
I take vitamin K2, vitamin D3, Omega-3 from Thorne Research, topical magnesium, COQ10, and turmeric. Plus I take pre- and probiotics and digestive enzymes. I have thyroid issues so I try to get the majority of my nutrients from food, but still like to supplement.  
Fitness:
I love yoga, but rarely have time to go. So I use an app called Yogaglo, which allows me to do yoga at home or while traveling. I also absolutely love my Peloton Bike for a great cardio workout without leaving home.
Tech:
Google Calendar is my lifeline! My entire life is on this calendar (both personal and professional) and if it's not listed, it won't happen.
Hair:
Extensions! Not all of us are born with amazing hair, so I love natural beaded extensions. I found they are not damaging for my hair, but make me feel more confident.  
Dermatologist or facialist:
I LOVE Dr. Romine from Camelback Dermatology in Arizona. She truly takes the time to understand your skin and your concerns and offers a wide variety of treatments and solutions. IPL changed my skin! I was able to diminish pesky sunspots and have more balanced skin tone! Yes please!
Wellness:
For me wellness is a lifestyle! It's the result of all the small decisions you make in one day. It's not just about food, but how you decide to value and treat your body and mind through the day.
My best piece of beauty advice:
Eat clean! More than ever I'm convinced that you are what you eat—or more, what you can digest! As soon I stopped eating lactose and gluten my skin cleared and breakouts almost totally stopped!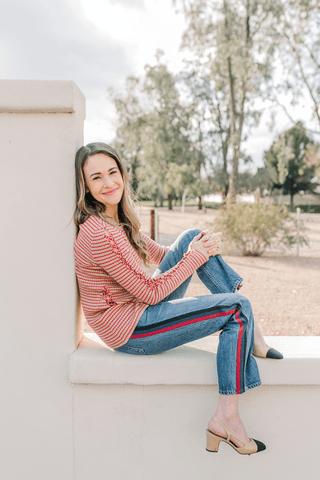 My best piece of life advice:
Always do what YOU think is right. If you feel strongly about something, do it. In the end you are the only one who will have to live with the feeling of "what if" if you don't!
Biggest beauty myth:
Natural beauty products are not as effective as conventional products. I feel like a lot of people still believe this and it's NOT true! Chemical-free products can work just as great if not better than conventional products. We need to take charge of our health and be more responsible with the products that we put on our skin.
My Charlotte:
My dad! I know it's not a woman, but he always puts others first. He has always believed in my ideas and me. I am also inspired by women who are setting the example that you can do anything you want—women who fill the roles of mother, business woman, wife, and wear many other hats successfully. Women who are real about the happy moments, but also the struggles and hardships.  
Read This Next
Check out our latest Beauty Files featuring facialist Sadie Adams and PR maven Emily Parr.
Find Beauty And Wellness Experts
Check Charlotte's Book to read reviews, book appointments, and get advice from the best cosmetic doctors, skincare experts, nutritionists, and fitness and wellness professionals in the country.