Discover more from Charlotte's Book
All the things about life your friends won't tell you. Funny. But not funny. But true.
Over 12,000 subscribers
Don't Sweat It: The Best Athletic Gear For Your Skin
Exercising, and therefore sweating, is an almost daily necessity. But there's no reason to sacrifice your skin during spin, or yoga, or stand-up paddleboard yoga (yes, that's a thing). Poorly-designed workout clothes can chafe skin, causing rashes and redness, or hold sweat, irritating pores and causing acne.
Related Read: Brim It On: Best Sun Hats To Guard Against UV Damage
Celebrity Stylist Samantha Brown tested some of the best new high-design athletic gear, part of the "athleisure" trend. See: Khloe Kardashian's closet. The goal? To find light, anti-microbial, wicking fabrics to protect her skin while working out (not breaking out). Her expert picks here.  
  1. Bandier Combat Legging, $125 I wore these blue camouflage leggings to both a high intensity dance cardio class and for a run afterwards. They didn't budge during the workout and stayed miraculously dry. The paper-thin fabric is lightweight and comfortable. These leggings—and matching bra—are made with FRESHFIT® technology that wicks away moisture and resists bacterial buildup.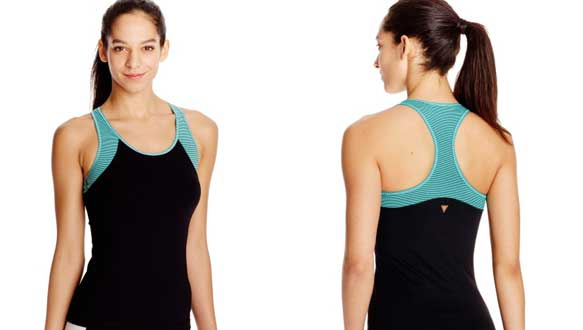 2. Yoga Smoga Yantra Tank, $55 When I first tried on the Yoga Smoga Yantra Tank, I was hesitant about the proclaimed wicking properties due to its thicker, fitted fabric. Not only did this tank stay perfectly in place (with a hip length that didn't ride up once), it kept my body completely dry and comfortable through an intense sweat session.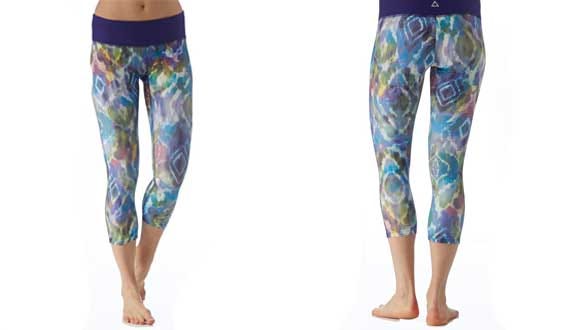 3. Prismsport Kaleidoscope Capri, $88 After taking a cardio dance class in a heated studio, my Prismsport pants were airy and light and had stayed in place throughout class. Their Loose Tank, $48 did an excellent job of keeping the sweat off my skin, thanks to a lightweight, breathable, and wicking poly/spandex blend. Within minutes after the class, my tank was completely dry.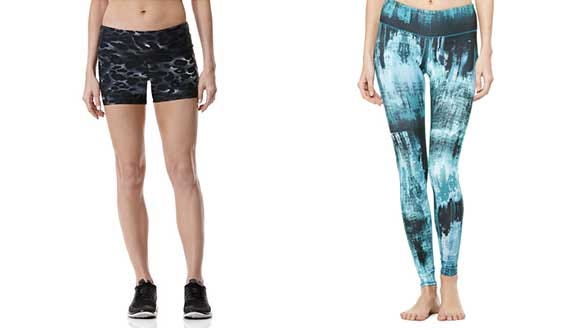 4. Peony Leopard Short, $58 One of my favorite brands to wear from a workout straight to lunch, errands or wherever the day takes me, these leggings and shorts are among the thinnest I've tested. During a sweat session, they stay magically dry and the high waist ensures comfort for whatever activity you choose. The fun colors and patterns keep them from being sheer, despite their thin fabric. The bra is fitted with the same breathability, keeping my chest and back dry through a hardcore workout. 5. Alo Yoga Airbrush Legging, $82 The Alo Airbrush legging is thick and fitted, creating an amazing, streamlined fit through the waist, hips and legs. Anti-microbial fabric, dry wicking and 4-way stretch makes these a perfect option for any workout. They pair perfectly with the Current Tank, $51 which has moisture wicking and anti-bacterial material that draws sweat away from the body during a workout. 6. Wolven Threads Fractal SUP Yoga Top, $38 + Shorts, $40 One of the newest athletic gear companies on the scene, Wolven Threads offers matching bra and short sets that are perfect for your yoga practice, pilates or even water sports like stand-up paddleboarding (or SUP yoga, where both are combined). After wearing a set to a hot yoga class, I'm hooked on the flattering cut, vibrant pattern and recycled polyester that kept my skin dry throughout class.
Related Read: Saving Face: 6 Stylish Sunglasses To Prevent Crow's Feet
Last But Not Least: The Accessories Fitknix Athletic Boyshorts, $23 + Violet Love Headband, $17 Fitknix is one of those ingenious concepts that leaves me wondering, "why did this never exist before"? Moisture wicking, anti-microbial and anti-odor underwear that lie completely flat and leave no trace of panty lines. I used my Violet Love headband to keep my hair in place during a heated vinyasa class. My hair stayed dry, as the fabric is breathable, and the bonus is that the sweat was mostly kept off of my face. I also recommend wearing one to keep the sun off your scalp and forehead while relaxing, or during a beach run.
Experts, Concerns and Treatments Mentioned In This Feature:
Concerns— Acne Acne Scars Redness Skin Cancer Prevention
IMAGE: Bandier