Discover more from Charlotte's Book
All the things about life your friends won't tell you. Funny. But not funny. But true.
Over 12,000 subscribers
Beauty Products We Love This Month - December Edition
At Charlotte's Book, our job is to stay at the forefront of new products, buzzy ingredients, and trends. We always make sure to give our honest POVs on all things beauty, and share what's worth the hype (and what's not). This all means that our team gets asked to try out a lot of products. So we're starting a new series here, called Beauty Products We Loved, where we'll share products straight from our skincare cabinets that we just can't get enough of, every month. Here's what we're loving in December.
Robin Shobin, Founder and Editor in Chief
This month I've been obsessed with Jurlique Nourishing Cleansing Oil. It's lightweight and foams slightly, and has been a great cleanser to transition into the colder months.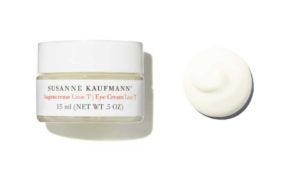 Susanne Kaufmann   I'm still insanely obsessed with my Susanne Kaufmann Eye Cream. And I finally tried the body cream, and love it as well! I only like to try one new product at a time, because my skin is so sensitive to change in product or weather.
Sarah Carter, Staff Writer and Makeup Artist
A standout product for me this month is the Mad Hippie Exfoliating Serum. I've used it on a few occasions underneath my moisturizer at night (twice a week at first) and woke up noticing a difference in my skin each time. The most notable differences were a more even skin tone, reduced appearance of dark spots caused by acne scarring, and overall smoother texture. I also used the serum when I was experiencing some hormonal acne along my jawline, and I noticed it was a lot less inflamed and less raised after using the serum.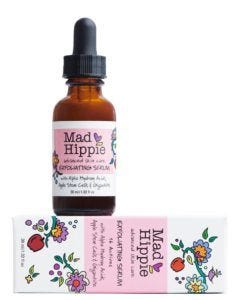 Mad Hippie   Not only are Mad Hippie skincare products effective, but they're all-natural too, which is the cherry on top for me. The exfoliating serum in particular contains alpha hydroxy acids including glycolic acid (derived naturally from sugar cane) and lactic acid (derived from beet root) which both work to reduce the appearance of wrinkles and discoloration. The serum also contains gigawhite, a unique blend of six organic alpine plants that reduce discoloration, plus a ton of antioxidants like white tea and goji berry for extra glowy skin.
Stephanie Fantauzzi, Columnist and Actress
At Russak Dermatology Clinic (my dermatology home in Manhattan), Dr. Julie Russak formulates these gold eye gel patches that are instantly de-puffing and brightening, and they're my winter go-to! I leave them in the fridge overnight and I love my morning ritual of brewing a fresh cup of coffee and applying the patches right under my eyes. They feel cooling and refreshing. The nano gold speckles in the product act as a powerful antioxidant, improving the look of lines and wrinkles, reducing inflammation, and increasing blood flow.  
HALO Sport The second product I've been loving isn't strictly a beauty product, but it's an amazing beauty supplement. HALO Sport! I have a hard time drinking water, even while working out. I've never been a water drinker, (terrible I know) and always add fruit or cucumbers for some flavor. After discovering this new electrolyte-filled drink I call it my "new water." It has a sweet organic flavor and is just 10 calories with 2g of sugar. I especially like the pink grapefruit flavor—it's SUCH A TREAT!
Maisha Shahid, Editor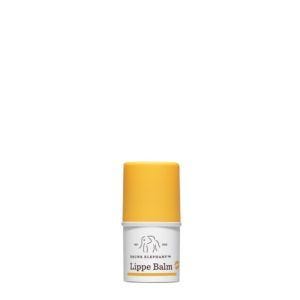 Drunk Elephant I often struggle with dry lips, and with winter creeping in, I've been extra careful about keeping my pout hydrated. One of the most important steps for having smooth, moisturized lips is, of course, exfoliating. This month I've been using Lush Lip Scrub in the Mint Julips flavor. Made with castor sugar, the scrub does its job: removing dead skin, smoothing the lips, and allowing for lip balm to properly moisturize your lips. The jojoba oil in this scrub is great for chapped lips, and vanilla extract and peppermint oil add a refreshingly sweet flavor. Plus, I love the smell! I've noticed a difference, with smoother, more hydrated lips. And I actually look forward to exfoliating at night. Keeping with the lips theme, I of course need a lip moisturizer to follow my lip scrub. I've been using Drunk Elephant's Lippe Balm. It's made with avocado oil, cranberry seed oil, shea butter, DE's signature marula oil, and other goodies. The balm feels great on my lips and definitely works. Plus, I really like the cute yellow tube. I rarely use hair products beyond shampoo and conditioner (and lately just shampoo) but I recently tried Briogeo's Don't Despair, Repair Strength + Moisture Leave-In Mask. My hair was feeling pretty dull and lifeless, and then I spritzed some of the mask throughout my wet hair post-shower. I woke up the next day to my hair feeling healthier and much less dry. And I can still feel the effects, after just one use a couple of weeks ago.
Krista Iovino, Staff Writer
Lately, I've been having trouble trying to determine which I like better: Volition Snow Mushroom Serum or Vintner's Daughter Active Botanicals Serum. Both are so fabulous in so many ways and both get fantastic results. Can I wear them together for max results or do I have to choose one? I guess this will be my next experiment...stay tuned!  
Read this next.
Read more about exactly why Robin loves Susanne Kaufmann Eye Cream. Plus, we talked to Briogeo founder Nancy Twine about beauty, wellness, and being an entrepreneur. 
Find beauty and wellness experts.
Check Charlotte's Book to read reviews, book appointments, and get advice from the best cosmetic doctors, skincare experts, nutritionists, and fitness and wellness professionals in the country.