Discover more from Charlotte's Book
All the things about life your friends won't tell you. Funny. But not funny. But true.
Over 12,000 subscribers
The Skinny On The Best Body Slimming Creams, Scrubs & Oils
Just as there's no magic wand for getting rid of belly bulges and dimpled rears (although some of the new non-invasive body contouring procedures can show some real results), there's no beauty potion out there capable of performing miracles either. That doesn't mean, however, that body slimming creams, scrubs and oils shouldn't have a place on your bathroom shelf. In fact, most doctors agree that certain topical skincare ingredients can help improve the appearance of trouble zones, reducing the look of cellulite and making skin appear more toned and taught. Dr. Dennis Gross, a New York City dermatologist, recommends his well-heeled clientele to look for products containing Vitamin C, which stimulates collagen and can improve skin firmness. Dr. Chia Chi Kao, a plastic surgeon in Santa Monica, California, recommends formulations containing peptides and retinols, which enhance collagen and elastin production and help thicken and plump skin, helping to mask cellulite. "All of the anti-aging ingredients that are good for the face are good for the body too," says Dr. Kao. Manhattan-based dermatologist Dr. Gervaise Gerstner, meanwhile, likes products containing seaweed or algae and caffeine to temporarily flush excess fluids from the skin. The key word, of course, is temporary. As Dr. Doft, a New York City plastic surgeon, points out, most topical shaping creams can only "temporarily give the illusion of smoother skin." Smoke and mirrors—but isn't that what most of us consider magic, anyway. Here's what's in our bag of tricks: La Prairie Skin Caviar Luxe Souffle Body Cream, $300. Caffeine, caviar, willow bark and algae extracts stimulate circulation and richly hydrate the skin. Elemis Spa Home Cellutox Active Body Oil, $40. Seabuckthorn, sea fennel and juniper flush out toxins and hydrate skin.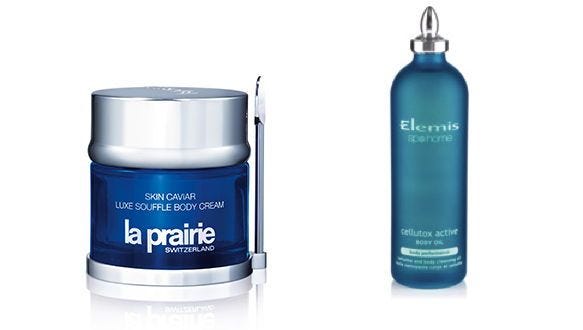 Juara Invigorating Coffee Scrub, $33. Caffeine and walnut shells improve circulation, exfoliate, and detoxify skin. Caudalie Firming Concentrate,$35. Grape seed and lemon oils fight cellulite while cypress oil promotes circulation.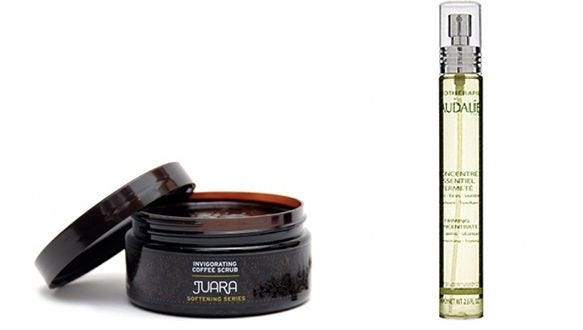 Show in top image from right to left:  BioElixia BodyShaper Cellulite Contour Cream, $49. Caffeine, retinol, reservatrol, green tea, and Vitamin E firm and plump skin to reduce the appearance of those dreaded dimples. Bliss FatGirlSixPack, $38. Caffeine, amino acids and menthol stimulate, firm and tone skin. AHAVA Firming Body Cream, $39. Vitamin E, caffeine, peptides and green tea extracts improve sagging and leave skin smooth and supple. ORLANE PARIS Aqua Svelte Slimming Scrub, $65. Caffeine, ginger essential oil and algae exfoliate dry skin, stimulate circulation and flush out excess fluids. SkinCeuticals Body Tightening Concentrate, $78.TriPeptide, yeast extract, and rice protein increase hyaluronic acid production to improve skin volume and create a tighter skin appearance.
READ THIS NEXT
The Busy Woman's Dream Face Wash
CURIOUS ABOUT OUR EXPERTS?
Learn who the Charlotte's Book Verified Experts are and how we select them. Featured in this article: Dermatologist Dr. Dennis Gross, Dermatologist Dr. Gervaise Gerstner, plastic surgeon Dr. Melissa Doft. Read patient reviews, get expert advice, and learn why these doctors are Charlotte's Book verified experts.