Discover more from Charlotte's Book
All the things about life your friends won't tell you. Funny. But not funny. But true.
Over 12,000 subscribers
A Breakdown Of The Cult Favorite Biologique Recherche P50 Line
Referred to as "Jesus in a bottle" and "the best beauty product in the world," there certainly is a cult-like fanaticism over Biologique Recherche's P50 line. The incredibly chic, power-packed bottles of magic elixir are a new beauty standard, and the formulations are more targeted than any skincare line available. Lotion P50 is the range's most coveted product, but each of the P50 products is exceptionally formulated. What really sets the line apart are the care and research that go into every single ingredient and how they work in harmony to give you results like no other. The products are a culmination of over 30 years of experimentation and fine-tuning. P50 enhances the skin's natural exfoliation while supporting reconstruction of the epidermal shield. In everyday diva terms, "it keeps the skin constantly fresh and protected." Perhaps what makes Biologique products so truly outstanding is that their active ingredients are of an extremely high concentration. The line is also preservative-free, paraben-free, raw, and first cold pressed. Let's explore the different formulations of this must-have skincare marvel.  
Get stronger, glowing skin with Lotion P50
Fortified with acid complexes, vinegars, sulfur, vitamin B, horseradish, onion, and thyme extracts, Lotion P50 is a multi-functioning cocktail for your skin. It exfoliates and purifies the skin while respecting its precious lipids and strengthens and hydrates the skin through keratolytic action. This means cleaner, smoother, stronger skin that glows.  
Then there's also....Lotion P50 1970
The original formulation developed in 1970, P50 1970 is just like P50, but with phenol, an antiseptic acid compound. The addition of this ingredient results in a more clinical, tingly clean that leads to clearer skin and fewer breakouts, but the same glow. (Phenol is not allowed to be sold in Europe, but you can buy it in the United States. Pregnant women are recommended to not use products that contain phenol.)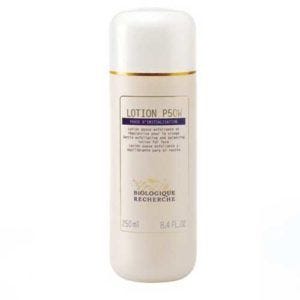 The most gentle on your skin is Lotion P50W
The most gentle of all Biologique Recherce formulations, Lotion P50W is best for thin and reactive skin. It has exfoliating and hydrating benefits and also includes Arnica extract to calm and soothe even the most sensitive skin. If you have reactive, sensitive skin and want to try a Biologique product, this one's for you.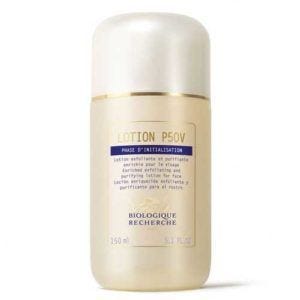 For the most youthful looking skin, try Lotion P50V
Lotion P50V performs all of the functions that P50 is beloved for, with the added benefit of natural sponge, yeast, and walnut extracts to address less toned skin. If you've started to notice a loss of volume or want to soften your lines, try this skin-plumping formulation.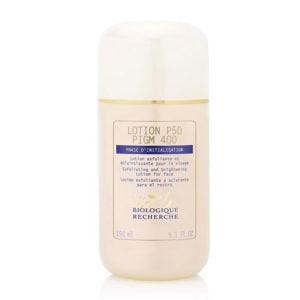 For pigmentation and discoloration, use Lotion P50 PIGM 400
P50 PIGM 400 contains naturally occurring lightening agents such as red algae and AHAs that target pigmentation and discoloration and prevent them from coming back. This product is great for a brighter complexion and enhances your skin's own ability to renew itself. You can buy any of Biologique Recherce's P50 products by contacting Tres Belle Spa.  
Read This Next
Is facial steaming good for you? We have Allison's answer. Plus, all about fatty acids and the products and supplements we recommend.
Find Beauty And Wellness Experts
Read client reviews, book appointments, and get advice from the experts in Charlotte's Book. Only the best cosmetic doctors, skincare gurus, nutritionists, and fitness and wellness professionals make it into our book.