Discover more from Charlotte's Book
All the things about life your friends won't tell you. Funny. But not funny. But true.
Over 12,000 subscribers
Body Contouring Treatments Decoded: UltraShape, SculpSure, CoolSculpting, And TruSculpt 3D
Sometimes, no matter how much you exercise and how healthy your diet is, there are parts of your body that just don't look and feel the way you want them to. Whether you've lost a bunch of weight or you've always been pretty toned, you might have those stubborn areas with that bit of extra fat: the lower abdomen, thighs, bra fat, etc. We get it. We're all beautiful the way we are, but sometimes we want a little extra help. And there's no shame in that (check out our perfectionist's guide to body contouring).  Getting rid of these problem areas can feel impossible. No matter how much you work out, they just refuse to go away. Especially as we age. But when it comes to these annoying bulges, sagging skin, and unwanted pockets of fat, there are non-invasive ways to reduce them. Body contouring might just be the solution. These treatments reduce unwanted areas of fat that aren't significant enough for plastic surgery, but which are still sticking around regardless of your exercise regimen. Body contouring is not only one of the most popular topics on Charlotte's Book—our look at the effectiveness of body contouring continues to be one of our most-eyeballed articles each year—it has become an increasingly sought-out cosmetic treatment. And we get lots of reader questions in our Ask Charlotte series (this is where we direct reader questions to our national directory of top experts) asking about different techniques available at doctor's offices. So we thought we would put together this definitive guide to body contouring devices to help you make the best decisions. As you'll see, the best treatment for you depends on exactly what you want to achieve. But we've made it easier to decide between some of the most popular techniques—UltraShape, SculpSure, CoolSculpting, and TruSculpt 3D—by talking pros, cons, and everything in between.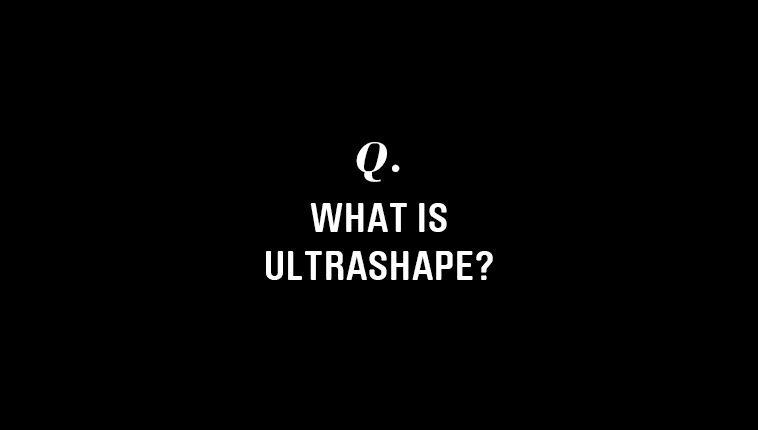 What is it?
UltraShape is an FDA-cleared technique that uses ultrasound energy to get rid of fat cells. See our complete guide here. 
How does it work?
The sound waves target fat under the surface of the skin and breaks them down. The broken-down cells later filter through your body and exit naturally. After talking with your doctor about the exact spots of fat you want removed, you will be given a special belt to wear around your abdomen, and a gel will be applied to the skin. An UltraShape technician will glide the device over the area you have discussed, and gentle pulses will break down the fat cells. An UltraShape treatment takes an hour or less, and you'll be fine to continue your day like normal. Doctors suggest three treatments, two weeks apart.
How is it different from other body contouring techniques?
Unlike most other techniques, UltraShape doesn't use heat to destroy fat cells, instead relying on sound waves. And because it's a probe rather than a vacuum, it allows for more control and accuracy in targeting a specific area. The UltraShape device also has a feature that ensures that fat cells aren't hit with sound waves more than once, making sure the contouring is uniform.
Does it hurt?
Because UltraShape uses ultrasound technology (think pregnancy ultrasounds), it's painless. The sound waves don't harm any of the tissue, muscle, or nerves surrounding the unwanted fat, so you won't feel any pain.
How about recovery time?
There's no downtime associated with UltraShape, so you're free to leave the doctor's and head straight to your workout class!
What kind of results can I expect?
You can expect to see results as early as two weeks after your last treatment. Many people who have used the technique say they have lost 1-3 inches of fat. And because of the ultrasound technology, there will be no visible signs of treatment on your body. The treated fat cells are destroyed, but nearby cells can still grow in size, so as with any of these procedures, it's important to continue your healthy diet and lifestyle.
How much does it cost?
The cost varies depending on location and doctor, but averages at about $1,200-$1,400 for each of the three treatments.  
What is it?
SculpSure is an FDA-approved laser treatment that breaks down fat. It's approved for the abdomen, flanks (love handles), and chin. See our complete guide here.
How is it different from other body contouring techniques?
Whereas UltraShape uses ultrasound technology and Coolsculpting (read on for more about that) uses cooling technology, SculpSure uses heat to destroy fat cells. It's also less painful than most other body contouring techniques.
How does it work?
The laser targets the layer of fat, without disturbing or harming the layer of skin on top. The laser's heat technology destroys the structure of the fat cells, and these cells are naturally processed and eliminated by the body over the next few months. The fat cells are permanently removed, so they won't be making a reappearance! One treatment is about 25 minutes long. Experts recommend one to two sessions, depending on the individual. After consulting with your doctor and discussing your goals, the treatment areas will be marked. You'll wear a belt over the area, and it will be attached to a frame that holds the applicators. These will deliver the fat-zapping lasers to the area. This will be done to each area you want to treat. There are also newer, smaller applicators that are great for treating small pockets of fat, such as on the arms.
Does it hurt?
You'll feel a cooling sensation during the whole treatment, with periods of deep warmth (and maybe tingling) in the area that's being treated. The process might give you some discomfort, but it's not painful for most people.
How about recovery time?
There's no recovery time! You can continue with the rest of your day as you normally would. You'll notice a little bit of soreness, swelling, or tenderness in the days following your treatment, but it won't be anything that'll get in the way of your regular routine.
What kind of results can I expect?
Expect to see results in 6-12 weeks. Most people who try SculpSure see a noticeable decrease of the pockets of fat they had before.
How much does it cost?
On average a SculpSure treatment costs around $2,000, but can be lower or higher depending on the location, provider, and specific needs.  
What is it?
CoolSculpting uses cryoliposis, the technique of freezing fat cells under your skin in order to destroy them. It's the only non-invasive fat-reduction treatment using cooling that's been cleared by the FDA. It's used to treat the abdomen, flanks, thighs, arms, and chin. See our complete guide here in our cosmetic treatment resource.
How is it different from other body contouring techniques?
In a lot of ways, CoolSculpting is the opposite of SculpSure, since it uses cold technology instead of heat technology. Because of its vacuum-based applicator, CoolSculpting tends to cause more discomfort than the other body contouring treatments.
How does it work?
Just like fat cells get destroyed when they receive too much heat, they also die off when they're exposed to excessive cold. Using that science, CoolSculpting delivers controlled cooling to fat cells, which then become crystallized. The body then gradually eliminates the frozen fat cells for good. After consulting with a clinician who knows the ins and outs of CoolSculpting, you'll come up with a treatment plan together. On the day of the procedure, a gel pad and vacuum-based applicator are placed on the treatment area. The pocket of fat that you're treating is basically sucked into the applicator. For the first ten minutes or so, you'll feel an intense cold and pulling sensation as the vacuum does its job. For the remainder of the treatment, the initial discomfort should subside and you'll just feel a cooling sensation. The length of the treatment depends on what areas you're treating.
Does it hurt?
CoolSculpting usually isn't super painful, but it probably causes the most discomfort out of the body contouring treatments discussed in this guide. The majority of the discomfort you experience will be in the first ten minutes of the procedure, when the fatty tissue is pulled in by the vacuum applicator. Along with the tugging, pinching sensation, you'll feel an intense cold during this first part of the procedure.
How about recovery time?
There's little to no downtime after a CoolSculpting treatment. Depending on the area you had treated, you might have some cramping or see redness. Even though you're cleared to go straight to work or the gym after the procedure, you should take your level of pain or discomfort into account before any strenuous activity.
What kind of results can I expect?
You can expect to see results in three to five weeks. After the frozen fat cells have exited your body, you'll notice that the bulge you had treated looks smaller. Here are some before-and-after pictures.
How much does it cost?
While prices vary based on location and provider, treating small areas of fat can cost as low as $800, while larger areas can cost upwards of $3,000.  
What is it?
By using monopolar radiofrequency, truSculpt 3D targets, heats, and destroys fat cells. This technique focuses on improving definition and reshaping dimension in the problem area. Read our contributing editor Tatiana Boncompagni's experience with truSculpt.
How is it different from other body contouring techniques?
While other treatments like CoolSculpting use applicators that are meant for specific-sized pockets of fat, truSculpt 3D works for smaller or larger areas. This means you might be a good candidate for this technique, even if other procedures aren't the right fit for you. In addition to this, a side benefit of this treatment is skin tightening. The radiofrequency energy heats up deep layers of skin as well as fat, which also improves the texture of your skin in the treated area. Bonus!
How does it work?
TruSculpt 3D uses high temperatures to quickly destroy unwanted fat cells, similarly to SculpSure. But because of the specific frequency of the applied heat, a treatment is only 15 minutes long. You can, however, combine several treatments during one session. You'll need one to two treatments, depending on your goals.
Does it hurt?
TruSculpt 3D causes some discomfort, but it's manageable. Some people feel a sensation similar to getting a hot stone massage.
How about recovery time?
There's no downtime, but you might feel some tenderness in the treated area for a few days.
What kind of results can I expect?
You'll start to notice results in six to eight weeks, and final results about three months post-procedure. According to CUTERA, the company behind truSculpt 3D, you can achieve up to a 24% decrease in fat after one treatment.
How much does it cost?
Price varies, from a few hundred dollars to thousands, depending on the procedure you want and how many sessions are required.  
Read This Next
Body contouring is what our readers want to know about. Read our guide to true results plus a fitness junkie's journey to getting rid of stubborn areas.  
Find Beauty And Wellness Experts
Read client reviews, book appointments, and get advice from the experts in Charlotte's Book. Only the best cosmetic doctors, skincare gurus, nutritionists, and fitness and wellness professionals make it into our book.