Discover more from Charlotte's Book
All the things about life your friends won't tell you. Funny. But not funny. But true.
Over 12,000 subscribers
Charlotte Talks To: Luxury Coat Designer Michelle Waugh
#CharlotteTalksTo is our exclusive interview series where we feature some of the amazing women out there shaking things up and remaining fabulous in the process. Being headquartered in New York City, it goes without saying that we're exposed to many beautiful and brilliant women. Our Founder, our Provider Network and countless friends and fans, we've learned, all have a few secrets that help them "be timeless". Michelle Waugh is the founder and designer of the luxury women's outerwear brand that bears her name: every aspect of Michelle Waugh's sourcing and production is carefully considered, focusing on high-end fabrics (mostly cashmere) and the perfect fit. The collection is all handmade in New York, borne from her mission to support luxury manufacturing in the United States. Popular? Absolutely—her designs have been seen on the likes of Eva Chen and  Drew Barrymore. Why we love her?  Michelle built a luxury fashion label from the ground up, has a gorgeous newborn baby, and even amongst it all respects the importance of self-care. If you aren't looking and feeling your best, it's harder to be your best in all aspects of life.
Michelle Waugh, a #GirlBoss in the Making
A global citizen, Waugh has traveled and lived abroad—even on a 188-foot sail boat—to more than 60 countries. This has undoubtedly helped her to achieve a greater appreciation of the world. She graduated from Fordham University majoring in political science and Middle East studies. She ultimately worked for luxury design house Christian Dior and Singaporean-based fashion brand Raoul, where she was a member of the public relations team responsible for their first launch in the US market. The brand's New York debut was an instant success, and offered Waugh a glimpse into the day-to-day life of an entrepreneur. It was at this moment she realized she wanted to someday run her own business. Fast-forward to 2013 and the highly anticipated launch of her own label, Michelle Waugh NY. Influenced by classic men's coats, her collection focuses on re-imagining outerwear for the modern woman. A long wait-list confirms high demand. Michelle currently resides in NYC's West Village. She and her husband Stephen Waugh welcomed their first child, daughter Chloe, in 2015. Waugh is a member of the Young Entrepreneur Council, an American non-profit organization that provides entrepreneurs with access to mentorship and resources that support each stage of their business's development and growth. Michelle spoke to Charlotte's Book about balancing life as a new mom and businesswoman, Dermaplaning, and the importance of quiet time with her newborn daughter Chloe.
On How She Starts Her Days:
"Being a wife, mom and entrepreneur, my days are definitely busy and no day is the same! That is truly what attracted me to creating this world for myself. I love the fact that everyday is different, I continue learning, growing and I always feel challenged. It is within these challenges that I get the most rewards. My days always start by squeezing my husband out the door and settling down for a couple hours of some of my best time with my daughter, Chloe. She has been one of my biggest educators in life and she is only five months old! She teaches me to stay grounded and live in the moment. She is such a happy baby that I realize I spend my mornings smiling and laughing now, in comparison to rushing. Lately, my husband and I have been joking that Chloe has made me more European. I don't do 4000 things before breakfast anymore. I'm just with her, the two of us, savoring every bite."
On the Importance of Self-Care, Even at Your Busiest:
"My parents have been happily married for over 30 years and one of the biggest lessons they taught me is the importance of self-care. If you aren't well, your family will certainly suffer. I try my best to take care of myself and my husband, since I believe if we are both rocking it our children will be happy. One of the upsides, and possible downsides, of having a newborn is that your day starts much earlier. I have an amazing yoga instructor who has been getting me back to my best self so this has been a huge help. We meditate, breathe, decompress and shape up. It's my check-in time with myself to see where I'm at, how I feel and where I'm going. My must-have every morning is to move my body. When it isn't yoga, I bundle Chloe up and we hit the west side for a power walk. We are both quiet, looking at each other, breathing in the salty air."
On Her Must-Have Products and Treatments That Keep Her Looking #Timeless:
"I've realized how much has changed when it comes to the way I research products and treatments now that I'm a new mom and also having just turned 30. In my early twenties, I remember focusing primarily on products that would cover pigmentation irregularities, breakouts and inconsistencies on my skin. This typically meant exploring new foundations, bronzers, and mostly makeup-oriented products. Now, I really focus my energy and take pride in the fact that I take care of my skin. For me it's all about skincare. Shifting my focus to skincare isn't instantaneously gratifying but a real investment, and one everyone should think about in their twenties. During my pregnancy with my daughter Chloe and postpartum, I really began focusing on products and treatments that would get the job done, yet be gentle for what my body now needed to do, grow a baby and feed a baby. The first treatment that is a monthly necessity for me is Dermaplaning. This to me is the mother of all exfoliation treatments! It is a simple and safe procedure in which a skin care professional exfoliates the epidermis of the skin ridding it of all dead skin and peach fuzz. Using a scalpel, the blade gently abrades the surface of the skin using light feathering strokes. This was the best deep exfoliation I could give myself pregnant and it remains a staple for me in my skin care regime. By removing the epidermal skin, this allows products to penetrate much more efficiently into the deeper layers. If you are going to invest well-earned cash on products, it is pointless if your skin is not prepared to welcome it. Dermaplaning is the best way to achieve that 'glow' and look like I'm not up at all wee hours of the morning with the little one. Secondly I hydrate, hydrate, and hydrate! I can't live without Squalane Moisture Seal and Ultra Hyaluronic Hydrating Serum. Morning and night, after cleansing my face, I apply two pumps of these to my face and neck. The squalane moisturizer improves the look of any fine lines, elasticity and radiance. The hyaluronic serum is a fountain of youth. It is a fantastic anti-aging agent and leaves your skin tremendously hydrated. I'm also a big fan of Skinceuticals. I absolutely love their product line and it is so incredibly gentle. I can't live without their Redness Neutralizer. It combats environmental triggers (which living in NYC is much needed!) and alleviates irritation and discomfort on the skin. I use mine as a moisturizer before I put on the most important of all products, sunscreen! If there is only one thing you do, let it be sunscreen! I love the Skinceuticals Physical Fusion UV Defense tinted sunscreen. It has an SPF of 50 and due to the tint you don't have to wear any foundation with it, which is a huge bonus during the summer. You can apply it quickly and the tint is universal and works on any skin color."
On How to Decompress and Stay Centered:
"Decompressing in the city is always a challenge. I schedule the time for it and make it a priority. Again, this is going back to the importance of self-care. I decompress over food and wine with great girlfriends and/or my husband. We look forward to our date nights and since they are only once a week now with a baby, my husband really makes them count. Some of our favorite hideaways are Babbo, Marea, Eleven Madison Park, Omakase at Sushi Dojo and Los Tacos No.1 in the Chelsea Market. For me, being around the table with people you love, conversing, eating and drinking is complete happiness. I also love to cook. Constantly losing myself in local markets, cooking allows me to be creative outside of my work and it always inspires me. I escape while cooking. I have my glass of wine, turn the music on, put Chloe in her baby bjorn and we go places."
On the Importance of Supporting Other Women in Achieving Their Goals:
"I have a zero tolerance policy for the critics and the competitors. Women who empower other women are confident and secure, making them incredibly humble and generous. They will hold you accountable to your goals, your objectives, encourage you, and speak the truth when needed. The women who empower me in my life are my invaluable sounding board, my role models. They help me create my world. They inspire me, challenge me and push me to be my best. When I fail, they help me strategize. When I succeed, they are the first to celebrate. It is important to empower one another because not only do we fight the same battles, we are also each others' biggest advocates. When I've asked for help, I was able to create life changing friendships/mentors with the most amazing women. You become what you think and who you surround yourself with. So make sure it's a whole lot of goodness!"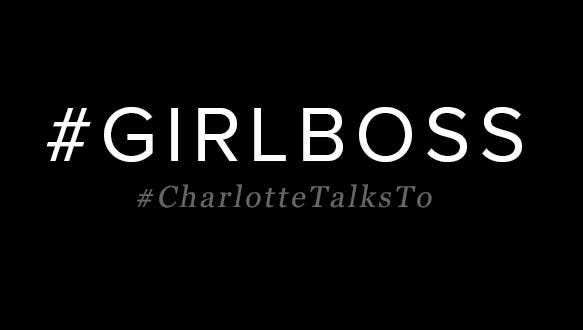 - As told to Dawn Kissi for Charlotte's Book Michelle Waugh photographed by Roderick Angle in New York on May 5, 2015. Roderick is a fashion, portrait and lifestyle photographer and videographer. You can follow Roderick's instagram feed, About Themselves, where he profiles interesting and creative individuals.
READ THIS NEXT
CharlotteTalksTo: Town & Country's Beauty Director Jamie Rosen