Discover more from Charlotte's Book
All the things about life your friends won't tell you. Funny. But not funny. But true.
Over 12,000 subscribers
Charlotte Talks To: AKT'S Anna Kaiser and BFF Sarah Easley
INTERVIEW: ANNA KAISER + SARAH EASLEY
---
FITNESS GURU OF AKT + CO-FOUNDER OF KIRNA ZABETE 
Welcome to #CharlotteTalksTo, where we feature amazing women out there shaking things up and remaining fabulous in the process. How do they do it? Behind every beautiful and brilliant woman are a few secrets that help them "be timeless". Anna Kaiser: have you heard of her? She's the newest thing in working out, and she's blowing up the fitness world. You can't open the Well + Good website without seeing her everywhere, and she's been featured on The Coveteur, IntoTheGloss, Shape, and Elle (to name a few). All that and her new TV show "My Diet Is Better Than Yours" premiered on ABC just a few months ago. Busy? You better believe it. And successful, too. Anna has a background in professional dance and sports medicine, and began her career teaching ballet, body conditioning, and dance cardio at the Reebok Sports Club in New York, then at The Sports Club in Los Angeles. She eventually became the chief content officer for the Tracy Anderson Method, and about three years ago she opened her own studio and fitness brand—she quickly gained a cult following. Anna now has three studios in the New York area: one on the Upper East Side, one in the Hamptons, and a NoMAD location that opened last November. When we initially considered including Anna in our #charlottetalksto series, my first inclination was to skip it. Why? Not that I don't love her, but the Charlotte's Book niche is medical beauty, skincare, aging gracefully, and beauty-related wellness. Exercise didn't seem to fit, exactly. And yet the more I read, the more it seemed like the perfect interview: there are incredible links between skin health, anti-aging and fitness. Several studies link sweating and working out to anti-aging—some studies even say it helps with sagging and discoloration! I was sold. At the age of 38, I constantly struggle with finding the right exercise balance— why was this so much easier when I was younger? How do I get the body of Kate Hudson when I'm approaching 40? (Anna has trained Kate, actually, and Sophia Vergara, Shakira, Kelly Ripa … you get the point). After meeting Anna and seeing her in action, she immediately became my "Charlotte." What's her trick, I wondered? Where does she get this je ne sais quoi? I can honestly say she has more energy than the energizer bunny on five cups of coffee: she's a lean, mean, workout machine packed with just the right amount of muscle. Not only did I want to look like Kate, I wanted to look like Anna! We spoke to Anna in her newest and third New York City studio, located in NOMAD, with her best friend (and faithful client) Sarah Easley, one of the founders of luxury clothing boutique Kirna Zabete. I wanted to get the perspective of a committed AKTer, so having Sarah there was great: we talked about their friendship, their workout mantras, and how exercise fits into their beauty and wellness routines.   
ON BFF QUALITY TIME:
AK: Sarah and I became fast friends after meeting in New York, actually, through Jessica Seinfeld, who was a mutual friend of ours. That was in 2009 and we have been great friends ever since. Sarah and I love to go shopping together for fitness and ready-to-wear. Our ideal GNO starts with an amazing AKT workout, followed by dinner, and then a fitting room style sesh. SE: Cardio shopping is a real thing right?! But seriously, Anna is the architect and I am the interior designer. She builds the body and I help her dress it! We have a high-low glamour and sporty mix, we'll do designer stores and then also we'll dabble in some special edition Adidas or Zara or a collab at Top Shop, but we both know what we want so we don't need to buy it all at one place.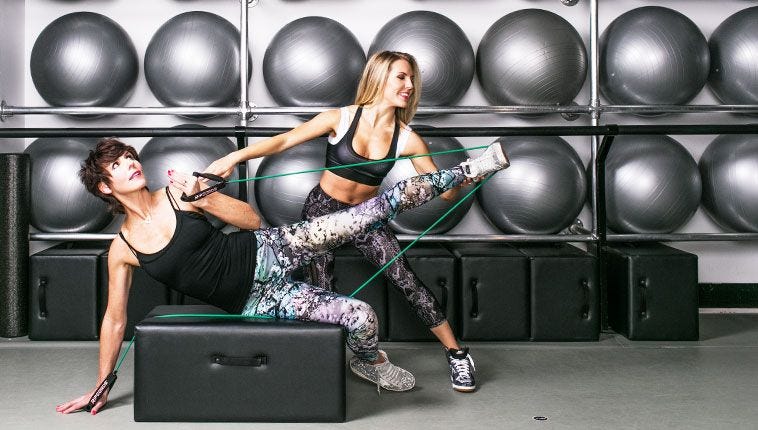 ON THEIR OWN FITNESS COMMITMENT:
AK: I love working out at AKT. I will jump into one of my instructor's classes, hold a secret session with friends, or jam it out with my team, five days per week, 60-90 minutes each day. In addition, I'll take one day to dedicate to a long restorative session, incorporating a mix of yoga, pilates, foam rolling, and meditation. When I'm traveling, I always make sure to fit in a good daily AKTread session. And, of course, a day off every week. SE: I do about 4 AKT sessions a week and 1 at home alone.
ON MORNING BEAUTY AND WELLNESS REGIMENS:
AK: When I wake up, I always grab 8-12 ounces of Essentia alkaline water. I love it. It's one of the best things to help balance your body. It also decreases inflammation and sets you up for the day. Then, probiotics, Ezekiel bread with a thin layer of coconut oil, avocado, tomato, chia seeds and raw Himalayan sea salt (my fav breakfast!), and either a green tea or half caf coffee blended with ghee. I wash my face with a Sisley milk cleanser, apply Drunk Elephant C-Firma Day Serum, and finish off with Sisley rose toner, moisturizer, and SPF before heading out to walk my baby girl, Harlie (a mini Australian shepherd). SE: First I drink water, then coffee with (cow's milk!). I eat whole grain toast and almond butter. I use Drunk Elephant skincare too (pekee soap, C-Firma Day Serum and marula oil. Then Chantecaille's tinted moisturizer, Just Skin. Next I pack lunches, sign homework and get my children on the school bus. Then I read WWD, The Business of Fashion, the NYT, workout for 60 minutes and have Instagram for dessert ☺ Then work! This sounds organized but it is chaos. It all really happens though, in some order.
ON FITNESS AND BEAUTY NORTH OF 30: DOES A WOMAN HAVE TO CHOOSE BETWEEN HER A$$ AND FACE?
AK: Absolutely not!  Maintaining a healthy lifestyle means not just working out, but eating well and staying hydrated. Consuming too much sugar and alcohol, along with ingesting excess preservatives and chemicals will do a hell of a lot more damage to our face and overall skin tone than working out. Our skin is the largest organ and one of the ways we eliminate waste. I would check out your diet before you start blaming your workout (although I realize it's easier to drink that glass of wine and skip your cardio sesh.) SE: That was before filler. Just kidding! I don't have any filler. I do think being overly slim when you're over 35 is aging. With the right workout plan, a little make-up and some smoke and mirrors you can have both. Of course, ideally when you're over 35 you have the wisdom and perspective not to obsess.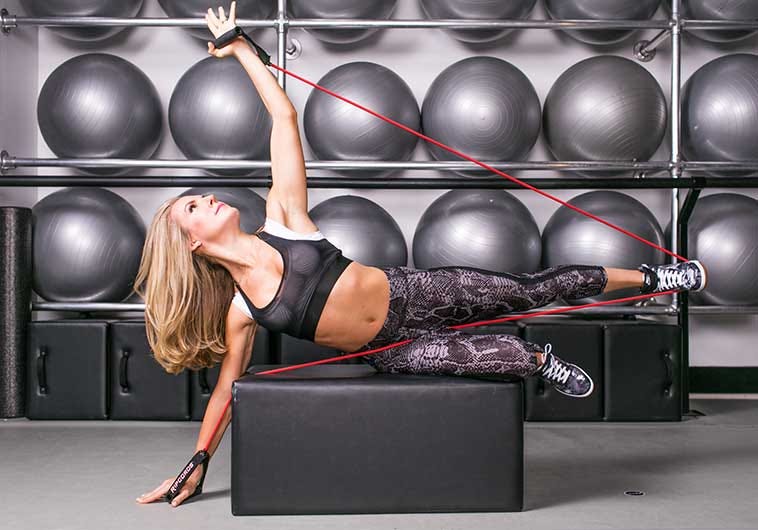 ON WHY AKT IS DEFINITELY NOT JUST ANOTHER CARDIO DANCE CLASS:
AK: Creating AKT was a long journey for me. I moved to NYC in 2002. Performing and working out always went hand in hand. As a dancer, I had a really hard time keeping myself in shape. I loved teaching, and I grew to really love group exercise as well. But what I realized was, I had to teach three different classes (cardio, strength, flexibility) to get everything that I needed in a workout. I wanted to create a comprehensive program that had it all. So, I set out to do just that. I LOVE FITNESS. And I really believe in the 360 lifestyle approach for fitness (nutrition, wellness, workouts, education). I knew that my career in dance would come to an end at some point, and transitioning into a career in fitness was a natural progression. Through my research over the years, one of the key observations I made was that the body will physically and aesthetically change to support the daily movements/workouts one is doing.  As a dancer, I wanted to figure out a way to create a proportionate body. Too much pilates overbuilt my core, too much yoga overbuilt my shoulders, spinning and too much elliptical made my legs stronger, but also much bigger, and I never had access to an open pool. So I set out to answer my biggest question: what's the perfect combination of exercise? How much cardio vs. how much strength? How to do you get the proportions of a dancer but still be as strong as someone who's lifting? And how can we put it all together in a way that makes sense? This is the question that AKT answers. When I created AKT, I wanted to combine the comprehensive workout and personalization of an elite trainer with the excitement and energy of a group class. The workout changes every two weeks. So for two weeks you're combining TRX with kickboxing, then you're adding barre and hip hop, or sports agility and pilates. I wanted to bring the best of fitness to one place, to curate the perfect program, so that all you have to do is show up. Sarah actually coined the phrase, "Nothing prepares you for AKT. AKT prepares you for everything else," because she found that after working out at AKT, she could do almost anything—run with her kids, surf, ski all day.  She was functionally prepared for everything. SE: Anna has stayed on her founding mission to fully incorporate dance into all cardio workouts. But she changes the genre and content: hip hop, lyrical, modern, ballet are blended into her own hybrid. For the strength work, she somehow comes up with entirely new ways to work the same muscles. I call it "marketing". She tricks me and "markets" to my muscles! I have a very short attention span. I want the convenience of one go to "sport" that offers increased strength, flexibility and that addictive cardio adrenaline rush. I have gone through every fitness trend from kickboxing to pole dancing but nothing really changed my body or mind. Nothing kept me coming back. As AKT content is ever-changing, I feel like a new student every two weeks. After finally keeping up with my speed-skiing kids on a vacation, that's when I told Anna that nothing prepares you for AKT, but AKT prepares you for everything. A few weeks later my quote was on the wall in the New York Studio.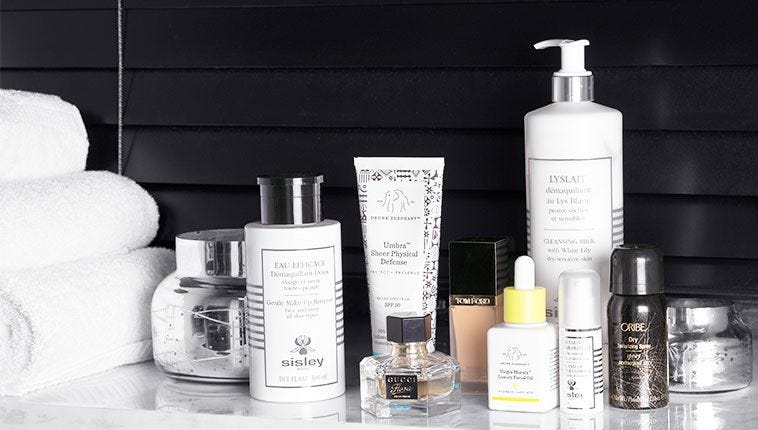 ON SKINCARE CHALLENGES:
AK: Keeping my skin hydrated is what I focus on most. I love to sweat for the detoxification benefits, but then I need to focus on rehydration from the inside out and the outside in. I only drink Essentia water because it's alkaline, ionized, and hydrates 8x better than any other water on the market! Pre-workout, I wash my face with a gentle cleanser (Sisley Cleansing Milk) and sometimes apply the Sisley Express Flower gel (and leave it on during my workout). Then I take a shower immediately after the workout (don't let the sweat dry!) and tone, moisturize, and use Sisley Eye Gel. I always carry the Sisley Floral toning mist to spray on during the day for extra hydration and a fresh boost.
ON LUXURIOUS LOCKER ROOMS:
AK: I make sure to curate all items in the AKT locker room. One of my favorite product lines of all time is Sisley, and I am thrilled to be able to offer the line to my clients. They exemplify the brand in so many ways—luxurious without being pretentious, effective, backed by years of research, and proven results unlike anything else I have tried.
ON WELLNESS RITUALS (BESIDES WORKING OUT):
AK: Aside from the AKT workout, I am a big believer in probiotics for overall health. I take two every morning. And sleep. Not just how much you are sleeping, but the quality of your sleep. Making sure that you sleep all through the night and at least seven hours is incredibly important for brain function, hormone balance, skin, muscle recovery, elimination, the list continues. I would almost go as far as to say the importance of sleep reigns above all else. And something we need to bring to the forefront of the discussion on wellness.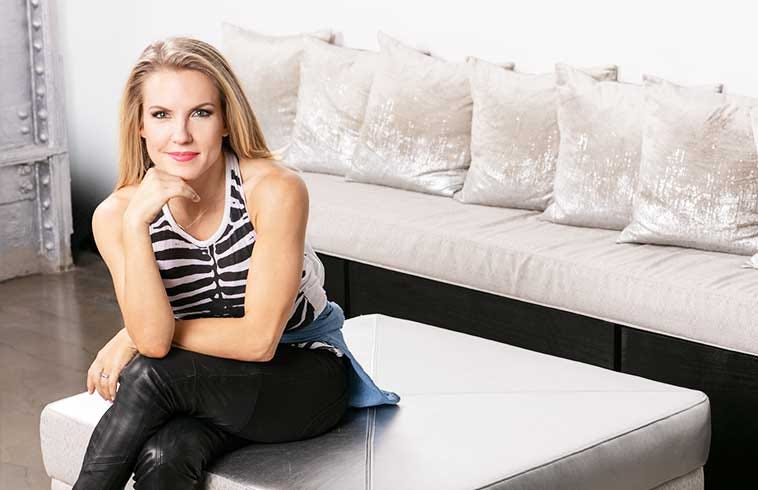 ON THE CONNECTION BETWEEN SWEATING, SKINCARE, AND AGE PREVENTION:
AK: Your body eliminates waste and toxins through your largest organ—your skin! For instance, I have always found sweating to be the best way to cure a hangover. Working out also increases circulation in your body, which helps with cell turnover and your body's ability to heal itself more quickly. Plus, after working out, you tend to crave better food, which will keep you looking younger and healthier for a much longer time. Feeding your body quality food and creating a physically strong vessel will not only make you look younger, it will make you feel younger and provide you with increased energy that rivals those 10 years younger.   SE: I do believe that my skin really detoxes with a full perspiration. It also improves my color and tone. And I never get sick! Beyond strengthening and maintaining the body, working out, specifically challenging myself to conquer new AKT choreography prevents my brain from atrophy. I always want to keep learning and changing and I hope that keeps me at least feeling young.
ON TAKING OVER THE FITNESS WORLD ONE STUDIO AT A TIME:
AK: Our new NoMad location opened in November 2015 and that is our third studio in two years. We also have our Upper East Side studio, the first one, then East Hampton. Then we go west very soon. I have a monthly streaming membership with over 1500 minutes and 50 videos ranging from 10-90 minutes, an AKTread video program, retreats, a DVD, Transformation programs, and more. Now you can experience the magic of AKT anywhere. And there's so much more coming. —As told to Robin Shobin and Dawn Kissi for Charlotte's Book. Read more #CharlotteTalksTo interviews. Anna Kaiser and Sarah Easley photographed by Roderick Angle at AKT's NOMAD location on February 10, 2016. Roderick is a fashion, portrait and lifestyle photographer and videographer. You can follow Roderick's Instagram feed, About Themselves, where he profiles interesting and creative individuals.
READ MORE
We love meeting badass women. Check out this interview with skincare guru Joanna Vargas, and this interview with O Magazine's Beauty Director Val Monroe.
FIND BEAUTY AND WELLNESS EXPERTS
Read client reviews, book sessions, and get expert advice. Only the best cosmetic doctors, skincare gurus, nutritionists, fitness and wellness professionals make it into our book.