Discover more from Charlotte's Book
All the things about life your friends won't tell you. Funny. But not funny. But true.
Over 12,000 subscribers
Finger Lickin' Super Bowl Recipes From Chrissy Teigen's So Delushious
Super Bowl Sunday is an institution akin to the Fourth of July in its patriotic significance and nationwide participation. We gather with friends to share great meals, partake in a drink (or three), and be entertained by the game, the commercials and the halftime show. Traditionally, the Super Bowl is the one time of year to go whole hog in indulging in Americana comfort food. In fact, for this Super Bowl XLIX, You Tube has created a halftime broadcast featuring the wacky foodie show Epic Meal Time, which will reportedly glorify our country's obsession with beer and cheese by creating huge pools of each and making a few poor souls dive right in. (Ok, admittedly that sounds simultaneously gross and intriguing.)
But don't you think wolfing down meat laden hoagies, hot dogs topped with cheese sauce and greasy buffalo chicken wings is so last decade? The modern girl's (and guy's!) guide to creating an awesome Super Bowl spread shouldn't endanger one's health (and silhouette) in the name of patriotic hedonism.
Outside the pages of Sports Illustrated, supermodel Chrissy Teigen is known for being caught on camera chowing down on cheeseburgers and KFC, but her food blog So Delushious is filled with low-carb takes on calorie-rich classics. Being that her beau, John Legend, is delivering his own rendition of "America the Beautiful" for Super Bowl XLIX, it seems quite appropriate to watch the ceremony while noshing on some of Chrissy's guilt-free Super Bowl recipes. She doesn't deny that she has a weakness for junk food; but, just like the rest of it, that doesn't mean she can afford to bathe in it. As she puts it, her recipes are: "Personal random ramblings from a girl who loves bacon and can't be fat."
Here are a few of Chrissy's secretly healthy recipes to help you channel your inner swimsuit model while still living it up on Super Bowl Sunday: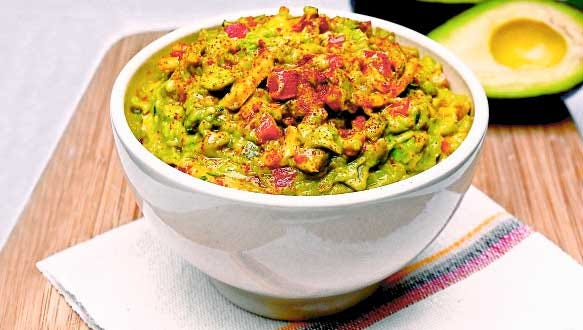 Easy, Cheesy Guacamole In a mixing bowl, combine: • 3 halved, ripe avocados • Just of 1 lime • 1/2 tsp. salt • 1/2 tsp. cumin • 1/2 tsp. cayenne • A dash of garlic powder • 1/4 tsp black pepper • 1 diced tomato • 1 tbsp. chopped cilantro • 1 diced small yellow onion • 2 cloves minced garlic • 1 cup grated cheddar cheese First, scoop out the avocado flesh in whole chunks and cover with lime juice. Mash avocado with a potato masher or fork, making sure to keep
it creamy and chunky at the same time. Fold in the salt, cumin, and cayenne, garlic powder, and black pepper. Gently add the tomato, cilantro, onion and garlic to the mixture. Fold in the cheese, sprinkling in small handfuls a bit at a time. Mix the ingredients and adjust seasoning to taste.
Charlotte's tip: Substitute pomegranate seeds or pepitas, in place of the cheese, for a dairy-free version. Roast the pepitas, or pumpkin seeds, in the oven with a sprinkle of coconut oil and a dust of seasoning, to elevate the dish even further.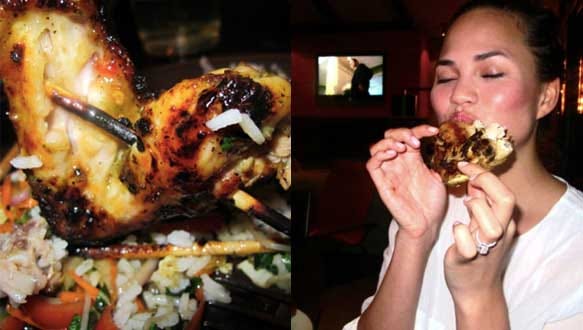 Sweet and Spicy Chicken Thighs with Mango Salsa In a blender, combine the marinade ingredients and puree until smooth: • 8 large cloves garlic • 2 cans of chipotle peppers in adobo (use less to tame the heat) • 2 tbsp olive oil • 1 cup barbecue sauce (use your favorite) • 1 lime (juiced) • 3/4 cup brown sugar • 1/4 cup Whiskey • A pinch of salt Place 8 pieces (about a pound) of chicken thighs and drumsticks (bone-in; skin on) in a zip-lock bag, and pour in the marinade. Toss the chicken to coat all sides, and marinate for at least 1 hour, and up to overnight. Preheat oven to 400°F. Prepare a baking sheet lined with a wire rack. Arrange the chicken thighs and drumsticks on the rack and bake for 30 minutes, or until the chicken registers 160°F on a meat thermometer. Make sure to allow the meat to rest for 10 minutes before serving.
In a large bowl, combine the ingredients for the mango salsa: • 3 scallions (sliced) • 2 tbsp fresh lime juice • 1 medium ripe avocado (1/2-inch dice) • 1 medium ripe mango (1/2-inch dice) • 1/4 cup chopped cilantro • 1 tbsp olive oil • Kosher salt and freshly ground pepper Toss together and taste for seasoning.
To serve, top the baked chicken with the mango salsa on a plate and add rice, black beans and lime wedges.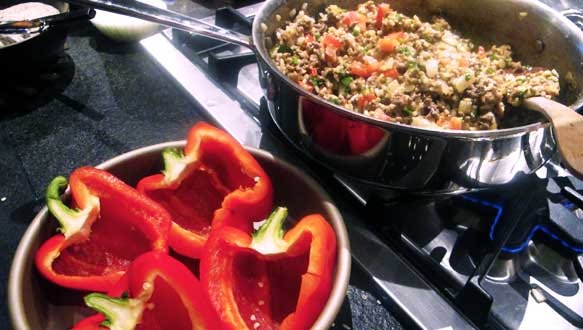 Stuffed Bell Peppers In a hot skillet, combine the ingredients for the stuffing: • 3/4 lb. of ground chuck • 1/2 lb of ground pork • 1 medium chopped onion • 3 cloves minced garlic • 1 tsp. bouillon granules • 1/2 tsp. garlic powder • 1/4 tsp. salt • 1/4 tsp. black pepper • A dash of seasoning salt • 1 cup diced tomatoes • 1 cup finely chopped mushrooms • 1 cup shredded cheese (I use the 3-Cheese Mexican pre-shredded in the bag!) Saute the meat, onion, and garlic until the onions are lightly browned. Then, add the seasonings. Stir the contents and then drain the fat from the pan. Add the tomatoes, mushrooms, and cheese. Stir the mixture until the cheese is melted and remove from heat.
Cut 4 large red bell peppers into halves lengthwise, leaving the stems intact. Clean out the insides and seeds. Then, fill the red pepper halves with the mixture from the skillet. In a small bowl, mix 1 cup hot water and the 1 tsp. bouillon granules. Stir and let dissolve. Pour the water/buillion mix into a baking dish, until the bottom of the dish is covered. Place the stuffed peppers in the dish, so that they are tightly in place filling-side-up. Cover with foil and bake for 35 minutes at 350°F. After 35 minutes, remove the foil and spoon some of the juice from the pan onto the meat filling. Replace the foil and bake for an additional 10 minutes. Then, serve!
PHOTOS: Spencer Wohlrab for Stylecaster, Chrissy Teigen's Instagram