Discover more from Charlotte's Book
All the things about life your friends won't tell you. Funny. But not funny. But true.
Over 12,000 subscribers
Can Changing Your Hair Color Get You A Raise?
We're so much more than our appearances, but there's no doubt that our confidence and feelings of self-worth are at the heart of everything we do. How do we negotiate that raise or start a business or try that new hobby if we don't believe in ourselves? In the spirit of empowerment and confidence, Clairol recently launched its Color of Confidence campaign. With this new ad campaign, Clairol conducted an interesting study taking note of exactly how women feel after they color their hair. We loved the campaign and its mission to spread positivity, challenge traditional ideas of beauty, and inspire women to be more fearless. But what we found most interesting is how powerful a little hair color can be. Read on for some of the astounding results.  
The survey.
To kick off the campaign, Clairol partnered with 100 women (none of them are models!) to discuss their self-confidence. Many of the ladies spoke about their lack of confidence, and some said they felt unwanted or even invisible. To show how even a small change can inspire confidence, Clairol asked the 100 women to change the color of their hair at home using Nice'n Easy. Clairol experts talked with each of the women one-on-one, discussing their lifestyle, hair, and personal style in order to recommend a color that would be perfect for them. Then the women were brought back to discuss how life had been since their hair transformation.
The result.
A whopping 85% of the women felt more confident with their new hair color. Nearly all the women stopped to check themselves out after their dye jobs. 70% said they felt ready for anything, and 77% felt more confident professionally. One of the women, Andrea, even felt confident enough to ask for a raise—and she got it!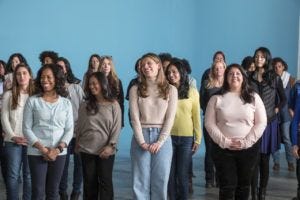 LeeAnne, one of the participants, shared that for the first time in over a decade, she went on a date. Farrah, another participant, said, "I feel like I'm shedding the old and I'm bringing in the new." Clairol is also challenging all of us to make small changes—time for a new hair color, anyone?—that allow us to express ourselves and take control of our confidence. You can check out other women's transformations at #ColorFearlessly and add your own story.  
READ THIS NEXT
Is gray hair on your mind? This is why we get grays. Plus, are carbs good for your hair?
FIND BEAUTY AND WELLNESS EXPERTS
Read client reviews, book appointments, and get advice from the experts in Charlotte's Book. Only the best cosmetic doctors, skincare gurus, nutritionists, and fitness and wellness professionals make it into our book.