Discover more from Charlotte's Book
All the things about life your friends won't tell you. Funny. But not funny. But true.
Over 12,000 subscribers
My Beauty File: Coralie Charriol Paul
You might say that jewelry and watches are in Coralie Charriol Paul's blood. Her father, Philippe Charriol, was a President at Cartier for many years, and then went on to launch Charriol, a luxury jewelry, watch, and accessories brand based in Geneva. As a child, Coralie was always around the creative process: she watched her father work, and even accompanied him to launch parties. But that's not to say that Coralie hasn't made an impact on the world of jewelry in her own right. She grew up and began working alongside her father, and is now Creative Director of Charriol. Charriol's signature element is its twisted nautical cable, and you can see it across the brand's watches, jewelry, men's accessories, and even fragrances. Coralie stays true to this heritage, while using her own Art History background and travels to inspire new designs and styles. And Coralie's lived quite a global life. Born in Hawaii to French parents, she grew up around the world—London, Paris, Hong Kong—and now lives in New York City.  
  She's a mother to three young children and shares a passion for film and philanthropy with her husband, Dennis. Yet she still somehow makes time to surf and race cars. Coralie also made time to share her Beauty File, telling us about her daily beauty routine, her favorite ways to stay fit, and her best beauty and wellness advice.
Breakfast:
Well, being French, nothing beats a fresh baguette with butter and wild blueberry jam. It goes well with some real Earl Grey tea (from loose leaves), and some mango or pineapple. Sometimes I add a goat yogurt too. However, when I'm trying to be good, I have two soft-boiled eggs and some quinoa crackers with almond butter and a little bit of jam.  
Morning Skincare:
Every morning I spray my face with Evian vaporizer. It's the best way to open your eyes gently in the morning. I sometimes use it on my kids to wake them up too! I use Clarins Multi-Active Day Cream or Natura Bissé C+C Vitamin Cream followed by my favorite tinted moisturizer with SPF from Chantecaille. Then I apply some Guerlain bronzer, L'oréal mascara, finish off with a lip gloss, and I'm ready to go!
Night Skincare:
I wash my face with Clarins Gentle Foaming Cleanser, tonic, eye cream, and finally a night cream. I try not to forget to moisturize my hands and feet in the wintertime. My husband always wonders why it takes me so long to "get ready for bed". As I get older it takes longer and longer!
Supplements:
In the morning I make a nutritional shake with Naturade Vegan, banana, and coconut water. I also take probiotics (either by pill or via yogurt) every other week or when I'm traveling. I travel a lot and my stomach is a little sensitive. I always have charcoal pills too just in case. And I take adrenal supplements when I feel run down.
Fitness:
I love sports, and always have. I kickbox a lot. It makes me feel powerful. I wrap my hands and put on the gloves and punch! I release all my negative energy. After working out, I always feel better. I also do yoga (O2 in Aspen), pilates with Erica Bloom, and cross training (with my trainer Boogie). I dance too (AKT), ski in Aspen or Megeve, and hike anywhere I can. But my favorite sport is surfing: it gets you in the best shape and is so addictive.
Tech:
I have my iPhone, of course, but I don't do any tech stuff on my face. I do read my friend's beauty and wellness blog to stay informed.
Hair:
I use Glamsquad whenever I go out to a party. In one hour I have hair and makeup done! Love them.
Dermatologist Or Facialist?
I see Dr. Alvin Friedman and Dr. Robin Blum in NY. I have many moles so I get them checked all the time. As for my facialist, she's a secret!  
Wellness Tips:
+ Get regular exercise, because it makes you feel good. + Flexibility is key—both mental and physical flexibility. + Do something for you every week that makes you happy. + Fill your glass up first and then help others!
My Best Beauty Advice:
+ Stand up straight! (This is advice my mother has given me my whole life.) + Protect your skin: wear sunscreen. + Hydrate! + Exercise is the key to beauty and your sense of wellbeing. When you feel good, you look beautiful. + SLEEP MORE—it makes you look more youthful. + Never look too closely in a mirror. + Be gentle to your skin. + Use mascara only on your top lashes. + Always do your brows. Keep them well-groomed and defined. + Never let nail polish chip; remove it. Keep your toenails impeccable.
Biggest Beauty Myth:
+ That you can't wear your hair long or your skirt short after 50. + That being trendy is fashionable. (Instead, wear whatever suits your style and fits your body , not what's on trend.) + That you need to buy expensive creams to stay young. + That day and night cream aren't different.
My Charlotte:
My Charlotte is any woman who is strong, active, compassionate, has good morals, and knows how to laugh and not take life too seriously. She is generous and loving. She has a true north.
My Best Piece of Life Advice:
IF NOT NOW, WHEN? Remember to live well, enjoy every moment, drink champagne and green juice (but not together), learn something new, and laugh as often as you can!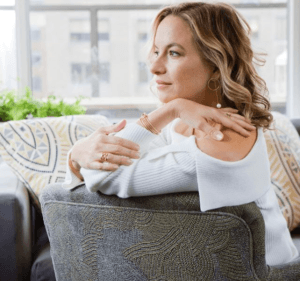 Charriol's newest collection is called Le Fil d'Or, meaning "The Golden Thread" in French. It's an all-18K gold cable collection with about 50 pieces, all priced under $2,000. Delicate and whimsical, Le Fil d'Or has a feminine French feel that combines Coralie's French upbringing, her background in luxury design, and the Charriol signature cable twist. The line of rings, bangles, necklaces, and earrings is handcrafted and meant for everyday wear and stacking. Images in the article are from Coralie's Instagram.  
READ THIS NEXT
Check out some of our favorite Beauty Files: Kristen Shaw, Helena Christensen, and Bobbi Brown.
FIND BEAUTY AND WELLNESS EXPERTS
Read client reviews, book appointments, and get advice from the experts in Charlotte's Book. Only the best cosmetic doctors, skincare gurus, nutritionists, and fitness and wellness professionals make it into our book.