Discover more from Charlotte's Book
All the things about life your friends won't tell you. Funny. But not funny. But true.
Over 12,000 subscribers
Soak It Up: NYC's Most Sensual Couples Spa Destinations
This Valentine's Day, don't stress by planning a day of overdone clichés. To fully reap the benefits of quality time with your other half, treat yourselves to an intimate couples spa experience in the privacy of one of these VIP suites, nestled in some of the most exclusive hotels in NYC. Take in the intoxicating scents of sensual, custom blended herbal oils and sip bubbly tonics, while you effortlessly achieve a relaxed glow and a renewed outlook on your own allure. We bet, by the end of the day, you'll be looking forward to getting home for even more togetherness:
Best Couples Spa NYC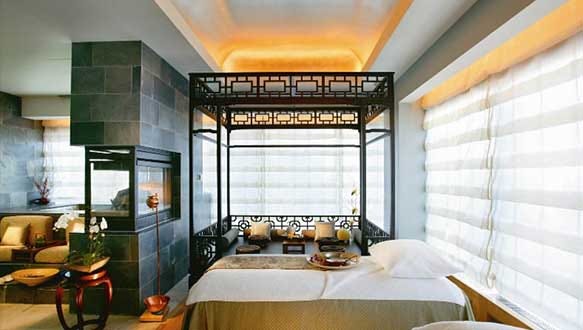 A Sky High Escape: The Spa at Mandarin Oriental This serene couples spa, located on the 35th floor of the Mandarin Oriental Hotel, in NYC, has gorgeous views overlooking Central Park that instantly alleviate the stress that comes with living in the city. Opt for the Couple's Escape inside the expansive 650-square-foot VIP Spa Suite that includes a fireplace, soaking tub, dual massage beds, and a day bed for post-treatment reclining and relaxation. With plenty of alone time built into the package, you may lose yourself in the lofty retreat.
To begin the unwinding process, couples take a dip in the private bath, infused with a mixture of the spa's signature blend of oils. After soaking side-by-side, you can enjoy several "Time Ritual" treatments laid out as an immersive relaxation experience. To round out the urban escape, couples are left alone to bask in each other's radiant, relaxed glow. Then, because nothing is better than a satisfying bite after a romantic encounter, enjoy a light Bento lunch prepared with fresh, seasonal ingredients. Price: $1310 for 3 hours; $1760 for 4 hours.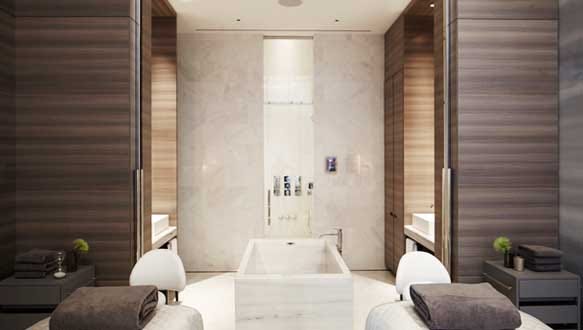 Modern Luxury: Spa Nalai at the Park Hyatt NYC This brand new luxe spa located inside the Upper West Side Park Hyatt hotel is quickly becoming a go-to for insiders. The best aesthetics in the spa are to be found when you escape from the modern parlor into the luxurious and cozy private suites. Inside the suites, couples massage beds lay outside a bathing area that has a large, private soaking tub and rain-like shower for after-treatment unwinding.
The spa's signature Atelier for Two treatment begins with a 30 minute soak in water scented by essential oils, dried herbs, and rose petals. Couples then move to the suite's adjacent treatment beds for 90 minutes of massage. Post-pampering, couples are invited to the intimate alcove for a glass of champagne from the hotel's international champagne bar, which boasts a rare selection of bubbly, and a taste of indulgence with a decadent amuse bouche. Price: $795 and up for 2 1/2 hours.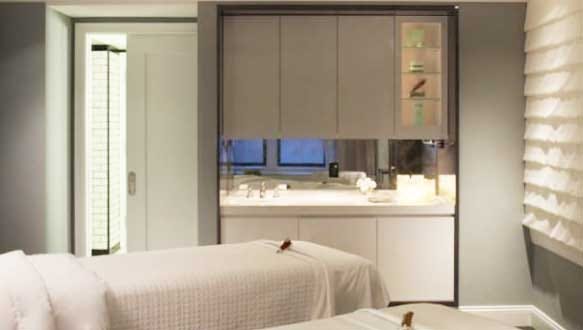 Upper East Side Seduction: Cornelia Spa At The Surrey The Cornelia Spa is an elegant space, well suited to its luxurious home inside the historical Upper East Side hotel. The chic surroundings are ideal for New Yorkers who want to indulge in classic luxury, inside the privacy of the couple's suite. The Cornelia offers the ultimate in intoxicating treatments, with the Elixirs of Life package that engages the senses and gets you in tune with your other half.
First, couples are treated to a ceremonial bath experience that begins with an initial dip in the Cornelia's Signature Citrus and Rose petal bath. Sip on a Prosecco and Grand Marnier cocktail, before moving to the suite's soaking tub that's spiked with marine milk, herbal tea, ginger, and rosemary and topped off with rose petals. To keep your face fresh in the bath, pat skin with the warm towel waiting for you on the side of the bath and infused with ginger oil. The intricate, aromatic bath is followed by a couples massage, that's perfumed by the lingering scents of herbs and tinctures. Price: $265 for 90 minutes.
WORDS: Elaina Patton