Discover more from Charlotte's Book
All the things about life your friends won't tell you. Funny. But not funny. But true.
Over 12,000 subscribers
Facial Fitness: Scam Or Glam?
Do facial exercises work? Well, from the ancient Egyptians (you guessed it—another Cleopatra trend) to the Chinese to the French, women have been doing facial exercises for centuries. It's already a huge market in Asia—in fact, Christiano Ronaldo endorses a facial fitness tool in Asian markets. But adoption of facial fitness into American skincare regimens has been slow, perhaps because of some healthy skepticism. That said, celebrity facialists from coast to coast swear by it (there's even aFaceGym inside Selfridges in London!).
DO FACIAL EXERCICSES WORK?
So, do facial exercises work? We've taken a closer look to see just how important it is to add more 'facercizes' to your anti-aging repertoire. (Hot tip: even if you don't read this whole story, watch this video of Christiano doing facial exercises. It will make your day better. We promise.)
THE PRESUMED BENEFITS
Interval training. Toning. Sculpting. The words aren't new, but now we're talking about your face. Facial exercises predominantly target smile lines, the corners of your mouth, and neck line. Meanwhile, more traditional facial massage and lymphatic drainage techniques help to increase circulation, decrease puffiness, and therefore help reveal glowing, toned skin.
WHAT THE EXPERTS SAY—FROM MDs, AESTHETICIANS + YOGIS
Now, to be fair, there have not actually been any controlled studies we could find that prove or disprove anything related to facial fitness. But facial exercises and face massage have been touted by some of the best aestheticians and doctors in the business as a vital addition to skincare routines. Despite this, most women don't do them, even though they're free and easy. Sure you might look crazy—but if it works, isn't it worth it? Celebrity facialist—she treats Courtney Cox, Arianna Huffington, Christina Huffington (just to name a few!)—and Charlotte's Book expert Mila Moursi is a believer: "Facial massage, both daily at home and during professional treatments, helps with skin rejuvenation to delay aging. Using the right technique to exercise the skin can be age preventative and firming while helping prevent muscle atrophy and sagging." Mila and her team practice facial massage at her namesake spa located in West Hollywood as well as their East Coast outpost in Barney's.
DO FACIAL EXERCISES WORK OR NOT?
But not everyone is convinced. In fact, some dermatologists and plastic surgeons believe these exercises can actually have reverse effects. Facial plastic surgeon Dr. Jeffrey Spiegel says, "You don't get wrinkles from loss of elasticity in your muscles; you get wrinkles in your skin. A repetitive movement creates creases in the skin." Therein lies our one criticism of facial fitness, regardless of the validity of the muscle tightening and preventing muscles from atrophying: facial fitness can do nothing to stop the loss of collagen and elasticity in your skin. However, this doesn't mean facial exercises don't offer certain benefits. Your face has muscles, and similar to the theories behind microcurrent, facial fitness is exercising these muscles. We think it's legit, and it makes sense. The problem? Most facial fitness experts, just like body fitness experts, say you need to practice regularly—three to five times a week—and usually 5-15 minutes per session, though opinions vary. It's a commitment, but if Mila Moursi believes in it—so do we. We've tried it, and we're believers. If you're down for the commitment, here's the technique, straight from Mila herself.
THE TECHNIQUES
The face is home to at least 43 individual muscles that are responsible for a range of emotions. And just like any muscle, facial muscles tend to weaken over time. This can lead to wrinkles and drooping. Most exercises will target the area around your mouth and your jaw, but prescribed movements can range from lifting your eyebrows to tilting your head backwards. During treatments at Mila Moursi Skin Care Institute & Day Spa, the aestheticians use their signature dry contour massage technique, and then a sculpting massage with product. We've tried it, it's glorious, and we came out glowing. Mila's team says these techniques create lymphatic drainage to combat inflammation/puffiness, and engage the muscles in the face for a facial workout to revive and lift skin. This microcirculation of the skin brings blood to the face, and creates a good base on which to perform other treatments. Can't visit Mila? Here's what she suggests at home: start with deep breathing for 5 minutes to oxygenate the body. Then exfoliate the skin so you have a clean palate (she suggests making a homemade scrub by mixing 3.5 grams rose powder or jojoba beads with .5 gram of oil, such as Rosewood, Almond, Apricot, or Avocado oil, add 8.5 grams of Rosewater or Orange Blossom Water, and a couple drops of essential oil of choice). Use immediately. If you're making a larger batch, add a couple drops of Vitamin E to extend the shelf life. Use a balm or oil to start the massage (we love Mila's Nourishing Balm or Mila's Aromapure Oil). Start with little circles from the t-zone to the hairline on either side of the face to warm up the skin and allow the oil to penetrate the skin. Next go to the neck, and start from the middle and do overlapping strokes with your hands 5x to each side of the face, moving gently upward. Move up to the jawline, and again start at the middle, and use a sliding/ironing motion from mid-face to earlobe on each side 5x. Move up the t-zone/center of face and continue the sliding strokes on each side to the hairline. Next, we activate the muscles in the face. Use a small pinching technique along the jawline—the pinching activates the muscles. You can also move up the face, along the next muscle line, pinching from mid-face to hairline. Do this daily for a few minutes. Mila also suggests using a dry brush to help in the lymphatic drainage. She says this speeds up the process of skin rejuvenation, leaving skin with a fresh glow. The manual exfoliation of the natural bristles drains away lymph congestion around the nose and eyes and combats puffiness.
YOGI-STYLE FACIAL FITNESS
In addition to some major fans in the aesthetic community, facial exercises are big with yogis too. And their suggested exercises are a bit more complicated than Mila's: according to Danielle Collins, the self-appointed Face Yoga Expert, you need to do a combination of face massage, face exercises, face acupressure, and face relaxation. She suggests various facial acupressure points, like either side of your nostrils, which can help reduce undereye bags. Use your index finger(s) to hold each point for between 20- 50 seconds. Start with gentle pressure and then gradually build up. Then lightly massage this point in a clockwise direction for 20 seconds and then reverse the direction for 20 seconds. Other exercises like the famed Pufferfish are well known in the face yoga community and supposedly help with nasal labial folds and smile lines. Basically, you take a deep breath and puff the air out into your cheeks and hold your breath.
DEVICES—HAND-HELD FACIAL FITNESS TRAINERS
If you're not a self-motivated type when it comes to fitness, personal trainers exist in the facial fitness world too. Manhattan's Face Love Fitness is owned by aesthetician Rachel Lang, massage therapist Heidi Frederick, and personal trainer Kate Gyllenhaal.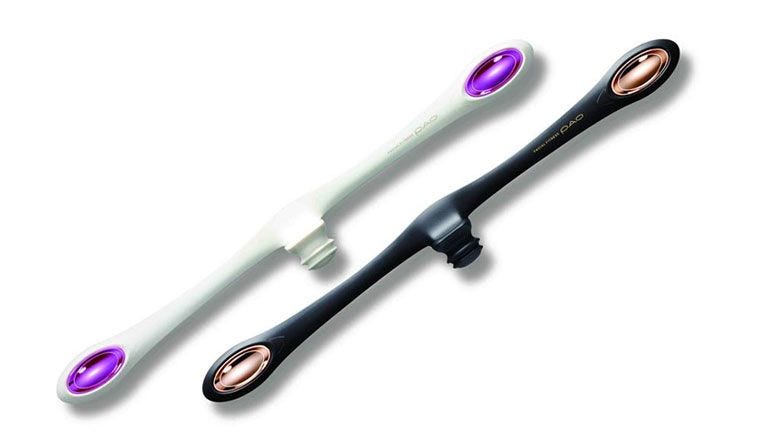 During a typical 15 minute workout, you won't look very poised: they use resistance bands and pilates rings on your face. Typical exercises require repeated movement, like lifting the eyebrows or pressing your tongue against the cheek. The basic workout is 15 minutes, but if you have the time the 30 minute workout is followed by jade rolling massage. Lang recommends weekly visits and daily at-home exercises. Workouts start at $45. And of course, there's always Christiano's tool! Images via: FaceGym, Pao  
READ MORE
Fern Langham's specialty is thyroid yoga & loves kundalini—there are several crossover face-relaxing movements and breathing exercises. Curious about how microcurrent affects your muscles? Read this.
FIND BEAUTY AND WELLNESS EXPERTS
Learn more about aesthetician Mila Moursi: you can read client reviews, book appointments, and get expert advice. Only the best cosmetic doctors, skincare gurus, nutritionists, fitness and wellness professionals make it into our book.