Discover more from Charlotte's Book
All the things about life your friends won't tell you. Funny. But not funny. But true.
Over 12,000 subscribers
My Beauty File: Emily Parr, Founder Of Poke PR
Emily Parr is a beauty and wellness PR maven and all-around badass woman. She's the founder of Poke PR, a boutique beauty and wellness PR agency in New York. With clients like Drunk Elephant, AKT, Beauty Bioscience, Allies of Skin, and The Beauty Chef, you know Emily's all about finding gems within the world of beauty and wellness and telling us all about them. We talked to Emily about her day-to-day, from her go-to breakfast and enviable skincare routine, to her not-for-the-faint-of-heart fitness regimen. Honestly, between her daily workouts, her amazing Sweaty Buns podcast (with guests like Stacey Griffith and Anna Kaiser!), and, you know, work, how does she do it all? The answer might just be in the unique advice she shared with us. Keep reading to find out.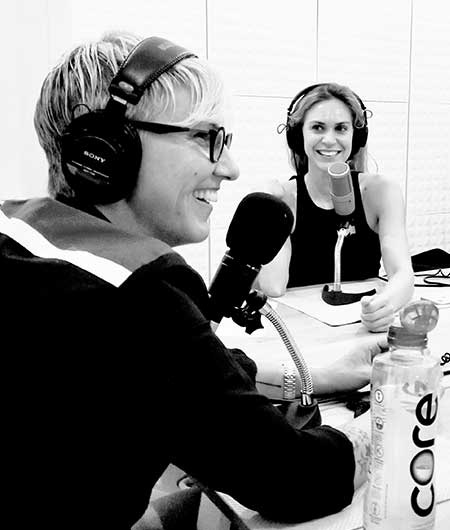 Morning Skincare:
I work out in the morning, so I never wash my face right away. Counterintuitive, right? Most people think to splash water on their face to wake themselves up. My skin is so supple in the morning (from my PM skincare routine) that I don't want to disrupt that feeling! I mix two pumps Drunk Elephant B-Hydra Intensive Hydration Gel with one pump Drunk Elephant Protini Polypeptide Cream, and apply all over (including my neck area). Then I apply Drunk Elephant C-Tango Eye Cream. That's it for my first round of skincare before I head out the door for AKT.
Morning Skincare Part II:
Only a beauty publicist can go this hog wild with her skincare routine! After my workout, I wash my face with Drunk Elephant Juju Bar; I love the exfoliation from bamboo powder in the morning...It feels like I'm waking up my skin! I mix a healthy skincare cocktail (layering is out; mixing is in!) of Drunk Elephant C-Firma Day Serum, Drunk Elephant B-Hydra Intensive Hydration Gel, and Protini Polypeptide Cream. Then I layer Drunk Elephant C-Tango Eye Cream under my eyes only. Finally, I top it off with (This is going to seem bizarre.) Drunk Elephant Shaba Complex Eye Serum and one to two drops Drunk Elephant Virgin Marula Luxury Face Oil all over. That extra dose of nutrients from the eye serum became a winter addiction that I can't let go of! I add a generous amount of DE Umbra Sheer Physical Defense SPF 30 as the last layer: this is the only SPF I have found that actually keeps my skin clear. I will then spritz Allies of Skin Molecular Savior Mist all over my face, neck, and chest before I run out of the bathroom. The probiotics seal the deal!
Breakfast:
Before I eat my real breakfast, I make a smoothie at home in my trusty NutriBullet: one scoop of Dales Raw Protein Raw Recovery Powder, 1 tsp The Beauty Chef Glow Inner Beauty Powder, one cup water, one cup unsweetened almond milk, a handful frozen blueberries, a few chunks of frozen mango, and a tablespoon of PB2 Powdered Peanut Butter. It's HEAVENLY and gives me a great burst of energy in the morning. Once I get to work, bang through the emails in my inbox, and attend to all "urgent" items (11:30am-ish), I finally eat the breakfast I made the night before. I usually make an omelet with four egg whites, an egg yolk, one shallot, 1/3 cup shaved Brussels sprouts, and 1 ½ cups spinach. I smear Kite Hill Almond Milk Cream Cheese on top. Then I have a Food for Life Whole Grain English Muffin with almond butter. With that I have a La Colombe Cold Brew Coffee with soy milk. (Yes, sisters and brothers, I said SOY milk; we all have our vices and this is mine.)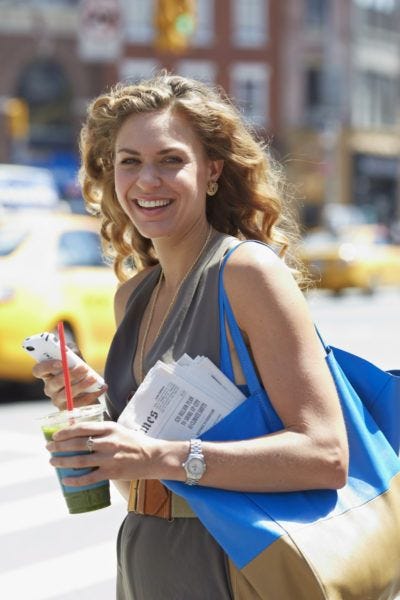 Night Skincare:
It's not so different from my daytime routine, aside from swapping serums! I am using a secret weapon product from Drunk Elephant that I am OBSESSED with but it doesn't launch until January 2019. Sorry folks! I can tell you that when I wake up in the morning, Sleeping Beauty is the term that comes to mind! I start with Drunk Elephant Pekee Bar because it's clarifying yet hydrating: it takes off all the dirt from the day yet really balances out my skin. Then I GloPRO the SH*T out of my face! After my face is thoroughly red from over-GloPro-dosing, I apply Drunk Elephant TLC Framboos Glycolic Night Serum on immediately. The sizzle my skin makes from the glycolic sinking deep into the dermis turns me on! I then pile on Drunk Elephant Protini Polypeptide Cream, Drunk Elephant B-Hydra Intensive Hydration Gel, Drunk Elephant C-Tango Eye Cream, Drunk Elephant Shaba Complex Eye Serum, and several drops of Drunk Elephant Virgin Marula Luxury Face Oil . After GloPro-ing, your skin will DRINK up the hydration products so I really oversaturate my skin. I also microneedle my body for anywhere between 7-15 minutes. GloPro makes a Body Attachment Roller and I go to town on my "saddle bag" region. No matter how much working out I do, women are prone to cellulite in that area. This truly works. Give it 10 weeks (don't even look at that part of your naked body for at least eight weeks because I promise there will be a GREAT reveal at the end). After I GloPro, I use Meant Simply The Absolute Balm all over my legs. Oil it up!
Supplements:
I really loathe taking vitamins. I've never been good at swallowing pills, so I have gotten really into Olly Nutrition. Additionally, I take a digestive enzyme every day because I eat so much protein. I don't eat red meat, so I take MegaFood Blood Builder to keep anemia at bay. My dad has early onset Alzheimer's disease so I'm pretty good about taking the supplements they say support brain health: Minami Omega-3 Fish Oil, Jigsaw Health Magnesium, Solgar Vitamin D3, and Blue Bonnet Vitamin C 1000mg. I'm not the biggest water drinker; at one point, I fell down the rabbit hole of a SodaStream. I quickly realized that sparkling water makes me quite bloated and gassy (that's what my colonic woman said!) I drink The Beauty Chef Inner Beauty Boost ALL day long in my water. I honestly have about five servings a day!
Fitness:
I spent pretty much my entire life running long distance. When I moved to New York City, boutique fitness became my hobby. I would take three classes a day when I could find the time. Then I realized that I had built up this crazy tolerance for running, barre, and hot yoga. So I went out on the hunt for a workout that would never become easy for me. I was introduced to Anna Kaiser and knew I'd met my soul sister; her workout, AKT, humbled me. No one loves working out as much as we do and every single day brings a new bag of tricks with challenges. I go to AKT seven days a week. I do a mix of Progressive Happy Hour, Sweat Dream, 4 Play, and AKTone Monday-Friday. It's truly the best part of my day—that's the only time that is really MY time. If there is some sort of emergency, my team knows they have to call reception at the studio and someone will have to pry me off the dance floor. I just need to dance, sweat, and bang the hell out of my body. I lose myself in the movement. Isn't that what we all need? On weekends, I will take Sweat Dream and Happy Hour or Happy Hour and AKTone. I've started taking hot yoga at Pure Yoga on Friday and Sunday evenings to down-regulate. I'm pretty fired up every waking moment. I need that quiet, inward time.
Tech: 
Other than my iPhone 8 Plus and iPad, I live for the Texture app. The app has over 150 magazines downloaded each month. Right behind Instagram, it's the first thing I check in the morning. It's great because aside from staying current on beauty and health news (I read those sections of every relevant magazine), I have access to years of back issues! I just bought an Accuro heart rate monitor. I wear this little device around my chest like a belt and it hooks up to a flat screen at AKT. This way, I know if I'm slacking and need to shake my booty a little faster! I'm all about efficiency.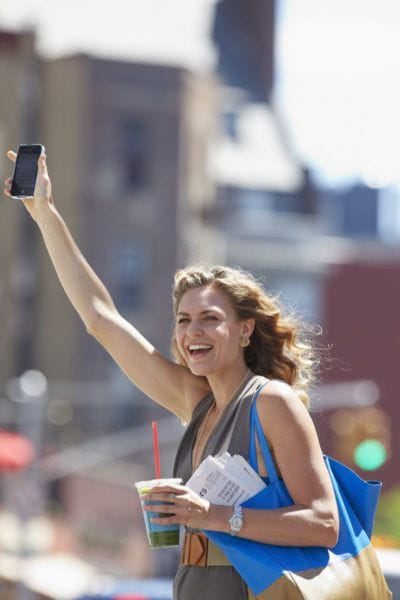 Hair:
I actually don't use styling products or hot tools of any kind (including a blow dryer!). I strictly use Briogeo hair care. It's a clean line that is treatment-oriented. Every day except Wednesday, I use their Be Gentle, Be Kind Co-Wash. It's the best cleansing conditioner I've ever used. My hair is so shiny yet bouncy. On Wednesday nights, I exfoliate my scalp! I use Briogeo Scalp Revival Charcoal + Coconut Oil Exfoliating Shampoo and Scalp Revival Charcoal + Peppermint Oil Cooling Jelly Conditioner. My boyfriend tells me I smell like a Girl Scout Thin Mint cookie afterwards. But the next day, my hair looks better than a mermaid's locks. Finally, Saturdays I do a deep clean (though I don't ever strip): Don't Despair, Repair! Super Moisture Shampoo and then Don't Despair, Repair! Deep Conditioning Hair Cap System. The latter, I'm known to leave in for about an hour. When your hair dries, it feels like virgin hair! For my hair services, I go to Gina Gilbert at Serge Normant in December and June for color. She has the surfer, cool girl look mastered. She paints my hair. It's really like watching an artist at work. If I didn't mind sitting in a chair for two hours, I would go maybe three times a year. But I'm too fidgety for that!
Dermatologist or Facialist?
I'm not a big dermatologist frequenter; I go for skin checks only. I don't do any sort of injections at the moment because I'm happy with my skin. Sure, I have some expression lines on my forehead, but I don't have time for the upkeep! I don't get facials ever. I am WAY too particular about my skincare to have someone extract and then pile a bunch of fragrance into my pores!
Wellness:
I go to Juice Generation every single day to put something freshly made and USDA-certified organic in my body. I switch it up: some days I'm craving a Supa Dupa Greens with extra lemon and mint. Others, I feel like having a shot of The Cure. On warm nights, I will have a Peanut Butter Split Smoothie for dinner. I really love their açaí bowls from the Blend It Yourself subscription service. They are tasty and satiating yet light enough so that I don't feel any guilt! In the summer, I eat one of those every day. Even when I go to Martha's Vineyard to stay with my parents, I have them shipped there and eat one on the beach for the entirety of my stay.
My Best Piece of Beauty Advice:
"A product is only as good as its worst ingredient." Tiffany Masterson, founder of Drunk Elephant, told me that. I wish her line existed during my college years and in my twenties because my skin was a wreck.
My Best Piece of Life Advice:
Just keep going. Don't stop when you're on a roll. I keep the engine running. I know people say that you should have balance in your life. Balance is bullshit. I go hard because my brain and body aren't going to work like this forever. So hit the ground hard and with enthusiasm for as long as you can.
Biggest Beauty Myth:
That everything you read is true! What works for some people doesn't work for everyone. For example, when I first moved to New York City, my skin would not stop breaking out. I had read that tea tree oil would clear acne-prone skin. Instead of buying a product with this essential oil in it, I decided to go straight to the source: I bought a bottle of tea tree oil and started slathering it all over my face. I had never seen a more disastrous skin situation! To this day, essential oils terrify me!
My Charlotte:
My mom. Sounds so cliché. But honestly, I was closest (by far) with my dad most of my life. She was a stay-at-home mom, who really was in charge of the household. When my dad got sick with Alzheimer's disease at 54, my mom really swung into high gear. She was always the best mom in the world. But then when she started overseeing everything finance-related and everything in my dad's realm PLUS taking care of him, I really was blown away. She withheld from putting my dad in a Memory Care Center for seven years and for that, I am forever grateful. She bought him time and years that I wouldn't ever get back. She's really the rock in our family and it became so obvious during this Alzheimer's journey we're all on together. She's also so fun… so much more fun than I am!  
READ THIS NEXT
Check out our latest Beauty Files: jump rope queen and celebrity trainer Amanda Kloots and Nancy Twine of Briogeo.
FIND BEAUTY AND WELLNESS EXPERTS
Read client reviews, book appointments, and get advice from the experts in Charlotte's Book. Only the best cosmetic doctors, skincare gurus, nutritionists, and fitness and wellness professionals make it into our book.