Discover more from Charlotte's Book
All the things about life your friends won't tell you. Funny. But not funny. But true.
Over 12,000 subscribers
A New Neuropeptide Makes Botox In A Jar Possible
Last year about 6.6 million Botulinum Toxin A injections were administered (Botox, Dysport, Xeomin). Line freezers are by far the most popular minimally invasive cosmetic procedure in the United States. As a comparison, dermal fillers came in second place, but they only totaled up to 2.3 million procedures, according to the American Society of Plastic Surgeons. We get it. Who doesn't want to look lineless, timeless, ageless—whatever you want to call it—forever? So there's no surprise that skincare companies have been racing to figure out how to offer Botox-like results at home. And, believe it or not, we might just be there, thanks to the development of neuropeptides. "Every decade we come closer to actually creating skincare that lives up to women's expectations," says Jules Zecchino, one of the country's leading chemists. As the top scientist at Estée Lauder for 18 years, and formulating for Avon and Elizabeth Arden before that, his résumé reads like a skincare encyclopedia—from Estée Lauder's Perfectionist, Idealist, and Advanced Night Repair lines to Clinique's Moisture Surge and Elizabeth Arden's Ceramide Capsules. He knows his stuff. "In the 80's it was all about retinoids and how they bolster collagen production. The 90's were all about alpha hydroxyl acids and smoothing the skin. Then peptides started becoming more advanced. Peptides target certain cells and tell them to do certain things," explains Zecchino. There's a whole host of different kinds of peptides that do different things, from improving collagen to reducing inflammation, but the most recent peptide development is a true breakthrough: neuropeptides.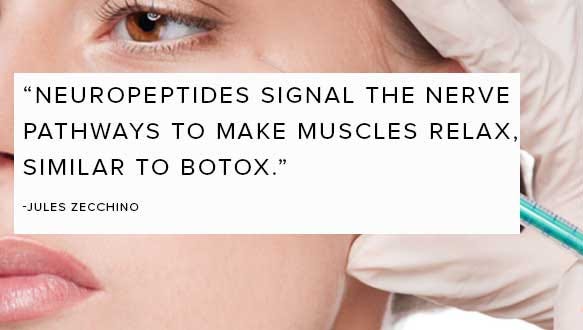 Similar to how Botox works by blocking the nerve impulses to temporarily paralyze muscle movements that cause wrinkles, neuropeptides work on signaling those same nerve pathways to relax muscle contractions, thus reducing the severity of wrinkles caused by facial expressions. Neuropeptides have been introduced in several different skincare formulas over the last few years, but Zecchino says he's created the most powerful in Erasa XEP-30, the first launch from his new company, BioMimetic Laboratories. "We put all of our money into research, and cut through a lot of the costs other big companies spend on marketing and distribution," he explains. For example, Erasa XEP-30 is forgoing the expensive launch rolling out into retail stores and will be sold exclusively online. The hero neuropeptide is XEP-30, a synthetic version of a snail neurotoxin that contains the botulinum toxin, similar to what is in Botox. All that money saved on marketing was spent working with a Swiss developer to create a more active version than what's been used in recent Botox-in-a-bottle launches—and yes, it's pending a patent. There are two other neuropeptides in this line-freezing formula. "We've bolstered this new topical activity with two additional neuropeptides to provide synergistic line-reduction. The older reliable Argireline, and another first-to-industry peptide Myocept X-50," explains Zecchino. The later is a high-tech delivery system that directs all the different ingredients in Erasa XEP-30 to the skin cells that need them the most, a.k.a. "smart skincare." And there are a lot of other ingredients. In the age when timeless skin is in demand, smoothing out wrinkles isn't enough. Among the other dozen or so mini-miracle workers in Erasa XEP-30, there's Galabridin, a powerful licorice root extract that reduces redness and improves dark spots. Niacinimide, a form of B3, improves skin's elasticity, reduces discoloration, and improves skin's barrier function, which is what keeps all the good stuff from leaking out of your skin (namely moisture) and stops the bad stuff (pollution, dirt, etc.) from getting in. There's also a proprietary whey protein that improves skin's moisture levels and spurs collagen production, plus it's loaded up with extra growth factors to simulate cell activity.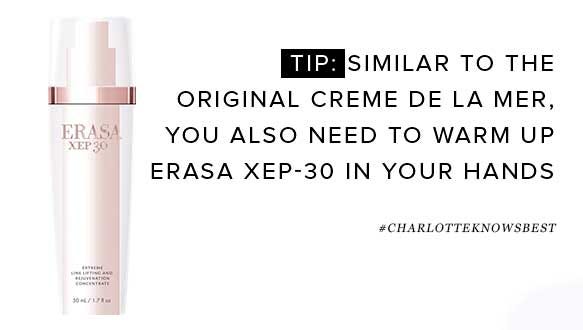 Pump out one dab of Erasa XEP-30 and you'll feel the thick consistency is jam-packed with promise. "It's so thick because we didn't water it down like all the other stuff that's out there. We call it a concentrate," says Zecchino. Similar to how you need to warm up the original Crème De La Mer in your hands first, you also have to work Erasa XEP-30 in a bit. Applied to dry skin, it gives your skin an instantly even finish (there are also some blurring mircospeheres in the formula, of course) and makes for a great makeup primer. It was important to Zecchino to invest in clinical results, which were all done in an independent lab. Erasa XEP-30 showed an impressive 74% reduction in wrinkles after 14 days of use, giving Botox, which provides 70% to 100% wrinkle reduction, a true run for its money. And thanks to the financial acuity of BioMimetic Laboratories, one bottle of Erasa XEP-30 only costs $160—a refreshing change in the pricey world of anti-aging skincare.
Full disclosure: this post was sponsored by

Erasa

. One of our of editors,

Krista Iovino

loved the product after a 4 week trail run. We do not sponsor any product we don't believe in. 
READ MORE
Interested in botox alternatives? Here's a look at snail venom and how it works; here's our stance on Botox (hint: we're into it). 
FIND BEAUTY AND WELLNESS EXPERTS
Read client reviews, book sessions, and get expert advice. Only the best cosmetic doctors, skincare gurus, nutritionists, fitness and wellness professionals make it into our book.