Discover more from Charlotte's Book
All the things about life your friends won't tell you. Funny. But not funny. But true.
Over 12,000 subscribers
All You'll Want For Christmas Is This Anti-Aging Chocolate
Your fridge is stocked with super foods, your bone broth is simmering on the stove, and you read all the latest health tips from Charlotte's Book—all with the quest for a healthier you, and younger looking skin. While we appreciate your loyalty, and your body thanks you, this whole time you could have just eaten a chocolate bar. You heard that right: it's called Esthechoc, available at Ayla Beauty for $49, and it's been making waves in the world of skincare supplements—with a study to back it.
A Study In Chocolate 
Researchers at Cambridge University conducted a 4 week double-blind trial with 3000 women ages 50-60. They concluded that the chocolate:
Significantly reduces inflammation

Increases antioxidant activity

Improves microcirculation in the skin
Esthechoc founder Ivan Petyaev says, "we found it brought skin back to the levels of a 20 to 30 year old. So we've improved the skin's physiology."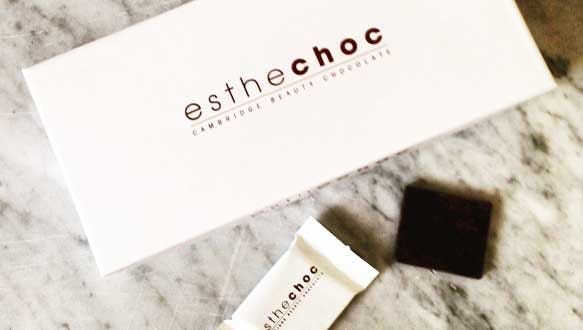 What's In It?
Antioxidants, and lots of 'em. Along with cocoa powders, each piece has Astaxanthin, which is an algae-derived antioxidant with more power than Vitamin C. This powerful compound is what's found naturally in salmon. It helps protect skin from damage caused by stress, pollution, UV rays, smoking, and even a poor diet. Esthechoc has as many cocoa polyphenols (antioxidants) as a regular, caloric chocolate bar, but with only 38-calories. Nutritionists Weigh In
Ready to make a bulk order? Nutritionist Keri Gans says hold off and stick to eating your nutrients the old-school way, in the form of whole foods. High-quality chocolate "naturally contains flavanols, which are antioxidants." She advices whole food consumption rather than "buying individual nutrients." Other critics argue that antioxidants work best when applied topically to the skin. University College London nutritionist Dr. George Grimble says, "it's too early to say what the long term benefits might be."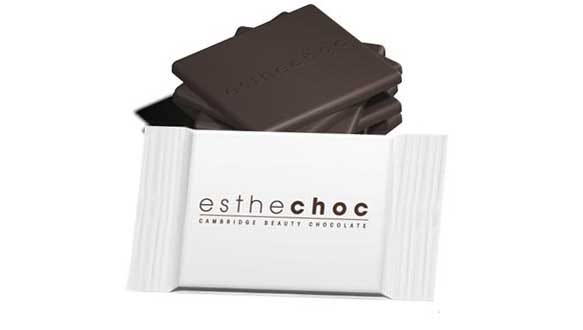 A Chocolate A Day...
At $49 a box, it certainly costs a bit more than your typical chocolate bar. But when was the last time a piece of candy promised wrinkle free skin? The creators advise one piece a day. Get it at Ayla Beauty, $49 for a 21 piece box.
READ THIS NEXT—cacao makes an appearance! 7 Instantly Energizing Healthy Snacks
CURIOUS about our experts? They're the best.
Image: Getty Images