Discover more from Charlotte's Book
All the things about life your friends won't tell you. Funny. But not funny. But true.
Over 12,000 subscribers
Here Are Our 5 Favorite Facial Spots In Los Angeles
Charlotte's Book is based in New York (and we're proud of our east coast roots) but the health and wellness experts in our directory are based all over the country. Some of our favorite skincare experts happen to be on the west coast, namely LA. So, we thought we'd round up five of our facial faves in Los Angeles. Here they are, in no particular order:
Where? Location upon request Why go?  For microcurrent, microcurrent, and more microcurrent. Mila is one of the country's most experienced and knowledgeable microcurrent experts and her loyal clients come to her to stave off surgical treatments. Expect a detailed consultation and an hour of intense lifting and toning.  
  Mila Morgan is the leading expert on microcurrent, and she's been at the forefront of using microcurrent technology not only for cosmetic treatments, but also medical purposes. She began her career specializing in neurotrauma and neuroanesthesia and has done extensive research on the use of microcurrent technology. Mila's unique approach is more than skin-deep: it addresses nerve and muscle issues to provide physiological results. About 70% of Mila's practice is cosmetic, but her microcurrent treatments have also improved clients' chronic pain, anxiety, arthritis, migraines, and autoimmune disorder symptoms. Her signature nonsurgical facelift involves three phases: toning, lifting, and balancing. The first step stimulates muscles to begin the cellular changes that trigger improvement with lines, crow's feet, and nasolabial folds. Then, the skin is tightened and lifted using neurological interactions that basically reeducate facial muscles. And finally, the skin is balanced for a glowing, restored look. Treatments are individually tailored, so it all depends on your needs and desired results. Not only does Mila offer in-office treatment, but she also does in-home sessions for privacy, as well as convenience for those who are medically limited. Book your visit here.
Where? Santa Monica Why go? For a healing and holistic high-quality full facial. After a consultation, expect a deep cleansing, natural exfoliation, glorious pressure point massage, and other add-ons Allison thinks are perfect for you.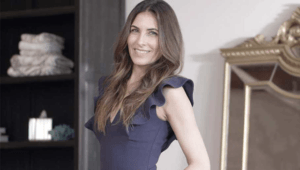 Allison's approach to skincare is all about the natural. She's trained in Ayurvedic skincare and diagnosis, and incorporates non-toxic products and methods into her facial treatments. Allison researches and curates the products herself, and uses only organic, sustainably harvested products. Passionate about clean beauty, Allison believes in approaching skincare holistically, and emphasizes the importance of overall wellness. In a session with Allison, you can expect a skincare consultation, specialized facial treatment, and recommendations for maintaining results at home. She'll help you navigate ingredients and products, explaining what works, and how. Allison's signature facial treatment is called the Lueur, a French word meaning a "quality of brightness or luminosity". The treatment combines cleansing, exfoliation, extractions, LED, serum-infused oxygen, a chardonnay grape peel, eye mask, and pressure point ritual. It smooths, hydrates, purifies, and brightens your skin. And of course, it'll be tailored to fit your skincare needs. Book your visit here.
Where? West Hollywood Why go? Joanna's new outpost is private and swanky. Her signature triple crown facial includes a combination of radio frequency, oxygen, and microcurrent for all-over lift and glow.  
  There's no doubt that Joanna Vargas is one of the best skincare experts out there. Why else would the likes of Julianne Moore, Naomi Watts, Jessica Alba, and Rachel Weisz turn to her for their skincare needs? Joanna's services, much like her beauty philosophy, bring natural, plant-based products together with cutting edge technology. Joanna's been the go-to facial guru in New York for a while, but it made sense to add an LA location, given all her demand in Hollywood. You can book all of Joanna's well-known treatments at the newer location, including her signature Triple Crown Facial. It combines microcurrent, microdermabrasion, and oxygen-infused therapy. The treatment triggers collagen and elastin production, resulting in firm, youthful, and radiant skin. (Joanna also introduced a new full-body detox peel at the LA spot!) And you can find products from Joanna's skincare collection here as well, so you can bring her expertise home with you. Book your visit here.
Where? West Hollywood Why go? For a full-day and full-body Hollywood treatment, a serious lymphatic drainage massage, and a killer skincare product repertoire. Mila's products have a cult following for a reason.   
  Mila Moursi is a skincare powerhouse, and we're sure her clients would agree (Jennifer Aniston, Sandra Bullock, Rashida Jones, Courteney Cox—might ring a bell?). With Parisian roots and decades of experience, Mila has studied and perfected treatments that rejuvenate the skin. She's an aesthetician with a background in cosmetic chemistry. And Mila doesn't do quick fixes: she believes in committing to skincare and focusing on long-term health and discipline. From her Classic European Facial to her Intensive Rejuvenation Treatment (which contours and tightens skin and stimulates cell production) and her Global Anti-Age Treatment (which incorporates microcurrent, ultrasound, microdermabrasion, and collagen), Mila's services are revered as nourishing, skin-changing experiences. Book your visit here.
Where? Manhattan Beach Why go? Michelle is a go-to in the South Bay area. She works closely with each client to develop a product regimen and customizes masks and peels with each treatment.  
  Michelle Steele is a skincare specialist, esthetician, and wellness expert who works with clients to create customized treatments. At Inner Glimmer you can expect a consultation during which Michelle makes a skin and body analysis. Based on the analysis and your skin goals, Michelle devises a treatment that serves your needs. Michelle's Signature Luxe Facial is one of her most loved services, and includes aromatherapy, dermal sauna, customized masks, lactic acid peel, facial contouring massage, LED therapy, a hyperbaric oxygen infusion, neck and shoulder massages, and foot reflexology. (How relaxing and rejuvenating does this sound?!) Book your visit here.
READ THIS NEXT
Take a look at our interview with Joanna Vargas. Allison Marks shared her tips on dealing with sensitive skin.
FIND BEAUTY AND WELLNESS EXPERTS
Read client reviews, book appointments, and get advice from the experts in Charlotte's Book. Only the best cosmetic doctors, skincare gurus, nutritionists, and fitness and wellness professionals make it into our book.