Discover more from Charlotte's Book
All the things about life your friends won't tell you. Funny. But not funny. But true.
Over 12,000 subscribers
Get Your Honeymoon Glow On With Farmacy's New Night Serum (No Wedding Required)
Farm-to-table is great and all, but farm-to-face? That's something we can definitely get behind. Using cutting-edge science in combination with the healing powers of ingredients found in nature to create skincare products? Sounds like a winning formula to us. That's what Farmacy is all about. (And how clever is that name?) Born in New York in 2015, Farmacy is the brainchild of Mark Veeder, who not so coincidentally grew up on a farm upstate. Long after he had moved to the big city, Mark continued to make regular trips upstate to tend to gardens he owned there. It was during one of these trips that he discovered a type of Echinacea that hadn't been seen before. Several years of research and a patent later, Mark decided he had to do something bigger with his discovery.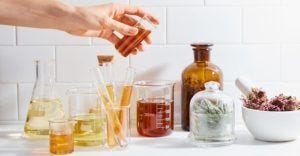 Farmacy is the result, and over the last few years, it's built a reputation not just as a natural brand, but one that uses high-tech extraction processes and science-backed formulations to deliver great skincare right to your, well, face. The "farmer-cultivated, scientist-activated" line has made its mark with products like Green Clean and Honey Potion, which are two of the brand's best sellers, according to Marketing Director Mina Chae. Farmacy just introduced a new cult favorite with the launch of Honeymoon Glow, an AHA resurfacing night serum that promises a glowing complexion with no need for an island getaway (or a wedding).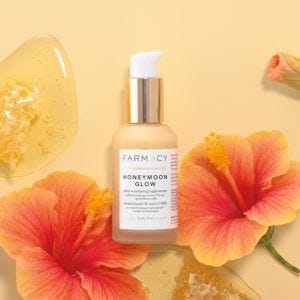 We were at the launch of Honeymoon Glow, held at The High Line Hotel's outdoor bar, The Golden Hour. The space was decked out with flowers and reminiscent of an island paradise, as guests adorned with leis sipped on destination libations.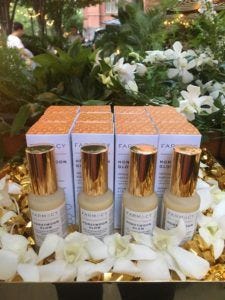 Made with Farmacy's signature Echinacea GreenEnvy, the 3-in-1 serum resurfaces, hydrates, and clarifies skin while you sleep. It's formulated with 10% AHA blend (lactic, glycolic, and fruit acids that exfoliate skin and promote cell renewal) as well as 1% BHA (salicylic acid from willow bark that helps minimize pores). Honey (hence the name, of course!) and hyaluronic acid also work to gently hydrate and soothe the skin. Farmacy suggests you start off using Honeymoon Glow two or three nights a week, and increase frequency gradually. All you have to do is apply a couple pumps of the serum to your freshly cleansed face before bed. (You might feel a slight tingling; that's the serum doing its job.) While you're dreaming of faraway lands and tropical adventures, Honeymoon Glow will be working its magic on your skin.  
Read This Next
If you're into natural-based serums, here's one made from snow mushroom water. Plus, here's a super hydrating eye cream you'll love.
Find Beauty and Wellness Experts
 Read client reviews, book appointments, and get advice from the experts in Charlotte's Book. Only the best cosmetic doctors, skincare gurus, nutritionists, and fitness and wellness professionals make it into our book.