Discover more from Charlotte's Book
All the things about life your friends won't tell you. Funny. But not funny. But true.
Over 12,000 subscribers
Take A Bite: Our 7 Favorite Healthy Chocolate Bars
Goji berries, maca and reishi, oh my! The bar has definitely been raised for healthy chocolate. The newest heart-loving indulgences combine dark chocolate with superfoods, herbal extracts and other mind/body-boosting ingredients using artisanal precision. The result? A delicious guilt-free treat that not only satisfies your sweet tooth, but can also help lift you out of a slump, boost your immune system, fire up your antioxidant levels, reduce the day's stress load and put a smile on your face. So while everyone has chocolate on the brain for Valentine's Day, here's a bouquet of Charlotte's Book expert-approved healthy chocolate bars that we'd give to our loved ones, especially ourselves.
But first, here are a few quick guidelines to follow when you're browsing the healthy chocolate aisle in your local store. Always buy dark chocolate and make sure that it has at least 60% cocoa, which contains all the antioxidant, anti-inflammatory and anti-blood-clotting powers. Cocoa is what can help lower your heart rate, reduce stress hormones, prevent Alzheimer's disease, heart disease and diabetes. Dark chocolate can also help ward off weight gain because it is more filling than other chocolates, so you tend to eat less of it. Another consideration: "Make sure the bar is organic, because if you're going to eat sugar, you want it to be as minimally processed as possible," says health coach Holli Thompson. Avoid milk chocolate because milk binds to the antioxidants in chocolate, making them hard for your body to absorb. On that note, avoid drinking cow's milk while savoring your chocolate. P.S. White chocolate isn't even real chocolate because it doesn't contain cocoa.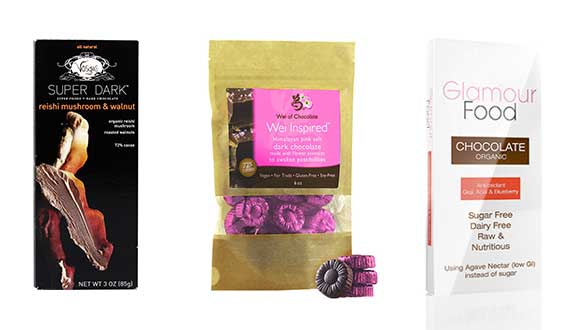 Vosges Super Dark Reishi Mushroom & Walnut, $7.50 Medical herbalist Daniela Turley has touted the anti-stress, immune-boosting benefits of reishi mushrooms; so when we spotted it in this savory 72% cocoa dark chocolate bar, we stocked up. It also contains brain-stimulating walnuts, rich in omega-3 fatty acids.
Wei of Chocolate Wei Inspired, $30 for 28 pieces. "Infused with flower essences to activate creativity, I have these chocolates to thank for the so-much-cooler version of my upcoming book. I was enjoying a few pieces when I got the creative download. They are now part of my writing ritual (any excuse for chocolate)!" says nutritionist Dana James. Wei Inspired is 72% cacao dark chocolate, infused with 250 million year old Himalayan pink salt and flower essences (Pink Primrose, Date and Fire Star Orchid) that encourage mental clarity and ideaphoria.
The Organic Pharmacy Glamour Food Chocolate Bar, $5.50. This handmade raw chocolate combines unheated, unprocessed organic cacao (translation: all the powerful nutrients are totally intact) with superberries such as Goji, Acai, Blueberries and Cranberries. It's also sugar free, dairy free and made with coconut butter. The Organic Pharmacy can barely keep it in stock!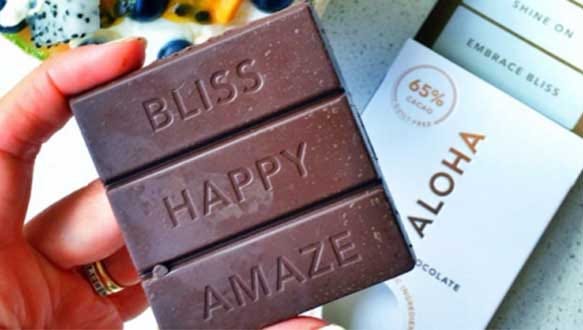 Aloha Superfood Chocolate, $9. 60% Peruvian fair-trade organic cacao is combined with superfood greens (read: an added hundred nutrients or so) and a pinch of mineral-rich coconut sugar. P.S. Feel good words like bliss, happy and amaze put a smile on your face before you even take your first bite.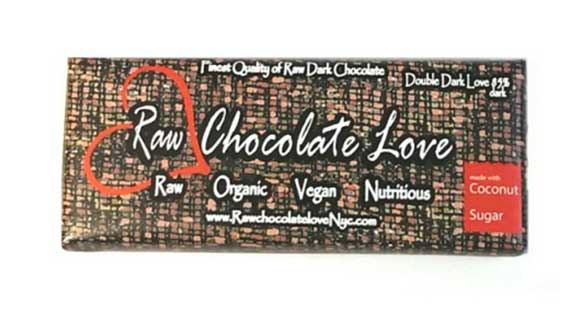 Raw Chocolate Love Double Dark Love, $8. Nutritionist Meredith Geller turned us on to this sweet treat. Handmade over very low heat in a small chocolate lab in New York City, Double Dark Love contains 85% raw organic cacao blended with organic mesquite, vitamin C, Himalayan salt, coconut oil and vanilla beans. The slightly soft texture melts in your mouth. Stash it in the fridge to keep it fresh.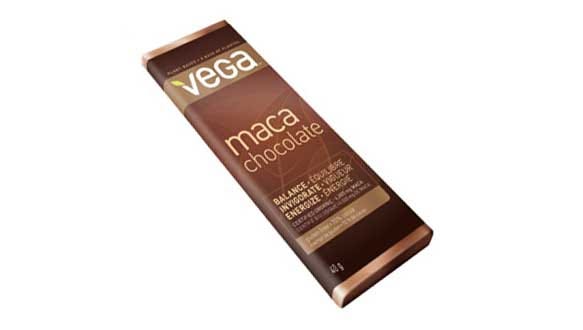 Vega Maca Chocolate Bar, $2.99 Charlotte's Book Founder Robin Shobin stocks the office snack bowl with Vega Maca Chocolate to keep the team on their A-game—mid-day slumps begone! Each bar contains 70% organic cocoa dark chocolate packed with 4,000mg of organic gelatinized maca, which has been shown to balance, invigorate and energize body and mind.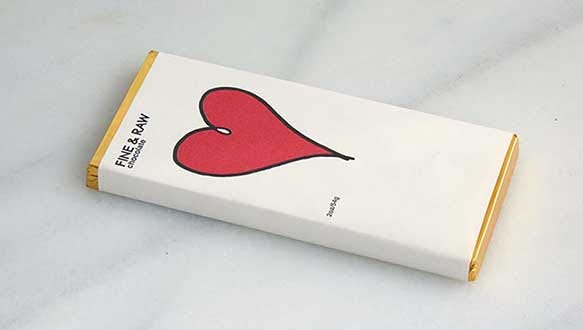 FINE & RAW Valentine's Sea Salt Bar, $8. FINE & RAW is a Brooklyn-based organic chocolatier that uses low heat techniques to keep the chocolate's raw vitality and flavor. There's nothing more savory than this dark, sweet and salty love bar. A tidbit we picked up from them: Katherine Hepburn said she ate a pound of chocolate a day, and that that was the reason for her ageless beauty.
What could possibly be better than a delicious bite of healthy chocolate? Perhaps, for some, a smooth glass of red wine at the end of a long day. Thus, the Charlotte's Book team will rely on these brain-stimulating chocolate treats to power through our next research project—which red wines have the least amount of sugar and sulfites and the highest levels of resveratrol and antioxidants. Our job is never done. Stay tuned.
WORDS: Rachel Hayes with reporting by Ines Nyandekwe.