Discover more from Charlotte's Book
All the things about life your friends won't tell you. Funny. But not funny. But true.
Over 12,000 subscribers
Georgia Louise & Healing Facials With The Butterfly Stone
Celebrity-beloved aesthetician, Georgia Louise has been causing quite a stir in recent months and the news is two-fold. For one, she has recently opened a new location in a lovely brownstone just off of Central Park West. Her new Atelier is a tranquil and private retreat designed to appeal to her A-list and local Manhattan clientele alike. Visit her Charlotte's Book Premier Provider profile for more details.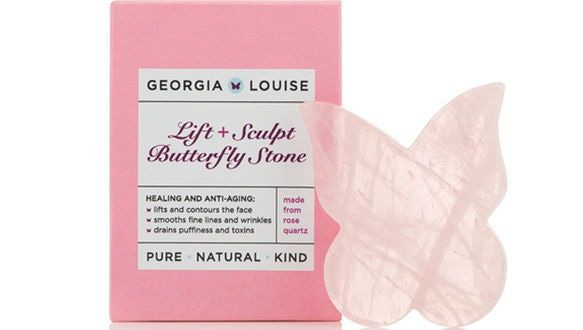 The other bit of utter buzz-worthiness is that her Rose Quartz Lift + Sculpt Butterfly Stone, made famous as a key component of her remarkable Lift and Sculpt Facial, is now available for home use. This smooth, sculpted rose quartz (which is the stone of love) is a facial massage tool designed to drain puffiness and toxins, contour the face, and help smooth fine lines and wrinkles. Massaging your facial muscles around the jawline, cheeks, and forehead with the stone will help you relieve accumulated tension and stress in your face, so you look and feel more relaxed than ever. Georgia's recommended application is to use the Butterfly Stone following her massage instructions for 5 minutes, 2-3 times per week. Hot tip: Keep it cool in the fridge to help boost its puffiness-reducing powers.
Watch this video to see how Georgia Louise uses her Lift and Sculpt Butterfly Stone:
Get It Now: Georgia Louise Lift and Sculpt Butterfly Stone, $45.