Discover more from Charlotte's Book
All the things about life your friends won't tell you. Funny. But not funny. But true.
Over 12,000 subscribers
My Stay At Golden Door: Mindfulness, Gourmet Food, And No Wine
Enchantment, Mii Amo, Canyon Ranch—I've been lucky enough to visit most of the destination spas in the United States, and I often get asked where to go. In today's busy, noisy world, they're as popular as ever. We're all looking to disconnect, reset, and get away. That said, going to a destination spa is a pretty lofty expense, and something most people get to experience only once or twice, if that. So even though my stay at the famed Golden Door was comped, my opinions are honest. Here's what my week at Golden Door was like.
The Golden Door
Nestled in the hills of Escondido, California, Golden Door is known as one of the most luxurious and relaxing destination spas in the world. With more than 600 acres of land to explore, Japanese gardens everywhere you turn, dozens of classes for the mind and body, expertly curated farm-to-table meals, highly personalized experiences, and a staff waiting to meet your every need, it's no surprise why.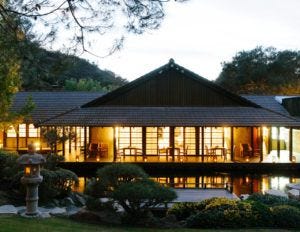 A week-long stay at Golden Door will set you back $9,000, and that's without the cost of travel. The cost includes the private suite you'll be staying in, food, fitness classes, clothing you'll need for the week, and lots more.
What you can expect:
Upon arrival you'll truly feel like you've been transported to a ryokan in Kyoto. The private rooms are gorgeous and serene; each one has a patio or deck that looks out to a garden. It's a welcome change from our hectic lives with partners, roommates, and kids. And a daily in-room massage? That's a welcome change, too. Golden Door also provides a set of clothes for your stay, so no need to pack anything but workout clothes and a bathing suit! You'll also be given a full set of skincare and bath products.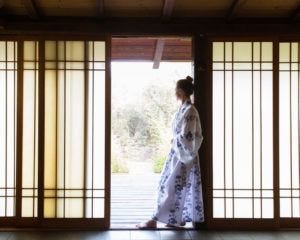 Included in your stay are sessions with a personal trainer, a range of fitness classes from archery to yoga, skincare sessions, herbal wraps, a manicure and pedicure, and a personalized fitness plan to take with you when you leave. Plus, you have full access to 25 miles of trails, two swimming pools, seven gyms, a therapy pool, and a bathhouse.
If you're a foodie, this spa is for you.
Committed to providing fresh, nutritious, farm-to-table food, Golden Door serves delicious meals. Most of the food grows right on the property. Your meals will depend on your dietary needs and preferences, and will be customized to reflect your goals for the week. You'll choose either a 1200, 1400, or 1600-calorie a day diet, so you'll see other guests getting smaller or larger portions than you. Breakfast is served each day in the privacy of your room, which was a huge bonus to me. At every other spa I've been to, you eat breakfast in a dining room with other guests. But given how small the group at Golden Door is (only 40 people stay here at a time), serving the entire facility at the same time in the private rooms is a doable task. I loved being woken up each morning to a healthy breakfast in bed.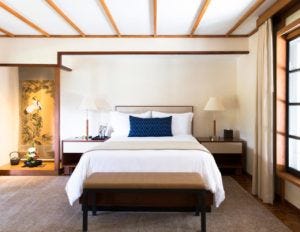 My biggest meal of the day has always been breakfast, so I did struggle a little bit with the portions. The vegetable quiche was about two inches in diameter, so it definitely didn't fill me up. But you can ask for more food—as I did several times—and the staff will oblige. Other breakfast options included Greek yogurt with various healthy toppings, as well as oatmeal. I opted for the egg dish each morning, though. I also snuck in several bags of turkey jerky with me, and I took advantage of them for a pre-lunch snack. (My goal for the week didn't really involve weight loss, so adhering to a strict calorie count wasn't a priority for me.) With my breakfast I received the day's meal selections. Each meal usually had three options. Honestly, everything on the menu sounded amazing. From fresh salmon or crab to avocado terrines, I wanted to try it all. And I admit, some days I ordered two lunches not only because I was hungry, but because I wanted to try more than one dish! Fortunately, the staff always accommodated. (A secret tip: ask for a "half and half order" and you'll get partial plates of more than one dish.)
If you're looking for a wine-filled getaway, this spa is
not
for you.
Golden Door doesn't allow alcohol on premises. At first I was a bit disappointed that I didn't have the option (a glass of wine relaxes me!). After a relaxing massage or body scrub, a glass of wine just feels natural to me. And when I've stayed at spas that allow alcohol—like Miraval and Mii Amo—I've given into the temptation to have a drink. But at Golden Door, the ban takes away the temptation from the equation. Let me tell you, the multiple nights of sober deep sleep that I got here made me rethink my habit. And it even kick-started me into a stretch of alcohol-free days! In the past, I'd be reluctant to go to an alcohol-free spa, but this experience has definitely made me reconsider.
Golden Door is a perfect place to de-stress and recharge.
Golden Door is all about providing a fully relaxing experience. The structure of the program, the facilities, and many of the activities are geared toward a release of stress, focusing inward, and getting away from the outside world. Nighttime activities, for example, were primarily mindful in nature: card-making and understanding aromatherapy were a couple of them.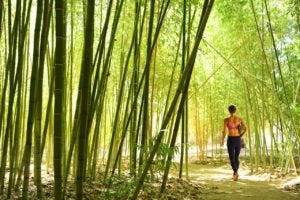 Many of the women I met had come with the goals of unplugging, de-stressing, or detoxing before a specific event. For them, the stay was more about peace of mind and less about the pampered spa experience or strict weight loss. Guests are encouraged to not use their phones or computers during their stay. Many of the women decided to lock their phones up for the week, only making a quick nightly call to their family before bed. I would love to do that next time, but I honestly didn't have the willpower this time around.
The location is gorgeous.
The vast Golden Door property offers a mountainside of hiking trails, which I loved having access to. The greenery and mountains make for a gorgeous setting and gave me the opportunity to do a rather difficult two-hour hike each morning. Some of the other guests also played tennis with the spa's instructor.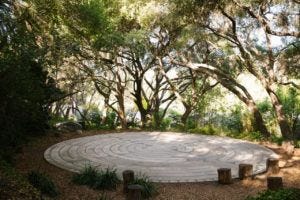 As for workout classes, in my opinion they were more moderate. Don't expect the intensity of a SoulCycle or Rumble boxing class here.
Golden Door is about social over solitude.
In contrast to other destination spas, Golden Door prides itself on being a social community. During your stay, you're encouraged to meet new people, interact, and form new friendships. With the exception of breakfast, you'll have your meals at shared tables. And prior to dinner, guests meet in a small gathering room to talk about their day and mingle. To really build a sense of community and "level the playing field," guests are encouraged to wear matching Golden Door robes to dinner. That way, there's no pressure to wear cute workout clothes or dress up.
The bottom line:
Golden Door offers a mindful and relaxing retreat focused on recharging while making connections with others. If you're looking to de-stress, learn about wellness, eat fresh and healthy foods, and turn inward amongst the mountains and Japanese gardens, this spa is worth a visit. All images are from Golden Door's website.  
Read This Next
Travel expert Erica Gragg gave us a rundown of popular wellness spas if you need a detox. In the mood for international? Here are some of the best luxury spas around the world.
Find Beauty And Wellness Experts
Read client reviews, book appointments, and get advice from the experts in Charlotte's Book. Only the best cosmetic doctors, skincare gurus, nutritionists, and fitness and wellness professionals make it into our book.