Discover more from Charlotte's Book
All the things about life your friends won't tell you. Funny. But not funny. But true.
Over 12,000 subscribers
Don't Miss Prickly Pear Elixir, The BeautyRx Peel Bar (!) And Champagne At The First Indie Beauty Expo
The very first Indie Beauty Expo (iBE), happening Thursday, August 27, will bring together a constellation of indie beauty brands, their founders, the press, dermatologists, and fervent fans—all for the first time. If you can't believe this is the first wholly independent, major beauty expo in New York, neither can we. It's the brainchild of Jillian Wright, a Charlotte's Book Advisor and master aesthetician at the Jillian Wright Clinical Spa.
Related Read: Jillian Wright And The Apothecary Bar
"There was an unmet need," says Wright, who will also be exhibiting her own line of skin care. "Broadly speaking, up until now there were two kinds of beauty shows." Essentially, there's the big 3-5 day professional trade shows with 1000+ vendors, and then the afternoon mini-expo with a dozen independent brands and minimal media exposure. "So iBE fills the gap," she explains. "Moreover, we thought why shouldn't actual consumers—arguably the most important constituent—also have access to this great gathering?!"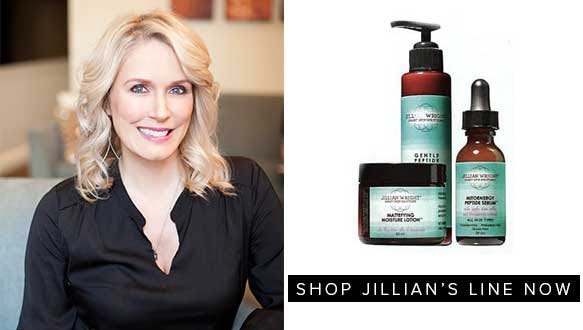 And thus iBE was born. Wright partnered with Nader Naeymi-Rad, a business strategist, and built a team of advisors that includes Wendi Berger, president of all-natural perfume company Pour Le Monde and former Executive Director at InStyle, niche beauty-brand expert Jessica Richards, and Vibe Veda, specialist in Reiki energetic healing.
Related Read: Just Do It: Jillian Wright On Why Sex Is Great For Your Skin
The Basics There will be over 75 exhibitors (the space is completely sold out) at this day-long affair. Professional: Buyer, Press, or Expert? iBE is the perfect place to compare, build your professional arsenal, and get business done with all the best brands in one place. Your morning starts with a 9:30 a.m. press breakfast (for invited media), and the afternoon is full of panels, expert speakers, and other buyer, retailer, and industry-focused events until 4 p.m. Non-professional Beauty Lover? Think of it has a happy hour for indie beauty brand buffs. The evening, from 5 p.m. through 8 p.m., is designed for you, the consumer. Says Wright, the space will become a "playground for those who love and are curious about indie brands and their philosophy." The schedule, outlined below, includes more speakers, and, of course, your favorite indie beauty brand exhibitors. A VIP ticket is $104 and includes complimentary Laurent-Perrier champagne, plus the chance to win a magnum of the same and an indie-beauty gift basket, in addition to a luxurious gift bag (naturally). General admission is $59 and includes a "killer gift bag and tote" (use our code, charlotte, for 20% off admission). "The gift bag is probably valued at least double the ticket price," says Wright.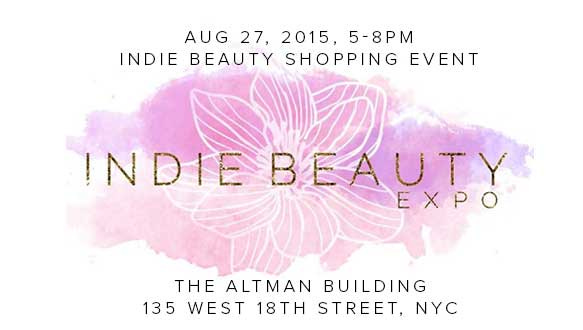 The Philosophy "The entrepreneurs behind these brands are delivering some of the most creative innovations in the beauty industry today," says Wright. "They are pioneering 'green beauty' that is good for the environment, 'clean beauty' that is free of chemicals, 'niche beauty' that caters to highly specific skincare needs, and 'design beauty' that presents products in such breathtaking packaging that it looks like art." iBE is definitely attracting the kind of exhibitor that truly cares about their brand. These people are passionate about beauty and hell-bent on making a difference in the market, and in people's skin. In such a beautiful collection of exhibitors, it's hard to select just a few: but here's our advance peek at what you'll find at iBE. Most will be selling at 25% off-and some even more! What To Expect: Who Will Be There?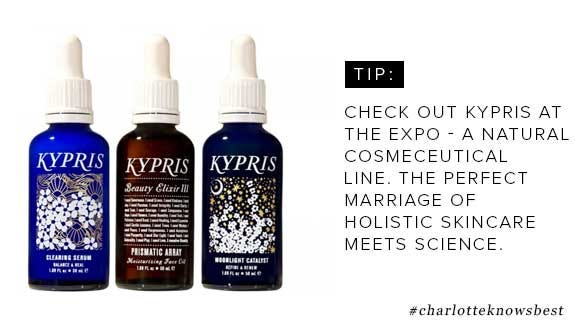 Kypris, whose 1,000 Roses Elixir has seen ample media coverage, will likely float to Manhattan on a sea of golden mermaid foam. When asked what new products might make an appearance at iBE, Chase Polan, founder, says "The just-launched Body Elixir Inflorescence which will definitely be at the table." Kypris started as a resource for integrative medicine, so their philosophy is deeply bound to both efficacy and ethics, in terms of sourcing and genuine results. Of particular interest for attendees will be Polan's work with wild-crafted, U.S.-grown prickly pear.
Related Read: Flower Power: Rose Skin Care That's Perfect For Right Now
A Charlotte's Book favorite, BeautyRx is bringing their notoriously wonderful Peel Bar to iBE, where you can get a peel for a fraction of the price. Normally $225, the same exact professional-strength, 40% glycolic peel that Dr. Schultz administers to his patients at his Park Avenue office will be only $50. This 2-minute, no-downtime peel instantly leaves skin smoother, brighter, and more even-toned, without any redness or irritation. To help you maintain this new glow, BeautyRx will also offer their at-home glycolic maintenance facials, which come in an 8% serum, 10% exfoliating pads, and 15% cream, plus the extremely popular pore-minimizing Dermstick for Pores.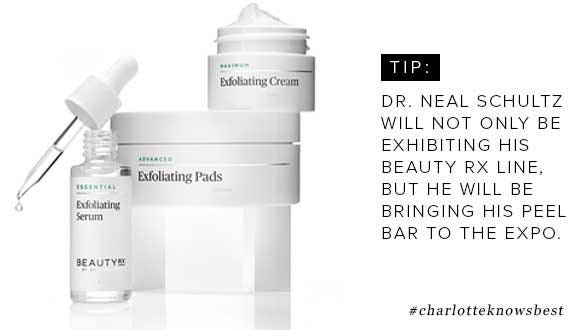 Related Read: Peels: The Next Step In Men's Skin Care
Phace Bioactive is devoted to balancing your pH: your skin's acid mantle is essential for skin health, so each treatment is formulated to an optimal pH range for consistent and noticeable results, and to promote healthy, radiant skin. Powerhouse founder Marisa Vara Arredondo will be on hand to explain all this in person, plus offer her entire line of pH balancing cleansers, creams, and serums. Other well-known exhibitors include Tata Harper, Kahina, Mun, Lotus Wei, Tracie Martyn, Celia Wong, Farmaesthetics, and Grande Lash.
Related Read: Pucker Up: 6 Anti-Aging Lip Treatments That Work (Including Tata Harper's Be True)
Violets Are Blue will have their foot salve, a must for any summer-sandal feet. Phia, believers in the power of natural elements rather than synthetic, lab-made copies, will be there with a luxurious Body Serum. Skin Owl, begun by Annie Tevelin to provide relief for her acne and eczema-battered skin, offers the purest, most simple elements and can be incorporated into anyone's skin care routine. Late Afternoon + Evening Schedule: Panels, Speaking, Shopping For Consumers 5 p.m. — 8 p.m. Arrive by 5 p.m. to allow plenty of time to visit each vendor. Plus, if you get there early, you'll catch Kristen Arnett, eco-makeup artist and founder of Green Beauty Team, talk about her backstage secrets (How Models Stay Gorgeous: Backstage secrets from a celebrity eco makeup artist) at 5:30 p.m. At 6 p.m., our friends at Well+Good are hosting a panel moderated by Melisse Gelula, featuring Tata Harper, Adina Grigore, Tracie Martyn, and others called The Natural Beauty Explosion: Trends, myths, facts and other cool stuff. There will be a Q&A, so bring questions! Rumor has it drinks will be available, so plan to indulge a bit. And make room on your shelves—it'll be impossible to leave iBE without a few new skin treats. Remember: when you register (here) use code charlotte for 20% off your admission. Enjoy!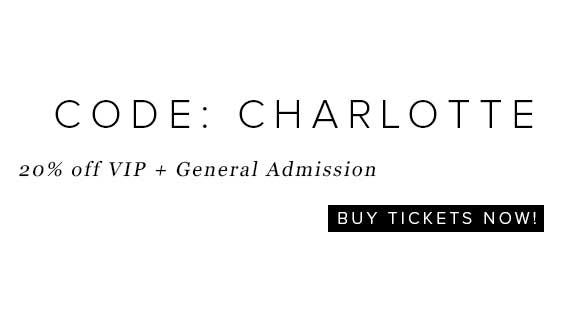 Experts, Concerns, and Treatments Mentioned In This Feature: Experts— Jillian Wright, Clinical Aesthetician at Jillian Wright Clinical Spa Dr. Neal Schultz, MD, of BeautyRx Concerns— Frown Lines Smile Lines Wrinkles & Aging Redness Dull Skin Crow's Feet Acne Acne Scars Eye Rejuvenation Skin Cancer Prevention Enlarged Pores Treatments— Products—Coming Soon