Discover more from Charlotte's Book
All the things about life your friends won't tell you. Funny. But not funny. But true.
Over 12,000 subscribers
Charlotte Talks To: Skincare Guru Joanna Vargas
INTERVIEW: JOANNA VARGAS
---
RENOWNED SKINCARE GURU
Welcome to #CharlotteTalksTo, where we feature amazing women out there shaking things up and remaining fabulous in the process. How do they do it? Behind every beautiful and brilliant woman are a few secrets that help them remain "timeless." New York City-based skincare expert Joanna Vargas is by no means your typical "facialist". A working mom of two, a client roster that will impress even the most jaded New Yorker (just recently, she prepped Julianne Moore and Maggie Gyllenhaal for the Golden Globes) and a burgeoning skincare line are just a handful of her attributes. From her atelier on 5th Avenue, Joanna tends to individuals from all walks of life with her holistic approach to achieving the healthiest and best skin possible. She didn't set out to become a celebrity facialist or ever imagine she would spend years researching and perfecting a namesake skincare line, but she is, and she did. Today her popular products are constantly in demand, and there's a subsequent waitlist to see her. Leading a team of ten highly-trained aestheticians, Joanna strikes a fine balance between managing her growing clientele, running a skincare business and spending time with her family. "There's very little screen time in my house," she recently told an audience in New York City. "My children see that yes, it is possible to have a fulfilling career and also a family life." After graduation from the University of Chicago with a double-major in photography and women's studies, Joanna landed in New York with a passion for working with and helping others. After a few stints in the industry, it was skincare that drew her in. Eventually Joanna ventured out on her own. Today, she is well known for her customization of skincare, alternative facial treatments, and healthy living, working frequently with integrative health expert Dr. Frank Lipman and his team. Clients leave Joanna's office with a specifically prescribed and highly customized regimen. "I really curate a program for every person that comes in," says Joanna. Her clients also have access to a patented full-body LED light bed, and, depending on the treatment they book, the option to experience a micro-current or radio frequency facial.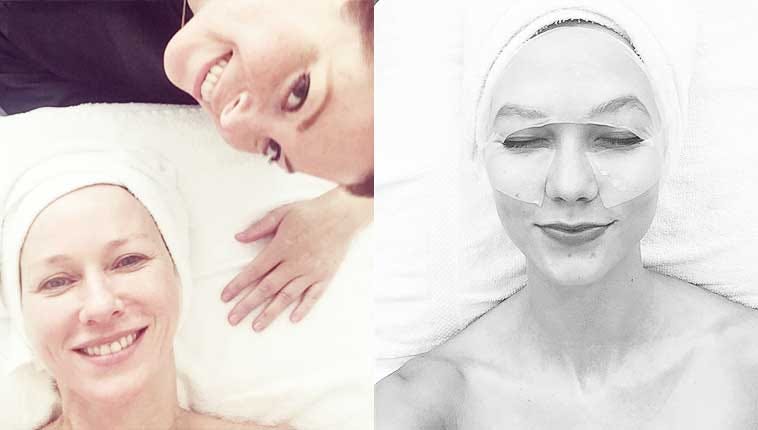 Dedicated Joanna Vargas clients. Via @naomiwatts and @karliekloss on Instagram.
ON HER FIRST CELEBRITY CLIENT:
Rachel Weisz was my first celebrity client. I met her through a yoga teacher who was a client, and I have known her for many years. She's a good friend and she has been coming for years.
ON DIGESTION AND SKIN:
I am always recommending that clients keep their skin clear and detoxed by the foods they eat, and also by what they drink—a green juice a day definitely keeps the skin clean and glowing. Eating healthy is obviously good for many things, but if you want glowing skin, it's more important than you think to have a good diet. I find that the best skin diet is one that involves eating veggies of different colors for every meal and a green juice every day. There is really no substitute and it works on everyone!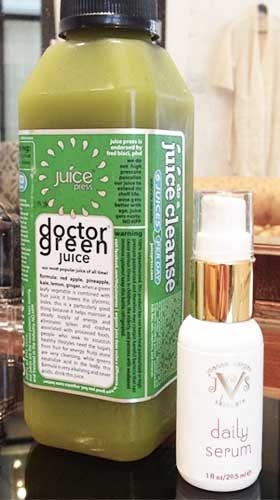 I usually get my green juices from Juice Press, but I am really in love with Dr. Frank Lipman's Recharge green juice powder because it allows the busiest person to have a green juice everyday—it's a powder so just add water to it, knock it back, and you're done. If I am at Whole Foods I buy mint flavored liquid chlorophyll, it's a great substitute for green juice and with just a shot of it, it's an extra three servings of greens a day. If I have a client who doesn't eat salad or drink green juices, I tell them to go buy this: it tastes like mint, it oxygenates the skin, keeps skin clean, and works from the inside out, resulting in a huge difference in your skin in a matter of days. We continually work with Dr. Frank Lipman to find easy solutions to being healthier. There is such a connection between digestion and skin that working with him is essential. He makes nutrition easy for people, so I like that accessibility.
ON KEEPING A TIGHT CALENDAR:
My time is super scheduled, including my time with my children. I try to make my time with my children quality time. I sit and do art with them, I talk with them and do activities. We're not the family that sits in front of the TV together. I think it's a good example for them to see that I have work that I really enjoy, and that life is about having all of that—I have friends that I love, work that I love, and I think it sets a good example for them for when they are grown up. To aspire to find something that really is a passion for them, that drives them.
ON HER (AND HER CLIENTS') BIGGEST SINS:
My biggest skincare sin is not wearing a hat at all times. The biggest skincare skin I see in my clients is not using sunscreen. People wonder why Julianne Moore has such great skin. While her facials are extremely important, her lifelong use of sunscreen is really her biggest anti-aging secret. For sunscreen, I either use Eminence Organics SPF 30 mineral powder, because I can wear it over makeup and reapply it throughout the day, but if I am on vacation, I use a brand called MD Solar Sciences because it doesn't have chemicals in it, and it's a physical block: it has both zinc and titanium, and it's very safe to use and pretty much the only thing that works for me.
ON HER FACIAL REGIMEN:
I try to get facials every 3-4 weeks. I am a big believer in the philosophy that all of the technologies work together. I alternate between a Triple Crown Facial and the Forever Facial, which are my radio frequency facials. I will see any one of the girls who work on my team for a treatment. I currently have ten facialists working under me who are the best in the world. I travel for work quite a bit and no one compares: all of them are a pleasure to spend an hour with. Also, once a week I do an LED light bed session, because LED light grows collagen and it's a really nice nap for me!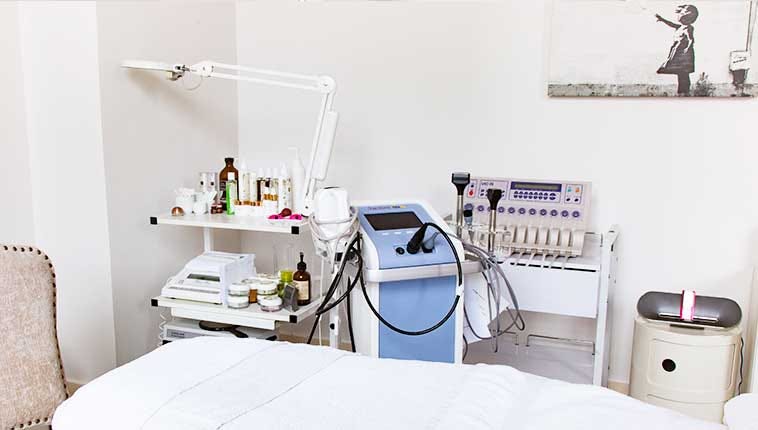 ON BOTOX:
I never judge a woman for seeking injectables. However, I tend to attract women who are seeking alternatives—I don't think injectables are for everyone.
ON TRAVEL, ROSEWATER AND ROSEHIPS:
I travel quite a bit for work and so do many of my clients. Travelers generally get dehydrated, starting on the airplane, so I encourage my clients to use my Rejuvenating Serum on board. Applying it mid-flight will rehydrate the skin with skin softening olive oil, rosehip oil and neroli oil to increase circulation. The jojoba oil in it will ensure that your pores won't be clogged once you arrive at your destination. I also have clients pack rosewater toner in a spray bottle. Rosewater is incredibly hydrating, so if you spray it directly on your face, it gets moisture into the skin immediately. Even if you have sensitive skin or skin that breaks out, rosewater is something you can travel with and spritz your face with on the airplane. The other cool thing about rosewater is that its pretty standard in its efficacy so if you bought it at Whole Foods, it's just as amazing as if you buy the one I use in the salon, by Eminence Organics. If you're traveling overseas, I recommend doing it twice mid-flight: your skin will be refreshed when you get off the airplane.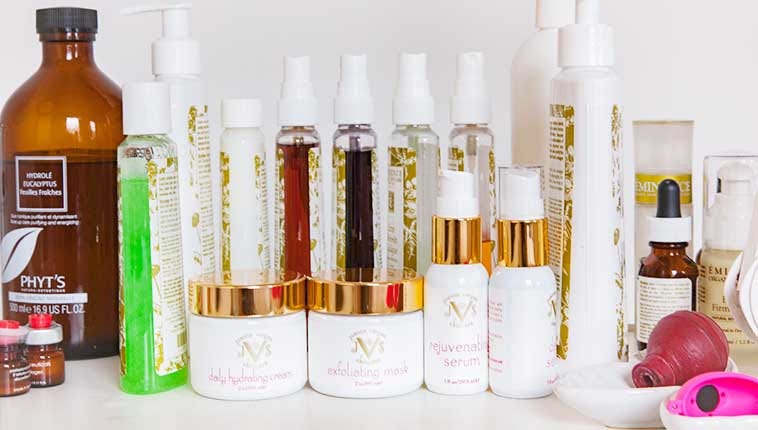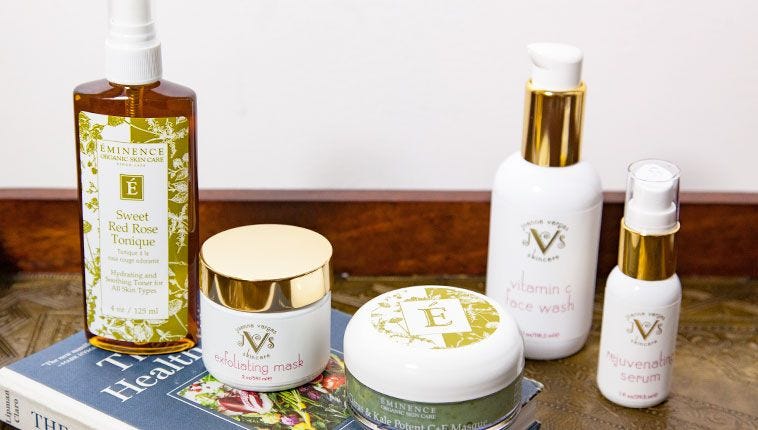 ON WHY EXPERIENCE MATTERS:
I do radio frequency treatments for clients all the time. You want to go to a facialist who is doing it frequently, at least six times a day. There is an absolute technique: its not just about having the right tools and technology, although that's important too. You want to go to a place that's doing the volume we are, so you get the best results and you don't have any problems. [video width="640" height="360" mp4="http://www.charlottesbook.com/wp-content/uploads/2015/11/The-Radio-Frequency-Facial-with-Joanna-Vargas-SD.mp4"][/video] Joanna Vargas shows us her radio frequency facial. Directed by Roderick Angle. 
ON MORNING AND NIGHT ROUTINES:
Morning: I always wash my face at night, so in the morning I simply rinse my face with tepid water. I don't like using extreme temperatures on my skin because this tends to dry it out. I apply my Rejuvenating Serum to my face and neck and follow with Laura Mercier Tinted Moisturizer. I don't wear much makeup for work—I think it's nicer to see clean, fresh skin. I apply a bit of mascara and a lip color. Night: I never go to bed without washing my face! I use my Vitamin C Face Wash, which is a foaming exfoliating cleanser. I take my makeup off with that as well because I hate fussing with tons of products. I follow with my Daily Serum—the skin needs greens, and my formula is packed with vital greens for the skin. I apply it all over, even to the eye area. It hydrates the skin, lightens, and brightens my face for morning. If I have a big event the next day, I will sometimes go to sleep with my Exfoliating Mask on my face. It really brightens and exfoliates for a nice clean palette in the morning for makeup!
ON MILESTONES:
There are lots of milestones for me that I'm proud of: opening a bigger space (twice), building my LED light bed, getting the patent on the light bed, the launch of my product line, my first year prepping actresses at the Oscars, being able to take six months off to have my daughter, having a company dinner and looking at all the incredible women I have working with me who I admire and love so much. I'm not sure if I'll ever think 'I've made it,' but I always take moments to acknowledge what I have achieved before I decide to take it further.
ON WHAT SHE WOULD TELL HERSELF TEN YEARS AGO:
I'm a big believer in putting out what I want back. I care so much about my clients, my girls and what I do. I think people feel that and as a result I get a lot of beauty back. I think I would tell myself to have faith and it will all work itself out!
– As told to Dawn Kissi for Charlotte's Book. Read more #CharlotteTalksTo interviews.
Joanna Vargas photographed by Roderick Angle at her New York City spa October 7, 2015; video directed by Roderick Angle. Roderick is a fashion, portrait and lifestyle photographer and videographer. You can follow Roderick's Instagram feed, About Themselves, where he profiles interesting and creative individuals.
More from this author—DAWN KISSI
READ THIS NEXT: Video: Radio Frequency 101 With Joanna Vargas CURIOUS about our experts? They're the best.