Discover more from Charlotte's Book
All the things about life your friends won't tell you. Funny. But not funny. But true.
Over 12,000 subscribers
Video: Radio Frequency 101 With Joanna Vargas
Joanna Vargas is known for her top-of-the-line, holistic, non-invasive skincare. Celebrities love her personalized, thorough approach (Came in for a facial? She'll get you hooked on green juice.), and so does Charlotte's Book. Her day spa, Joanna Vargas Skincare, is famous for the Triple Crown Facial, the full-body LED bed, and much more. A newer addition to the lineup is radio frequency, a non-invasive collagen-builder that firms and tightens skin like nothing else. To get the story on this new wonder treatment (part of Joanna's Forever Facial), we sat down with the queen of facialists herself. Watch her explain and demonstrate the treatment in the video above, and read on for more details.
WHAT IS RADIO FREQUENCY?
It's another form of electricity, similar to microcurrent. It stimulates an increase in collagen production, which results in healthier, more youthful looking skin.
WHY IS IT GOOD FOR YOUR SKIN?
Radio frequency stimulates a 20% increase in collagen production and pushes together your collagen fibers (they spread as we get older). The spreading isn't obvious on a 30-year-old's face, but as time goes on, it becomes more and more obvious. Collagen and elastin production naturally, decrease as we get older. When you're 18, your skin cells are renewing themselves every single day. But by the time you're 40, your skin cells are only renewing themselves every other month. That's why there are so many products devoted to cell turnover and reproduction, and so many dedicated procedures. We're all just trying to trick the skin into producing more collagen. The traditional methods of cell turnover have been retinols and glycolic peels, but I'm not really that into these methods. I feel, if you're using a retinol everyday, your body cannot keep up that level of collagen production—you wind up thinning out your skin. It may not be evident to you right now, because your skin is nice and thick. But as you get older, your skin is going to thin regardless, so we want to go against the grain of what your body wants to do and thicken it up—you're not stripping your skin with this device. All you're doing is building, which I love.
HOW DOES IT FEEL?
In one word: relaxing.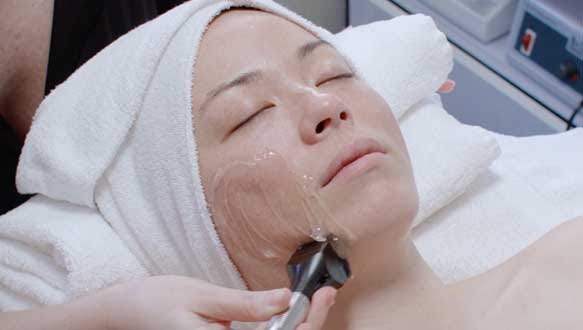 HOW OFTEN ARE TREATMENTS RECOMMENDED (OR REQUIRED)?
Just like anything else in skincare and anti-aging, consistency is key. I recommend a series. However, even after doing one facial you may see results. I don't really do this treatment right before a red carpet. But, this is how I would prepare someone for, let's say, the Oscars months ahead. So when a client does walk the red carpet, they look completely refreshed.
WHAT ARE THE IMMEDIATE RESULTS?
The key thing is that radio frequency is non-invasive, so you're not going to be inflamed after treatment. Your skin is still going to look perfect. If you have an event tonight, you're going to look amazing all day. One of the things people come to me for is my use of non-invasive technologies. The kind of women that I attract aren't interested in taking it too far.
CAN THIS BE USED SIMULTANEOUSLY WITH OTHER TREATMENTS?
When you put this together with my other technologies, like LED light therapy and microcurrent, you're getting the whole picture. Microcurrent really addresses the tightening of the muscles. It does do some collagen building, but the primary function is to make sure your muscles maintain a tightness in the skin. LED light, of course, is also for collagen building, thickening the skin, and correcting damage to the surface of the skin. All three treatments together are ideal. Video directed by Roderick Angle. Roderick is a fashion, portrait, and lifestyle photographer and videographer. You can follow Roderick's Instagram, where he profiles interesting and creative individuals.  
READ THIS NEXT
We interviewed Joanna about her own skincare and wellness routines. Read up on the ins and outs of microcurrent, too.
FIND BEAUTY AND WELLNESS EXPERTS
Read client reviews, book appointments, and get advice from the experts in Charlotte's Book. Only the best cosmetic doctors, skincare gurus, nutritionists, and fitness and wellness professionals make it into our book.