Discover more from Charlotte's Book
All the things about life your friends won't tell you. Funny. But not funny. But true.
Over 12,000 subscribers
justBOBBI.com: A New Lifestyle Platform From Bobbi Brown (Plus, A New Wellness Line To Boot!)
Allow me to reintroduce myself.
Those are the words you see when you enter justBOBBI.com, Bobbi Brown's brand new digital lifestyle platform. Known for decades as a makeup and cosmetics powerhouse, Bobbi's reintroducing herself with justBOBBI, which covers "all things wellness, beauty, travel, and everything in between." Bobbi told CB that after her tenure as Editor in Chief of Yahoo Beauty, she wanted to continue "creating relatable and interesting content," with her own spin. "I hope to do that again, mixing storytelling, great photography, and working with amazing people. This site has been in the works for about a year now, and I'm so excited to share it with everyone," she said.  
  In order to do this, Bobbi tapped her circle of knowledgeable lifestyle, beauty, and business experts. "I am lucky enough to have a go-to network of experts that are really smart, inspiring people. They bring so many different things to the table, and I love learning from them all the time," she told us. One of Bobbi's handpicked contributors? CB's own Robin Shobin. Robin will be writing a column on her own unique POV on beauty for justBOBBI, alongside the likes of Arianna Huffington, Dr. Kellyann Petrucci, Lily Kunin of Clean Food Dirty City, and Bobbi Brown herself of course. Robin's first piece tackles feminism and its relation to beauty and aging—namely the double standards that arise when a woman chooses to get anti-aging procedures done.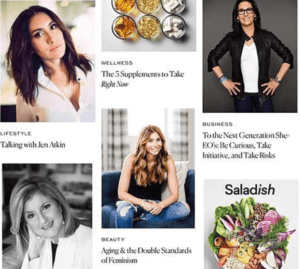 As for what makes justBOBBI different from other lifestyle destinations, she said, "I've been speaking to women about beauty and wellness for over 25 years. I think I'm very relatable when it comes to subjects like being a working mom, being a foodie, dieting, etc. I hope this site helps women figure everything out, along with me." I, for one, can't wait to see all of the amazing, helpful, and inspiring content that justBOBBI will produce. We asked Bobbi what she's most excited about with this new project: "It gives me a platform and creative outlet to share everything from my archives, to videos, to interviews, to photoshoots. It brings conversations to life." justBOBBI.com isn't Bobbi's only new venture, though. This month she's also launching EVOLUTION_18, a lifestyle-inspired line of supplements that are specially formulated to give you gorgeous hair and skin. With hair-fortifying capsules, probiotic pixie sticks, and vanilla and chocolate drink powders that boost hydration and calm the mind, the line is all about beauty from within. Look out for a more in-depth look into these innovative products, coming soon!  
READ THIS NEXT
Bobbi recently announced her beautiful and delicious Dragon Fruit Chia Bar. In Bobbi's Beauty File, she gave us her best beauty advice and wellness secrets.
FIND BEAUTY AND WELLNESS EXPERTS
Read client reviews, book appointments, and get advice from the experts in Charlotte's Book. Only the best cosmetic doctors, skincare gurus, nutritionists, and fitness and wellness professionals make it into our book.