Discover more from Charlotte's Book
All the things about life your friends won't tell you. Funny. But not funny. But true.
Over 12,000 subscribers
How To Pick The Right Herbal Supplement Brands
Garlic can reduce cholesterol. St John's Wort can treat your depression. Turmeric can reduce inflammation. We read the exciting headlines that cite the latest studies, but are left baffled when we search the web for an herbal supplement only to find an overwhelming amount of products, brands, and preparations. Which ones are safe? Who can you trust? Which should you buy and try? As a practicing medical herbalist, those are the questions I'm most often asked from those who want to start taking herbal supplements to improve their health. To the herbal novice, starting to take herbal supplements can be a confusing and scary endeavor because there's an unfortunate lack of regulated, clear communication to consumers on ingredient quality, effectiveness, and proven health benefits. But, don't let this deter you. When taken properly, herbal supplements can improve many ailments, from reducing stress and weight to boosting your immunity and combating depression.
Here's what you need to know about herbal regulations.
In the United States, herbs fall under the food division of the Food and Drug Administration (FDA), which means that herbal supplements must be manufactured in clean facilities. It also means that the dosage amounts of each herb in any product has to be clearly stated on the ingredient label. But, since herbal supplements are only considered a food product, there are no regulated guidelines to ensure their medicinal effectiveness. Herbal supplement regulations improved somewhat when the FDA introduced mandatory Good Manufacturing Practices (GMP) in 2007. GMP is a set of requirements and expectations by which dietary supplements must be manufactured to guarantee ingredient identity, purity, and composition. For example, GMPs aim to prevent misleading claims, the addition of too much or too little of a dietary ingredient, the possibility of contamination (by pesticides and heavy metals such as lead, bacteria, etc.), and the improper packaging and labeling of a product. Companies who adhere to this set of guidelines are starting to produce more effective and reliable herbal remedies. However, the active ingredient level of an herb is still a recommendation rather than a requirement.
International regulations are different, though.
The European Union (EU) has gone in a different direction. EU legislation requires that the manufacturing of herbs fall under the regulation of medicines, rather than foods. This means that herbal medicines in Europe have to be manufactured according to drug standards. This is one of the reasons why I import most of my herbal medicines from Europe because I can be sure of their quality and appropriate levels of active ingredients. Having said that, before you start looking up international shipping costs, there are plenty of herbal companies in the United States that go the extra mile and make sure all the medicinal qualities are present and accounted for. (See my recommendations below.) So, as a consumer, what should you look for when buying and starting herbal supplements? Here's a quick beginner's guide to herbal supplements:
1. Standardization is a good sign.
This is a process that manufacturers use to ensure batch-to-batch consistency of their products, usually by identifying specific chemicals within the herb (known as markers) and making sure their potency is always up to par. It's always a good sign when standardized testing has been done on natural products since uncontrollable factors, such as how much sun a plant has received or the quality of the earth that it grew in, can affect the potency of its chemical constituents. Unfortunately, there are no formalized means of communicating to consumers that an herbal supplement meets standardized testing. So if you don't see "standardized" on the packaging, then refer to the brand's website or call their customer service. (Don't be fooled by non-regulated terms such as "made according to standard" or "professional strength.")
2. Does the manufacturer follow GMP? 
As explained above, you are wise to check if the manufacturer of an herbal supplement is adhering to GMP protocols. The FDA doesn't require pre-approval of an herbal supplement before it is available on the market, but it can check products at any time after it is available to the public. Thus, it is down to the consumer to be aware of whether a company is a GMP manufacturer or not. Again, check the packaging or brand website, or call their customer service to make sure you're buying a GMP-approved product.
3. Know your dose.
You can only reap the benefits of an herbal supplement if you take the correct dose. (You ever tried drinking 1/5 of  cup of coffee and seen an effect?) Here's the rule of thumb for the adequate dosage of most herbs: + If you want to take capsules, take 250 mg, three times a day. + If you want to drink a tincture, take 1-2 mL (20-50 drops) in a 1:3 tincture, three times a day. (A tincture is the liquid formula of taking herbal extracts; one part herb to three parts alcohol or water (1:3) is the most common in health food stores.) If you are planning on taking an herbal supplement without the guidance of a healthcare provider, research the recommended dose. A great resource to learn about herbal supplements and their doses is herbalist Michael Tierra's Research Center.
4. Always be safe.
Botanicals are medicine. Even though herbal supplements are under the food division of the FDA, don't let this fool you. They can have powerful physiological effects. I strongly suggest you consult with a qualified herbalist, naturopath, or doctor before starting an herbal regimen. Experience and education are key. I studied full-time for four years, including time in hospitals, and have a Bachelors of Science in Medical Herbalism. I'm qualified to safely recommend herbs. But, if you are keen to take an herb without professional advice, please follow all the above advice and be aware of potential drug interaction and side effects. Most reputable herbal supplement manufacturers (see below) have very knowledgeable customer service representatives who can inform you about any potential risks. Having said that, the vast majority of herbs are safe and effective when taken properly.
Herbal supplement brands I love:
Gaia Herbs has a great range of single herbs as well as multi-herb blends that are made to GMP standard with care to levels of active ingredients and standardization. Their website provides plenty of information for a consumer to make a safe choice.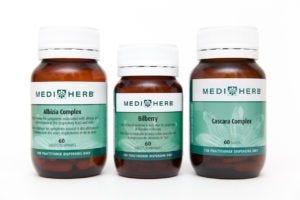 MediHerb upholds the highest quality of medicinal herbs, creating both single herbs and multi-herb blends giving consumers the ability to find mixes of herbs for specific needs. They adhere to standards that are above and beyond GMP's requirements. When I can't order from my UK supplier, I turn to MediHerb.
This is one of the more reputable herbal in Europe and a go-to of mine and fortunately ship to the U.S.
A. Vogel is another European manufacturer I love. They are most famous for their potent echinacea drops. Originally published October 9, 2014. 
Read This Next
Here are the best herbal remedies to fight the winter blues. Plus, the herbal supplement dosages you should know.
Find Beauty And Wellness Experts
Read client reviews, book appointments, and get advice from the experts in Charlotte's Book. Only the best cosmetic doctors, skincare gurus, nutritionists, and fitness and wellness professionals make it into our book.