Discover more from Charlotte's Book
All the things about life your friends won't tell you. Funny. But not funny. But true.
Over 12,000 subscribers
LED Light: Good Enough For NASA, Great For Your Anti-Aging Routine
It doesn't pinch, prick, scrub, freeze, or even burn: it's just light. LED treatments—whether full-body beds at the salon or powerful handheld devices for at-home treatments—are the unsung heroes of non-invasive skincare. The legendary Tracie Martyn Skincare Salon, boasting reviews from Susan Sarandon and Kate Winslet, swears by an amber LED light treatment to reduce wrinkles and build collagen long-term. Joanna Vargas designed her very own bed, with rave reviews from Emma Stone, Maggie Gyllenhaal, and more.
WHAT ARE LED LIGHTS?
LED (Light-Emitting Diode) lights were essentially used only for bedside alarm clocks and camera battery alert lights when they were first mass-produced in the 60s, because a combination of low energy and the fact that they could only emit red, green, or yellow light restricted their usability. Fast forward a couple years, and NASA notices an increase in plant growth under a certain wavelength of light. They think: if plants, why not skin? NASA began experimenting with LEDs to speed the healing of wounds, because in zero-gravity situations wounds don't quite heal as fast as they would otherwise. Test results were positive, and research developed into skin cancer treatment and cosmetic arenas. In other words: if it's good enough for NASA, it's good enough for us.
IN SKINCARE TERMS, PLEASE—HOW DO LEDs WORK?
Most commonly, LED lights used in skincare are infrared, amber, red, and blue. Amber purportedly builds new collagen and elastin, red reduces inflammation and promotes circulation, blue destroys acne-causing bacteria, and infrared accelerates skin recovery. The lights are often combined to create an all-in-one experience, but they can also be used exclusively to target certain concerns. LEDs send these light waves deep into the skin, and in the same way plants use chlorophyll to convert sunlight into plant tissue, LEDs can trigger natural intracellular reactions. Meaning your skin responds to the wavelengths—particularly red, in this case—by building, strengthening, and maximizing cellular structure. Red light is also believed to target oil glands to reduce cytokines, which cause inflammation and play a role in chronic acne. In the case of blue light, specific wavelengths stimulate production of oxygen radicals that kill P. Acnes bacteria, all without damaging skin. This is the main attraction for LED treatments: the light doesn't heat the skin, like a tanning bed, so there is no thermal damage. There's also no burning, like lasers, and no removal of skin, like acid peels, to stimulate re-growth—without external damage of any kind, the light does its work on your skin completely painlessly. According to Joanna Vargas, "LED light therapy is simply the best thing that has ever happened in the beauty industry. It builds collagen in quantifiable percentages and corrects surface damage like sun damage, wrinkles, and large pores. These were all issues that could only previously be corrected with a laser or chemical peel. But now I can give my clients a series of LED light therapy facials without any side effects and see significant results."
USING LEDs AT HOME VS. AT YOUR AESTHETICIAN'S OFFICE
The flipside to this non-damaging wonder treatment is that long-term dedication to LED light therapy is required for substantial collagen building plus acne and inflammation reduction. A recommended in-office regimen will change based on your needs and what your dermatologist or aesthetician uses, light-wise, but in general a two-week period of nearly daily exposure is necessary, with bi-monthly follow-up visits. The short treatments can be scheduled during your lunch break (15 minutes can be enough), but the cost will rack up: per treatment, expect to spend $150-$300 or more per session. If you can't always make it to the facialist, or if you'd like to maintain treatments between visits, investing in an at-home LED device is a smart move. But what's the best way to make this decision, and how can you tell these devices apart? We'll give you a quick run-down.
HOW TO BUY + USE LED DEVICES AT HOME
There are few essentials to consider when buying an LED device, including materials, usability, and power levels. Of several available brands, which range from clunky desktop contraptions to petite handheld devices, we believe the most powerful, reliable, and results-oriented line comes from Baby Quasar. Check out the following considerations 1. Power. LED lights are measured in nanometers, and this study found that using 415 nm blue lights and 633 nm red lights was successful in treating acne. The Quasar products feature 415-420 nm blue lights, and 610-850 nm red lights. 2. Surface Area. Quasar MD Plus and Quasar MD Blue have the largest surface area of any handheld device. They obviously can't compete with the IlluMask, which covers the whole face at once, but you also have to keep in mind the power levels—Baby Quasar lights are significantly stronger and designed to last a lifetime. 3. Warranty + Materials. As opposed to other devices like the IlluMask, Tanda, or Tria, Baby Quasar products are made high quality anodized aluminum and come with a lifetime warranty (with the exception of Clear Rayz and Pure Rayz, which are plastic and come with a five year warranty). IlluMask is designed to be discarded after thirty 15-minute sessions. 4. Price. We know—it's expensive. The Quasar MD Plus is the largest and strongest at $795. The largest blue light, Quasar MD Blue, is $595. The smaller red light version, Baby Quasar Plus, is $399, and the smaller Baby blue is $349. If you're looking to combat both inflammation and acne, Clear Rayz is the smallest red and blue combination light at $249. Pure Rayz, a smaller, more affordable version of MD and Baby Quasar Plus is $249. The Tria blue light is $299, and the Tanda $195.
HOW-TO, ACCORDING TO MICHELLE PHAN (AND CHARLOTTE)
Michelle Phan is an easily glamorous YouTube entrepreneur made famous by her beautiful skin and makeup skills—she told Charlotte's Book how she incorporates the Baby Quasar MD Plus in her skincare arsenal: "I use the Baby Quasar MD Plus, and it's part of my night time routine once a week. When I first started using it, I used it every night for two weeks straight and noticed improvement right away. After two weeks, I reduced the frequency to three times a week and after two months, once a week. My skin has better clarity and it feels firmer (due to increased collagen production)." We agree—use daily, then less frequently to maintain. It's super easy. To use the Baby Quasar line at home, hold and rotate in a c shape for three minutes first over your eye area, then over your mouth and cheek area on either side of the face. Obviously the larger head on the Quasar Plus MD allows for quicker treatment, whereas the Baby Quasar Plus and Baby Blue feature slightly smaller heads—this means you're spending a bit more time rotating the device across your face. With the larger light area, you'll spend 9-12 minutes; with the smaller light area, 18-21.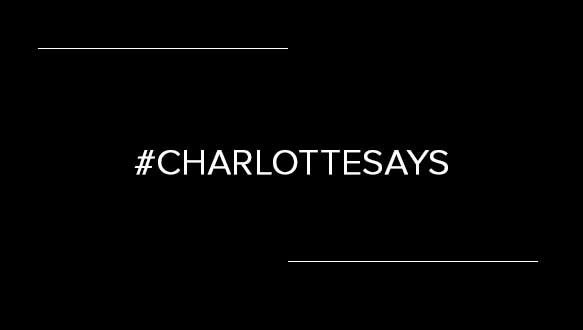 You might think the best place for a skincare device is in your bathroom, but we actually find it most effective to keep the at your nightstand, next to the bed, so you can reach over and take advantage of a half-hour episode of Downton Abbey. Of course, like every skincare product, whether serum or cream or device, dedication is key. Being consistent with your at-home treatments can sometimes be difficult when you don't have to be somewhere. Devote a 20 minute time slot 1-2 times a week. According to Charlotte's Book Founder Robin Shobin, "Sunday is a day I devote to a lot of self care rituals, from cleaning my makeup brushes to taking an epsom salt bath, to spending 20 minutes with my Baby Quasar. It's easiest to use while I catch up on Nashville (my guilty pleasure)." In Los Angeles and forgot to pack your Baby Quasar? Visit Gregory Dylan Beauty for a professional Baby Quasar experience—a fan of the hand held devices, he's one of the first skincare professionals to use the Baby Quasar professional series.
Full disclosure: This post was sponsored by Baby Quasar. We do not sponsor any product we don't believe in. Our founder, 

Robin Shobin

, absolutely loves this device.  Image provided by Neiman Marcus. 
READ THIS NEXT: Skincare Devices Part I: LED Acne Treatments
CURIOUS ABOUT OUR EXPERTS? LEARN MORE: Joanna Vargas, expert facialist at Joanna Vargas Skincare in Manhattan, designed the first-ever full-body LED bed.