Discover more from Charlotte's Book
All the things about life your friends won't tell you. Funny. But not funny. But true.
Over 12,000 subscribers
My Beauty File: Maya Crothers, Founder of CIRCCELL Skincare
In what she calls her "second act," Maya Crothers developed her own skincare line after retiring from corporate America in her early 40s and moving to the small mountain town of Jackson Hole, Wyoming. The effects of the harsh climate on her skin inspired Maya to dive into the world of skincare, and CIRCCELL was born. Today, the line has evolved to combine the best of innovative technologies with tried-and-true natural ingredients. Maya is driven by the company's "hardworking yet elegant" motto to create products that produce real results and feel luxurious and effortless at the same time. From her breakfast indulgence to her inexpensive beauty tip, we got a glimpse into how Maya stays grounded (and looks good doing it).
Morning skincare:
I wash with CIRCCELL's detoxifying Geothermal Clay Cleanser, apply our Dew pH Perfector essence, follow up with ABO Eye and Face, our Vitamin C Ampoules, and then our Moisture Shield with SPF.
Breakfast:
So bad—just coffee with lots of cream and sugar. Truly a guilty pleasure!
Night skincare:
I use our brightening and hardworking Mandarin Cleansing Milk, ABO Eye Serum, Creme ER3 night cream and top it all off with our Jacqueline's Blend face oil. Using an oil last seals everything in underneath it and creates a sleeping mask for your skincare regimen.
Supplements:
I take omega 3s and Viviscal (hair supplements) daily.
Fitness:
Being in the mountains, I live in a fitness playground, so I have so many choices. Depending on the weather and time of year, I downhill ski, cross country ski, hike, bike, and sometimes just take a simple walk. In the gym, I circuit train and practice yoga and barre.
Tech:
I'm an Apple addict—iPhone and MacBook keep my life running smoothly (or as smooth as possible)! Trying to wean myself a little bit by switching back to actual (paper) books vs. kindle.
Hair:
It's so hard living in a small mountain town with my travel schedule. I need root love every three weeks, but the impulsivity of my travel schedule doesn't really allow me to plan more than a few weeks in advance. The few providers we have in Jackson Hole are always booked out months in advance, so getting an appointment on short notice is nearly impossible. I have a two local favorites that I try to use as often as I can—Jairus Noble at his namesake salon (one chair and so lovely and private) and Audrey Getter at Shooting Star (also one chair and private). If I get busy and don't have time to make an appointment, I'll resort to using spray-on color to cover me until my next visit with them!
Dermatologist or facialist:
Yes to both! I've been going to Dr. Rebecca Fitzgerald in Los Angeles for years. For facialists, depending on where in the country I am, I use Joanna Czech, Dangene, or Gina Mari Skincare.
Wellness:
Staying active is so important to me both physically and mentally. Living in Jackson Hole allows me to walk outside my door directly into nature. A hike through the forest and good skincare, of course!
My best piece of beauty advice:
Get outside and enjoy nature. It will clear your head, calm your nerves, and center you.
My best piece of life advice:
Whatever it is, if it matters to you, stick with it. Most of life's battles are a war of attrition. Victory goes to those who hang in there.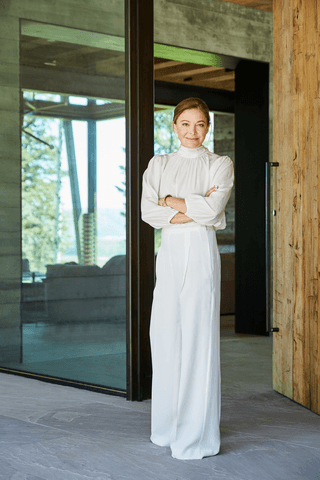 Biggest beauty myth:
Everything natural is good. Everything not natural is bad. There is a lot of misinformation related to ingredients and technologies. It takes real research and understanding to wade through all the noise.
My Charlotte:
I love the female Secretaries of State: Madeleine Albright, Condoleezza Rice, and Hillary Clinton. Constantly traveling across time zones, going head-to-head with Russia and North Korea—can you even imagine? Along with being the smartest people in the room, they make history while balancing family life and somehow do it all with little to no sleep. Plus, they always look impeccable!  
Read this next.
Check out our latest Beauty Files featuring Lorena Garcia, founder of Bloguettes and Majka, and celebrity trainer Amanda Kloots.
Find beauty and wellness experts.
Check Charlotte's Book to read reviews, book appointments, and get advice from the best cosmetic doctors, skincare experts, nutritionists, and fitness and wellness professionals in the country.