Discover more from Charlotte's Book
All the things about life your friends won't tell you. Funny. But not funny. But true.
Over 12,000 subscribers
Skincare Devices Part 2: <br>Skin Firming Microcurrent
Like all of the muscles in your body, your facial muscles need a good workout routine to keep things taught—think lifted cheekbones, a contoured jawline and overall enviably toned facial features. The more they are exercised, the more muscle mass is preserved, which maintains volume and definition to your face shape. If your facial muscles don't get worked out, things start to sag and look a little droopier as the years go by. But stimulating them isn't as obvious as powering through a kettlebell workout or pilates class.
Related Read: Everything You Need To Know About Microcurrent Facials
Enter microcurrent facial treatments. Many cosmetic dermatologists and high-end spas offer these electrotherapy treatments, in which low level electrical currents, or microcurrents, are used to penetrate deep into your skin and jump start your facial muscles, improving muscle tone, reducing puffiness, increasing cellular activity, and even tightening pores. These treatments are often referred to as "facial toning" because they're like a workout for your face, whereby skin cells are broken down and then grow back stronger, the same way your muscles do after lifting weights. The big difference? You don't have to do anything except sit back and relax. And now you can do it on your own at home, thanks to a these high gadgets Just remember, as we cautioned in Skincare Devices Part 1: LED Acne Treatments, you must maintain realistic expectations. At-home devices can't be as strong as those operated by dermatologists, because if they were, you could do more harm than good. So in order to make these beauty gadgets safe for at-home amateurs, they have to be weaker. That said, they can enhance your regular skincare routine, especially if that already includes in-office microcurrent facials. Lancer Skincare Microcurrent Power Boost Distinguishing Factors: Based on the idea that healthy skin has a well-balanced electrical charge, which unfortunately gets interrupted by environmental aggressors like UV radiation and free radicals, the Lancer Microcurrent Power Boost (shown above) helps to balance and optimize your skin's electrical potential (improving cell function) while also stimulating the deep layers of skin where collagen and new skin cells are produced. The germanium head naturally helps to harmonize the skin's electrical charge, while high intensity vibrations and 24-karat pure gold plating help with premature aging. "Continued use will show a lifted profile, decreased depth of wrinkles, and improved elasticity," says Dr. Lancer. Price and Availability: $250, lancerskincare.com How to Use It: Start with clean skin or apply a serum, then slide the wand across the face in upwards or circular motions, beginning at the chin working up to the forehead. Massage each side of the face for five to ten minutes every night.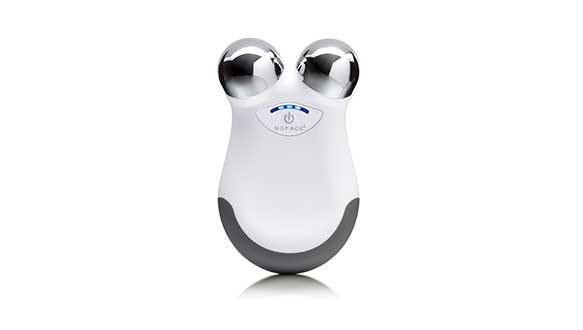 NuFACE Mini Facial Toning Device Distinguishing Factors: This tiny little FDA-cleared gadget has two spheres that deliver 335 microamps of gentle stimulation just under the sensory level, so you feel little to no sensation—and the included gel primer prevents any pinching or stinging. You can adjust the intensity to any one of the three settings at any time during treatment. Although the device should not be used around the eyes or mouth (those areas have circular muscles and need to be treated according to muscle direction), microcurrent waves travel, so improvement may be seen there as well. As aesthetician Georgia Louise says, "If you can't get in to see me, then this is the next best thing!" Price and Availability: $199 at mynuface.com How to Use It: Beginning with clean, dry skin, apply the gel primer to the designated areas, then glide the device over the natural contours of your face in five second movements, repeating three times. After five minutes, the device will automatically shut-off. Five sessions per week are recommended for the first 60 days, then two to three times a week for maintenance.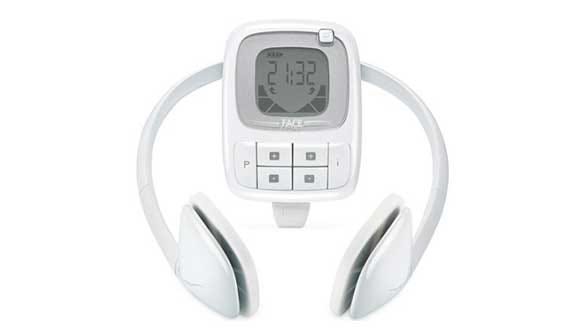 StriVectinLABS Facial Toner Distinguishing Factors: This headband-like device delivers a whopping 30,000 microamps of electrical current through soft medical-grade gel pads placed on each side of the face. According to StriVectinLABS, who partnered with Bio Medical Research on this tool, the Facial Toner penetrates deep into your skin to directly target the nerves that control the major facial muscles. Price and Availablity: $199 for 1 device and 6 sets of gel pads (each set lasts 5 sessions) at StriVectin.com. How to Use It: Adhere the gel pads to the inside of each paddle and bring the headset from behind the head to slide the paddles just under the cheekbones, one finger-width in front of each ear (your skin should be clean). Plug the headset into the controller and select a 10 or 20 minute program, increasing the treatment level on each side until you feel a comfortable, massage-like effect. The device stops automatically when the session is complete. One 20 minute program five times a week is recommended for best results.