Discover more from Charlotte's Book
All the things about life your friends won't tell you. Funny. But not funny. But true.
Over 12,000 subscribers
Charlotte Talks To: Nancy Twine Of Briogeo
As a small child, Nancy Twine would visit her grandmother in rural West Virginia, and she'd watch her make soaps, lotions, and hair products using farm-grown ingredients. Nancy's mother kept a journal of those recipes, and the duo would then recreate and revamp them in their own kitchen. Fast forward a couple of decades, and Nancy's working on Wall Street. She's successful and young, and she's still interested in natural beauty. She notices that more and more people are turning to natural, toxin-free products, and she remembers her days watching her grandmother. And she thinks that, maybe, if she uses those recipes as a foundation and builds on them using innovative science, she can make something that's clean but effective. And that's how Briogeo is born. After a couple of years of working nights and weekends with chemists to perfect formulas for four hair care products, Nancy is ready to introduce her hair line to the world. Briogeo is all about sustainability and offering natural-based hair care for all hair types. Nancy works to make sure that the products work as well, if not better, than synthetic products. While the line is not 100% natural, the small amount of non-natural ingredients make sure the product is as effective as possible. And they're totally safe and eco-friendly. Briogeo is now a few years old, and Nancy is the youngest African American woman to ever launch a line with Sephora. She's made a splash in the natural hair care space, and she's not slowing down. We talked to Nancy about her beauty and wellness routines, what it's like running her own company, advice she has for other entrepreneurs, and what's in Briogeo's future. Here's what she had to say.
On a day in her life
During the week, I try to get up no later than 7am so I can squeeze in a quick workout or meditation. If I'm lucky, I can get through all of the overnight emails (we have several international retailers and vendors) before I get into the office. My best days are the ones when I can manage to be productive before the work day actually starts. I have an easy commute to our NoMad office, where I typically arrive by 8:30am. My mornings consist of team meetings, calls, and working my way through emails. I don't travel as often as some of my other entrepreneur friends. I find that traveling can set me back quite a bit with projects I'm working on, so I only travel if it's absolutely necessary. I'm a very hands-on CEO in a very fast-paced business, so there's never a real break during the day! I typically get home between around 8pm, cook dinner, and finish the day with a read.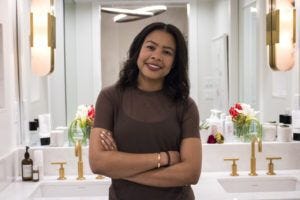 On the weekends, it's important for me disconnect and focus on friends, family...and me! I love going on hikes, checking out new eats, cycling, and museums/galleries. Depending how hectic the week was, I'm totally okay with vegging out at home with a good book and Netflix. I don't like making lots of plans on the weekends. My weekdays are so regimented that I like to take a break from being "scheduled in," and instead just go with the flow.
On her hair care routine
I tend to wear my hair naturally curly more often in the summer, when I can easily do a wash-and-go routine. I love co-washing (using a non-sudsing cleansing conditioner) when I wear my hair curly because my curls really pop when they're extra moisturized—and that's what a co-wash is really good for. I'll typically follow up with our Curl Charisma Leave-In Defining Crème and Frizz Control Gel as a styler and to give my natural curls more bounce and definition. When I blow out my hair, I wash and condition with Don't Despair, Repair! to keep it healthy and follow up with our Rosarco Blow Dry Heat Protectant Crème to ward off heat damage. I don't wash or style my hair every day—typically a couple times a week and more frequently if I'm working out a lot.  
On her skincare regimen + favorite products
Skincare is SO important! Several of my close friends are in the beauty industry or own beauty brands, so I'm always being sent new products to try or test out. I never used to have a regimen up until about a year ago when I started feeling my skin becoming drier and more blemish-prone. Now I can totally tell if I skip a day of my skin routine. I wash my face twice a day—both morning and night. I like a gentle, non-sudsing cleanser. I've been really enjoying Glossier's Milky Jelly Cleanser as of late. In the AM, I use Drunk Elephant's Protini as a moisturizer and their Vitamin C Serum around my eyes to help prevent dark undereyes. At night, I rotate between using either Dr. Dennis Gross' Ferulic Acid Serum or Drunk Elephant's TLC Glycolic Serum.
On staying true to her passion for natural ingredients without compromising product performance
It hasn't been easy. We had to leave several manufacturers because they insisted if we wanted a product that tamed frizz, we needed to use silicones. Or if we wanted to make a clarifying shampoo, it needed to have sodium lauryl sulfate. I knew this wasn't true and that these ingredients were inexpensive and easy to formulate with, which is likely why we were pushed in that direction. Finding the right manufacturer with a core competency in natural/clean formulations was half the battle. We also needed a lab that would devote the time and resources to adapt to our ingredient methodology of high performing, clean hair care. We were lucky to find a few labs over the years that have been amazing partners to us. While our products are not 100% natural or organic, we cross-check the small percentage of non-natural ingredients with the EWG and are constantly striving to improve our formulas to maintain exceptional efficacy while incorporating naturally-derived alternatives to any existing non-natural ingredients within our products. Our fragrances contain a blend of natural and non-natural fragrance and we've worked with our lab to ensure the synthetic component is California Prop 65-compliant, free of a long list of known harmful ingredients, and meet stringent fragrance regulatory requirements. We're constantly evolving and we spend a lot of time keeping our pulse on new ingredient alternatives that align with creating the cleanest and most effective hair care products possible.  
On inspiration + NYC
NYC has inspired so much of Briogeo. I actually started the brand in my studio apartment in the East Village back in 2010, and then launched it in 2013. I grew up in Long Island, went to school in Virginia, and returned to NYC at 22 after graduation. I've always been inspired by NYC's diversity, fast pace, and rich culture of art, design, and fashion. When conceiving Briogeo's first round of packaging, I set out to create "mini murals" in the form of our "B" logo on each package. These bright, colorful patterns added a sense of vibrant art to each package and also served the purpose of distinguishing each of our texture-specific collections. Diversity is another very important aspect of Briogeo. I wanted to create a product line that women, with all different hair texture types and styles, could resonate with and find hair care specific to their unique needs. And feel like we really achieved this. I am always so inspired by the diverse and unique group of women that tag us in their photos on Instagram. We've really defined our brand as "hair care for all".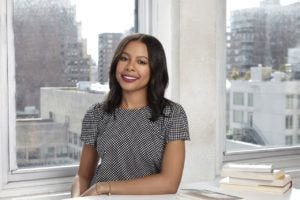 On life in finance vs. as an entrepreneur
Surprising, the differences aren't that drastic! I still work a ton (!), strive every day to exceed our customers' expectations, spend a lot of time in meetings, and focus on strategies to help us hit our goals. Sometimes people have the misconception that being an entrepreneur is a glorious career. Some people even want to quit their job just to have the "flexibility" of having their own business. I definitely work even more and probably have less flexibility than I did when I was working for a company. The biggest difference about what I do now is that I am truly passionate about my work and the sky is the limit to what I can do. There are no hierarchical barriers preventing me from thinking outside of the box and turning it into action. That's the most rewarding part of it all—having the freedom to dream and create and not feel limited by anyone else. But everything has a cost. You have to be willing to invest a lot of time and make a lot of sacrifices to drive your dreams toward success.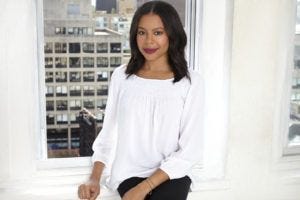 On stress
Over time, I've been able to control the impulse to freak out about most things. After seeing things go wrong hundreds of times, you brain starts to adapt and realize that it's never the end of the world. There's always a solution and no setback is too large to overcome. A lot of people say I'm pretty calm or chill for a CEO. It's partly because I have an innate confidence that I can "figure it out" when things don't go right. So while I'm not overly stressed as a CEO, I do work hard and think about work a lot—and there's got to be balance to that.
On making time for self-care
I love my self-care Sundays! I weave in a small dose of self-care every day with a quick workout before work and my nightly skincare routine, but I try to take it to a more focused level on Sundays. Sunday is a really interesting day of the week because it's still the weekend, but there's a dose of anxiety thinking about all the things that need to get done for the week ahead. So it feels really nice to bring a sense of calm to a Sunday evening with a more robust wellness routine. I love to take a hot yoga class on Sundays to detox and relax my muscles from head to toe. I often put in a hair mask beforehand for a really deep hair treatment and when I get home, I'll relax a bit more with a face mask, a cup of tea, and a good book.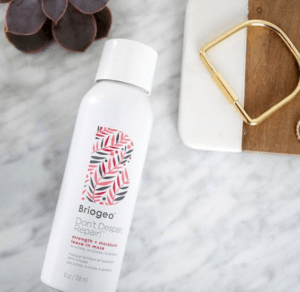 On beauty and wellness habits
Creams, serums, and other beauty products definitely help, but they are not the sole solution to looking and feeling your best. Drinking lots of water, avoiding added sugar, maintaining a regular workout cadence, and meditation are hands-down some of THE best ways to look and feel your best. Establishing good habits is the hardest part of it all. I try to make a lot of these things a seamless part of my day—like filling up two large glasses (equivalent to 64oz) and just keeping them at my desk—so that there's no excuse. Or I've literally convinced myself that added sugar is evil, so I wont even touch a sugary beverage, and I keep desserts to a minimum. You have to find what works for you, but you have to be very intentional about it all.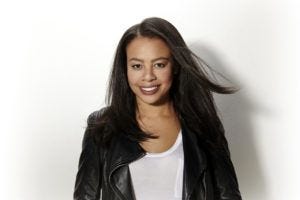 On what matters if you're starting a company
Find something you REALLY believe in and that you won't quit until you've succeeded. Some people think that finding success as an entrepreneur is easier than it is. It's the most difficult and challenging undertaking I've ever experienced—but the key is to keep going. I think many business ventures don't make it because founders quit on the dream too early. It's important that you have a foundation you can pull from—whether it's savings or maintaining a job—so that you can continue your vision even if it's taking longer to get where you want to go. It's really a juggling act and everyone has a different path, so you can never compare yourself to others. As a woman of color, never be discouraged if you find little to no people in the room who look like you. I've never found that it matters; all that matters is being confident in your vision and staying true to what it is you want.
On the future of Briogeo
Right now, we're focused on continuing to build our brand presence here in the USA while expanding overseas to bring our products to international fans. We hope to become a global force within the clean hair care space, while continuing to innovate with our formulas. Innovation is something we're really focused on—we have so many incredible ideas that haven't been seen in hair care before. Creating new and exciting products is what I'm most excited about at the moment. Now that we've built the team up, we're able to do more even quicker, so the sky really is the limit! Product images via Briogeo's Instagram  
READ THIS NEXT
We're obsessed with bada$$ women. Check out our interviews with Drunk Elephant founder Tiffany Masterson and skyn ICELAND's Sarah Kugelman.
FIND BEAUTY AND WELLNESS EXPERTS
Read client reviews, book appointments, and get advice from the experts in Charlotte's Book. Only the best cosmetic doctors, skincare gurus, nutritionists, and fitness and wellness professionals make it into our book.