Discover more from Charlotte's Book
All the things about life your friends won't tell you. Funny. But not funny. But true.
Over 12,000 subscribers
My Beauty File: Rose-Marie Swift, Founder Of RMS Beauty
For over 35 years, Rose-Marie Swift has worked as a makeup artist, performing her magic on celebrity canvases like Gisele Bündchen, Tilda Swinton, Miranda Kerr, and Sofia Coppola. She's partnered with the world's top fashion photographers, and her work has been featured in Vogue, Harper's Bazaar, Glamour, Elle, and basically any publication you can think of. At the height of success, Rose-Marie began experiencing health issues and was shocked to learn they were linked to toxic ingredients in beauty products. That's when she dove head-first into creating a healthy cosmetics line with only raw, organic, food-grade ingredients. And RMS Beauty was born. Rose-Marie believes the skin has a life force or spirit of its own, and that it interacts with the life force of what you apply to it. That's why she's passionate about using only the purest ingredients that awaken the skin and work with it to promote hydration, smoothness, and luminosity from the inside out. We talked to Rose-Marie about how she connects to that feeling of aliveness—that pure life force, through her own beauty and wellness routines. Here's what she said.
MORNING SKINCARE:
I have a shower, rinse my skin off, and apply my RMS Beauty Oil. Then I moisturize and clean my skin with my Raw Coconut Cream. If I've been traveling and need extra moisture I use the RMS Lip & Skin Balm.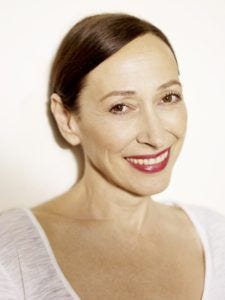 BREAKFAST:
First always is a probiotic. I've been taking them for years and have tried almost every probiotic on the market. Now I can take my own Beauty Within Probiotic + Prebiotic. Next is always a homemade organic green juice or smoothie.
NIGHT SKINCARE:
I always first wash my makeup off with my favorite product of all time, the RMS Beauty Coconut Oil. I use my beauty oil as a treatment at night—the absorbable oil and its anti-aging properties work wonders in all aspects of my routine. My skin thanks me big time.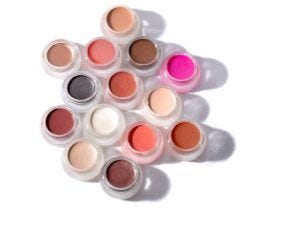 SUPPLEMENTS:
I'm so excited about the recent launch of my RMS Beauty WITHIN line. I created a daily regime that is a probiotic/prebiotic and a digestive enzyme—every woman's lifesaver and a key to anti-aging. These are geared specifically for a woman's diet. I'm not a fan of synthetic vitamins (which almost every single vitamin is) so avoid them like the plague. I take food-based vitamins from Pure Synergy.
FITNESS:
I walk like crazy and run up and down my stairs.
TECH:
I still have my Blackberry and love it for easier access to emails and its keypad that I can pound the sh*t out of. I use an iPhone 8 Plus as well and use the Q-link EMF blockers.
HAIR:
I use Dr. Alkaitis Shampoo as well as Rahua.
DERMATOLOGIST OR FACIALIST?
I go to Ildi Pekar in NYC—she does oxygen facials and some secret stuff that's transforming. Unfortunately I travel so much I haven't been going as often as I should.
WELLNESS:
I feel my best when I'm in my home in Savannah—the space, the air, the haunted feeling in the streets at night.  I love it and feel my absolute best. Being in my home brings me peace.
MY BEST PIECE OF BEAUTY ADVICE:
Less is more!
MY BEST PIECE OF LIFE ADVICE:
Never take "no" for an answer when you are on your mission.
BIGGEST BEAUTY MYTH:
The biggest myth that is unfortunately brainwashed into our belief system is that "cosmetics are safe for you." Even if they get rid of the chemicals that are getting bad press, they substitute it with something just as bad. Or they manipulate natural raw materials, basically turning them into another man-made chemical. And they disguise it as "natural." My best advice is to go with people who stand behind their brands and will answer all the questions you could possibly ask about their product.
MY CHARLOTTE:
My Charlotte...doesn't exist. The soul and its synergistic energy is something that just can't be defined. It is that fleeting feeling of connectedness to the universe.  
READ THIS NEXT
Have you seen our latest Beauty Files? We talked to Mckenzie Raley and Maria Hatzistefanis.
FIND BEAUTY AND WELLNESS EXPERTS
Read client reviews, book appointments, and get advice from the experts in Charlotte's Book. Only the best cosmetic doctors, skincare gurus, nutritionists, and fitness and wellness professionals make it into our book.