Discover more from Charlotte's Book
All the things about life your friends won't tell you. Funny. But not funny. But true.
Over 12,000 subscribers
My Beauty File: Sadie Adams, Facialist And Founder Of Take Care Face & Body
Movement. Consciousness. Healing. Transformation. These are the things Sadie Adams studies and discusses with her clients. She's a healer, facialist, and founder of Take Care Face & Body (a holistic facial destination with locations in both NYC's West Village and LA's Santa Monica neighborhood).  
  Sadie's study of anatomy, Ayurveda, and yoga therapy have led her to focus on these holistic regenerative therapies. She's also a devoted Sonage Skincare ambassador so you'll most always find her mixing in their products with her regenerative practices of microcurrent and jaw tension release. We spoke to Sadie about her daily routine, her gorgeous (but uneven) flowing hair, her thoughts on beauty, and lots, lots more.
Morning routine:
In the morning I do breathing exercises and my meditation practice. Then I wash my face with a Japanese rag and water. And I spray my face with rose water or Levity Hydrating Mist.  
Breakfast:
I usually have Lark Ellen Farm granola with local organic blueberries and coconut yogurt. Cane sugar-free! On cold mornings, I opt for oatmeal with ghee, cinnamon, blueberries, and almond milk.
Nighttime routine:
I cleanse with Sonage Soothing Cleansing Creme followed by the Sonage Facial Rinse toner. Then I work with Warrior's Facial techniques to process stress, balance my tissue, and release any tension in my face or jaw. I apply Sonage Luster Eye Creme and Sonage NMF Hyaluronic Serum. And I go to sleep with Sonage Laserine Botanical Salve on my nightstand in case of dry lips or hands.
Fitness:
I surf and do yoga and Pilates.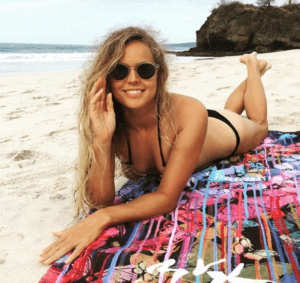 Tech:
Microcurrent, Ayurveda, and embodiment are amazing technologies. I also feel that the developing travel, communication, and green technologies will have a more obvious and increasingly positive influence on our society.
Hair:
I cut my own (in case anyone was wondering about my uneven locks). I cut various strands when I wake up, sometimes before bed, and often before going to an event. If my mop looks a little off, I'll snip an inch or two where needed. As for highlights, I get them from my grays and at the beach: ocean water and sunlight.
Dermatologist or facialist?
I go to esthetician Sarah Clark and Marta Elena Rodriguez in NYC. In LA, I go to Tess Adams.  
Wellness:
My go-to wellness products are: Brain Cell Support, Prehemptive CBD Oil, ghee, Liposomal Zen, Liposomal Glutathione, Physica Energetics Flora Syntropy probiotic, and Flower Power Herbs and Roots products. I see Dr. Cory, a Naturopathic doctor in Venice, CA, and Gail Ingram in NYC. I also love Made with Love Wellness Co, which makes nutritious, organic juices and other goodies.
My best piece of beauty advice:
Sleep when you're tired; eat when you're hungry. Basically, listen to your body with sensitivity and conscious discernment.  
My best piece of life advice:
I have found that practicing non-judgment and forgiveness has increased my capacity for presence, allowing me to be more comfortable with contrast and more in LOVE with the great mystery.
Biggest Beauty Myth:
The most pervasive deception around beauty in the collective unconscious of our culture is the archetype of a homogenized shiny person. From fear, this person chooses to use standardization and manipulation as a forms of power and protection.  
  The deceptive belief is that conforming will lead to safety and self-preservation. In truth, conformity is only rarely in alignment with self-care and longevity. Instead it more often leads to disassociation from presence, intuition, and the wisdom of the body. I choose practices that make space for a unique and sovereign self-realization, and contemplate beauty from this perspective.
My Charlotte:
Bonnie Bainbridge Cohen is a good model for a teacher and a human. She is a pioneer, an innovator, an artist, a researcher, and a healer, having healed herself multiple times from post-polio conditions. Bonnie's work has influenced the fields of science, bodywork, movement, dance, yoga, body psychotherapy, childhood education, and many other body-mind disciplines. Her approach to movement and consciousness can be learned worldwide through The School for Body-Mind Centering.  
  I often recognize that the aspects of my being that most inspire people in my life, were informed by my experiences with Bonnie. She is my teacher and friend, my role model, and a spring of information and inspiration. She's my Charlotte and my Yoda. Images from Sadie's Instagram  
Read This Next
Check out our latest Beauty Files featuring beauty and wellness PR maven Emily Parr and celebrity trainer Amanda Kloots.
Find Beauty and Wellness Experts
Read client reviews, book appointments, and get advice from the experts in Charlotte's Book. Only the best cosmetic doctors, skincare gurus, nutritionists, and fitness and wellness professionals make it into our book.