Discover more from Charlotte's Book
All the things about life your friends won't tell you. Funny. But not funny. But true.
Over 12,000 subscribers
Your New Breasts: An In-Depth Look At The Ideal Implant
Since the early 60s, when breast augmentation surgery came to the mass market, there have been only two options: saline vs silicone breast implants. The sizes changed (teardrop, round, large, small) but the materials were always the same. Now, almost sixty years later, a third hybrid choice has arrived—the Ideal Implant was FDA-approved for use in the U.S. and Canada in September, 2015 and wait lists are growing. Before we discuss the new Ideal Implant, here's a quick review of the old options. Saline implants boast more sizing options, because they're filled once inserted in the body. Leaks or ruptures are easily detected (by sight) but the harmless filler solution is absorbed by the body. On the other hand, silicone breast implants, though they offer a more natural look and feel thanks to a gel interior, can cause capsular contracture. This happens when scar tissue forms around the implant, hardening sections of the breast. In addition, because silicone ruptures can't be detected by the naked eye, the FDA recommends a costly (around $2,000) MRI every two to three years for silicone implant recipients.
The Evolution Of A New Option
Certified by the American Board of Plastic Surgery, Dr. Robert Hamas has been practicing for over thirty years—he created the Ideal Implant, a sort of hybrid implant, after a lifetime of listening to patient's concerns, which were mainly a fight between rupture risk and the desire for a natural feel.
Saline vs Silicone Breast Implants
Although the rate of ruptures among saline vs silicone breast implants are similar (7%-10% for saline and 7.4%-13.7% for silicone at ten years) and silicone implants have become safer due to cohesive silicone, a gel that does a better job of "staying together" even if the implant tears, the risk of a silent tear in silicone breast implants still stands. For patients, it was a matter of which concern trumped the other and listing the pros and cons. It was this mental equation of weighing anxieties that spurred Dr. Robert Hamas' invention. "I think the impetus for me was seeing what a ruptured silicone gel implant looks like inside the body (a sticky mess), and the struggle of removing it at surgery," said Dr. Hamas. "I listened to women in my practice say they wanted a breast implant that felt natural, but they were not comfortable with silicone gel because of the high risk of silent rupture. They preferred to have an implant in their body that is filled with saline, if it could be made in such a way that it feels natural."
How Is The New Implant Different?
The Ideal Implant's internal structure of nested shells and two separate chambers filled with saline solution creates support within the implant, controlling saline's movement and reducing wrinkling along the implant's edge. This unique design gives it a cushioned feel, comparable to that of silicone breast implants, and marks the first change in structural design of breast implants since the 80s, when textured implants were introduced to prevent rotation.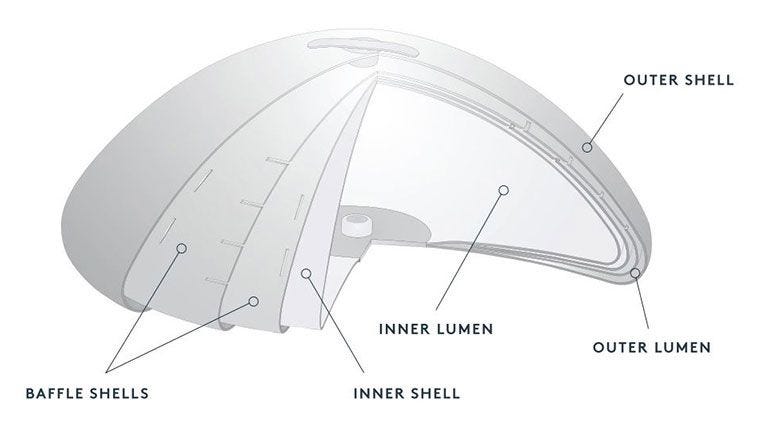 In a five-year clinical study, a high follow-up rate led to promising results. Of the 399 women who received the Ideal Implant as their first implant, the rate of satisfaction was 91.9%, and for the 103 women who received it as a replacement for existing silicone gel or original saline breast implants, the rate was 92.9%. The plastic surgeons who performed the procedures were also satisfied, with a rate of 93.9% for primary implants and 91.7% for replacement implants. As for risks like capsular contracture, only 5.7% of primary implant patients experienced this as compared to 8.8%-14.8% for original saline or silicone breast implants from other manufacturers.
What Other Experts Say
We asked Charlotte's Book Expert Plastic Surgeon Dr. Tracy Pfeifer to weigh in on this new implant offering and what it would mean to her patients.. Dr. Pfeifer is a double board-certified plastic surgeon (American Board of Plastic Surgery and the American Board of Surgery). While she agrees that an advantage of saline breast implants "is the fact that a leak can be detected without an MRI," Dr. Pfeifer noted that, "From an aesthetic standpoint, silicone is far superior… when patients feel a saline implant and compare it to the feel of a silicone implant, there is no comparison between the two."
What Patients Say
Hillary Miller told The New York Times that she has long wanted an augmentation, but she worried about silicone breast implants. "I don't like the idea of something in my body that I don't know about," Ms. Miller, 38, said. Saline didn't appeal to her; she didn't want to feel as if two water balloons were dwelling beneath her blouse, so she ended up getting the Ideal Implant. "They look good; they feel natural," Miller told The Times. "I like the way they fit in my clothes. I'm very happy." She paid about $7,000 for the implants and a breast lift.
The Cost + The Wait
The Ideal Implant costs slightly more than regular implants at $1,500 a pair, excluding surgical costs. Other implants can be $1,000 less, plus there's a long wait list for the Ideal. Currently, they're only available to the shareholders and the 45 doctors who investigated the implants for the F.D.A. Dr. Kevin Brenner, a plastic surgeon in Beverly Hills, who was one of the original F.D.A. investigators, said he has patients who have been waiting five years.
Peace Of Mind
While many doctors don't believe the Ideal is "The Next Big Thing in Boob Jobs", as Allure claimed, many women we surveyed believe the peace of mind is valuable. There are still women concerned about silicone even though it's been proven to be safe (just look at the current situation with Real Housewife of Beverly Hills Yolanda Foster) but fear the "fakeness" of saline breast implants. Just like any cosmetic procedure, you need to find what is right for you, and of course, make sure your surgeon is properly certified. Consult the Charlotte's Book directory for a surgeon near you. Image: victoriassecret.com [ed. note—we don't assume the gorgeous Candace Swanepoel, pictured here, has breast implants!]  
READ THIS NEXT
Is The Vampire Breast Lift Worth It?
CURIOUS ABOUT OUR EXPERTS?
Learn who the Charlotte's Book Verified Experts are and how we select them. Featured in this article: Plastic Surgeon Dr. Tracy Pfeifer