Discover more from Charlotte's Book
All the things about life your friends won't tell you. Funny. But not funny. But true.
Over 12,000 subscribers
Cleanse, Tone, Moisturize, Tea? Yes, Tea!
There's nothing more effective in maintaining the long-term health and appearance of skin than a proven anti-aging daily regime. We abide by a step-by-step system that takes just a few minutes, but begins and ends every day with gorgeous skin:
Step 1: Cleanse Step 2: Tone Step 3: Moisturize Step 4: Drink tea
Does Step 4 surprise you? It's a major misconception that tea is merely a healthier alternative to caffeine-loaded coffee, a soothing cure for colds, or a relaxing way to wind down after a busy day. A cup of organic tea is actually a key step in a comprehensive skincare routine. Nutrition expert Holli Thompson explains the skin benefits of tea: "Green and white teas are high in antioxidants and polyphenols, which are believed to fight free radicals and therefore support a healthy body and gorgeous, clear skin." But, there's more: "The antioxidants in tea also provide natural sun protection, and help to reduce inflammation. Rooibos tea is rich in minerals and helps to cool inflammation throughout the body."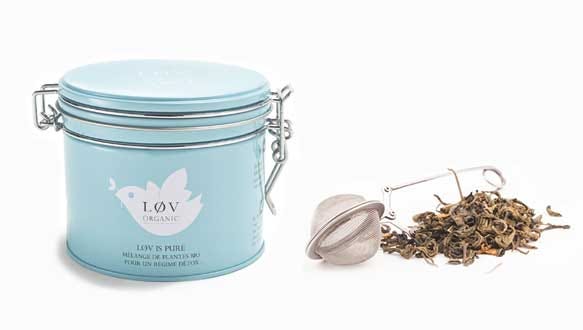 Your Morning Regime: Green Tea + Yerba Mate 
You would never leave the house without applying sunscreen, and the same should be said of free radical-fighting and anti-inflammatory green tea. When used in combination with topical sun protection, green tea can prevent the aging effects of sun damage. On top of preventing fine lines and wrinkles from forming, green tea can slow the inevitable signs of aging by reinforcing skin's structure at the deepest levels. Like white tea, green tea has been shown to promote elasticity and inhibit excessive levels of matrix metalloproteinases enzymes, which can cause a break down of the skin's structural molecules, like collagen.
Preparing a warm cup of tea or a tea-infused smoothie with a green tea like the LOV Organic Wellness Blend, LOV Is Pure, begins your day with a dose of anti-aging tonic. This organic blend also contains green yerba mate, which boasts high levels of chlorogenic acid, shown to have a number of cardiac benefits, rid the body of bacteria, and even attack cancer cells. Yerba mate also contains compounds called saponins and caffeoylquinic acid, which are the source of the tea's unusually high antioxidant content, and also help fight inflammation and promote weight loss. Like green tea, which could help reduce inflammatory skin conditions such rosacea, yerba mate's anti-inflammatory properties immediately affect visible and internal skin health, giving you an even, early morning glow.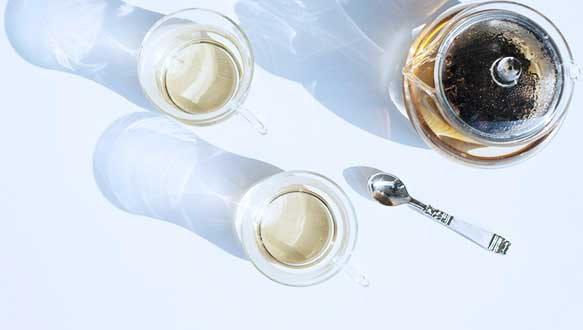 Before You Go To Bed: Rooibos Tea + Verbena 
After a long day, unwinding with a cup of tea benefits skin two-fold, reducing stress and promoting the skin's natural nightly restorative processes. Rooibos tea's high levels of polyphenols and other antioxidants aid the body in eliminating free radicals, a major cause of early aging. And, the red tea is particularly noted for its concentration of skin-saving essential minerals like zinc, which fights acne and other inflammatory skin conditions by regulating oil production and hormones, and anti-aging magnesium, which promotes elasticity and skin's moisture levels.
Another LOV Organic Wellness Blend favorite, Lovely Night combines soothing rooibos tea and honeybush with the medicinal herbs linden, chamomile and verbena. And, the subtle flavors of pear, cinnamon and licorice make it a perfect post-meal treat or warm, bedtime drink. Medicinal verbena is a natural sedative and effective anti-inflammatory, as well as an antiviral. Soothing chamomile contains the anti-inflammatory compound alpha-bisabolol, which promotes skin's natural healing process, potentially reducing the appearance of fine lines and wrinkles. In addition to soothing nerves, chamomile acts as an anti-irritant, calming inflamed, sensitive skin. And, antibacterial properties improve skin's overall appearance.
Full disclosure: This post was sponsored by 

LOV Organic

. We do not sponsor any product we don't believe in.